Okamoto Shūki: The Best Painter in Drawing Peacocks in the World
Okamoto Shūki (1807-1862) was a painter active from the late to end of the Edo period in Japan. He was mainly good at flower-and-bird-paintings, especially peacocks, and is known as "Okamoto Shūki's peacock" along with "Itō Jakuchū's rooster," "Tosa Mitsuoki's Japanese quail," and "Mori Sosen's monkey."
As a painter who followed Watanabe Kazan and Tsubaki Chinzan, his paintings are based on decorativeness established by sketching and dense colors influenced by the Nagasaki School, with serene painting designs which were integrated of Kanō School and Maruyama-Shijō School, attract viewers into his world. It is said that Araki Kanpo, who became a great master of Japanese paintings afterward, also learned peacock paintings from this Okamoto Shūki. This time, introduction of the "Botan-Kujaku-zu Peacocks with Peonies Painting" by Okamoto Shūki.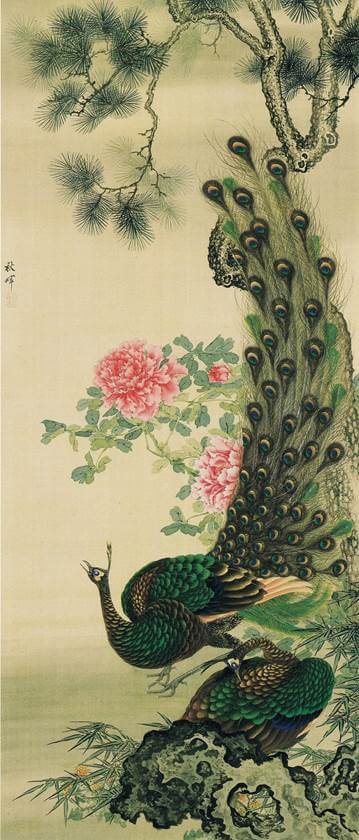 A peacock with outspreading its characteristic beautiful wings and the other quiet peacock taking care of its body with beak are depicted in one painting. Painting the contrast between these two birds has the effect of highlighting the dynamism of the peacock vigorously outspreading its wings and the beauty of the peacock's wings.
It is also interesting that the depiction of the pine tree overlapping the wings is also emphasizing the sense of dynamism.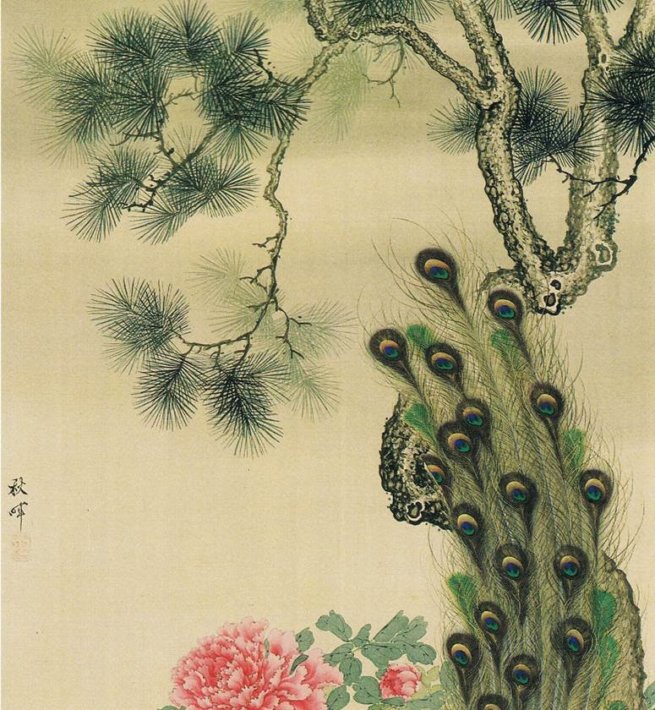 Peacock's characteristic wings require more sensitive brushwork compared to other birds, but from the tips to roots of the wings, each pattern was faithfully painted. The beautiful extreme colors at the roots of the wings never make viewers feel bore.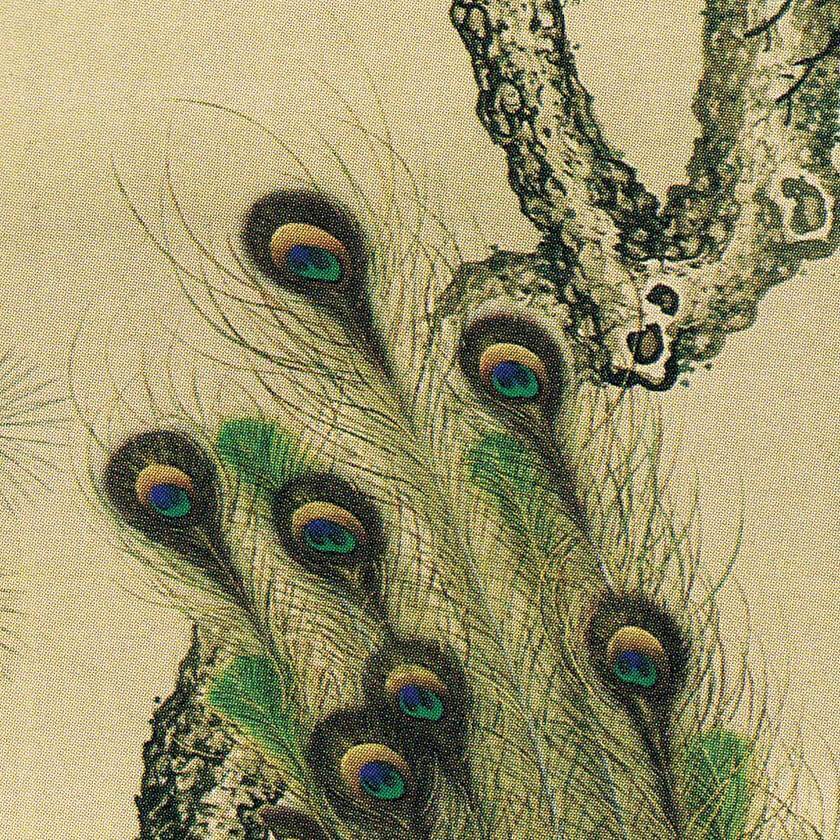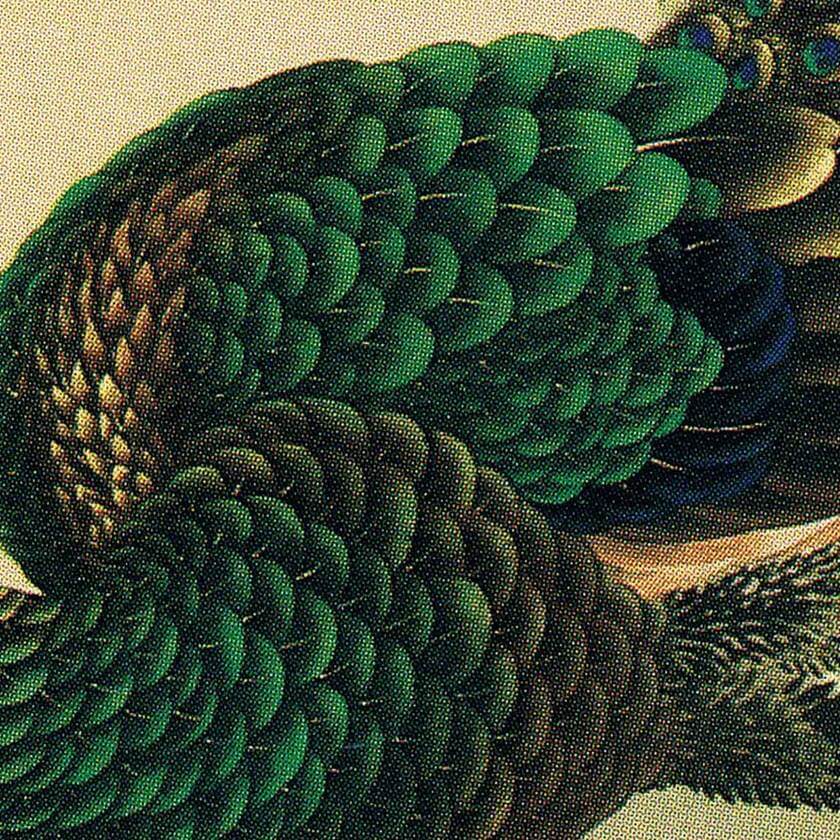 The depiction of peonies, known as the "King of Hundred Flowers," is also without negligence, and there are petals painted with a beautiful gradation that is true to the name, being one accent, and emphasizing peacocks each other.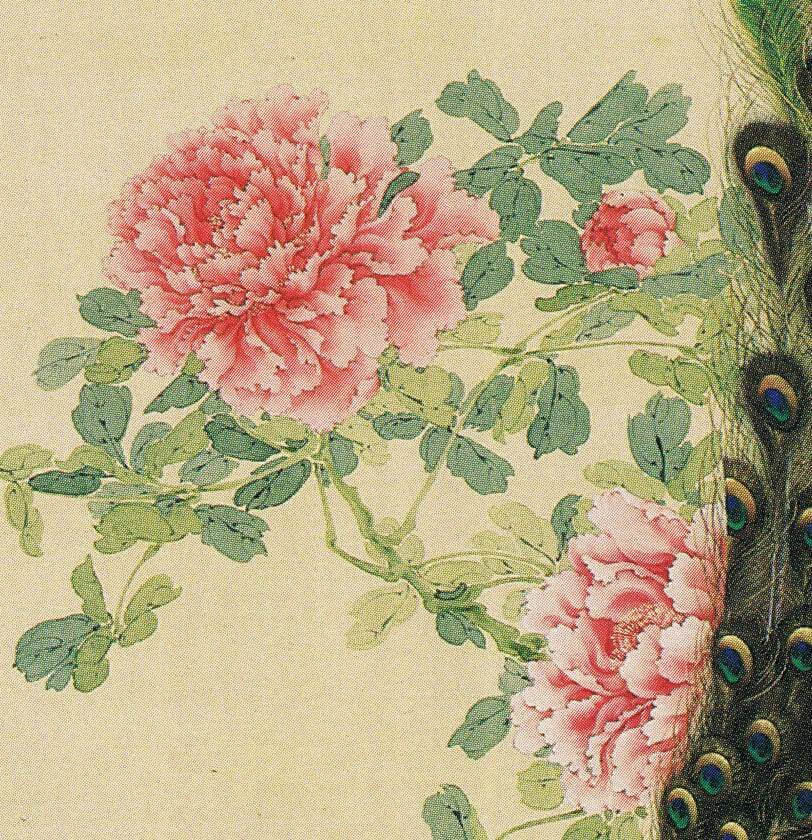 It can be said to be a masterpiece where all the techniques are expressed at a high level and that is exactly true to the name of "Shūki is synonymous with Peacock."
---