Katsushika Hokusai You Should Know : Most Famous Japanese Ukiyo-e Artist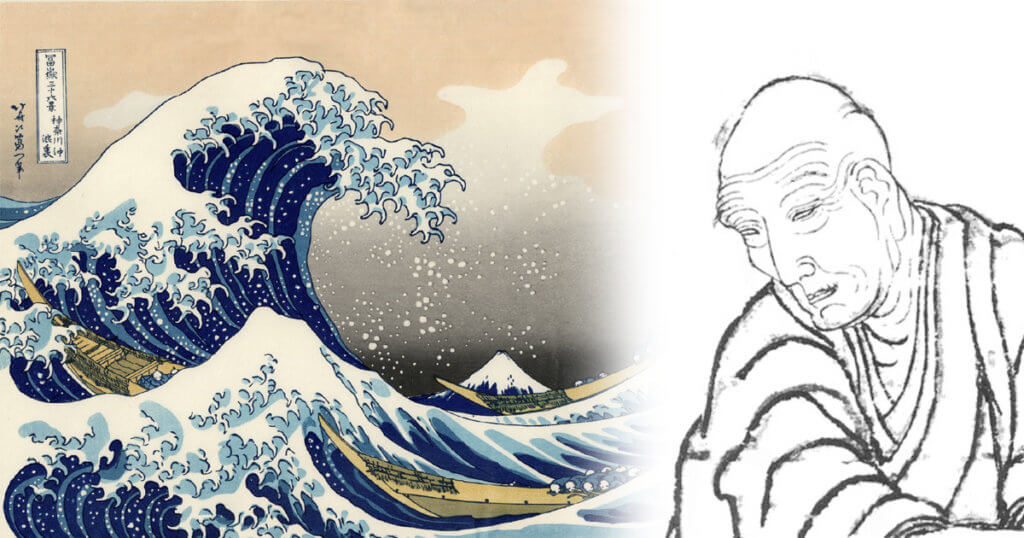 "Hokusai Manga" that Western Artists Found Astonishing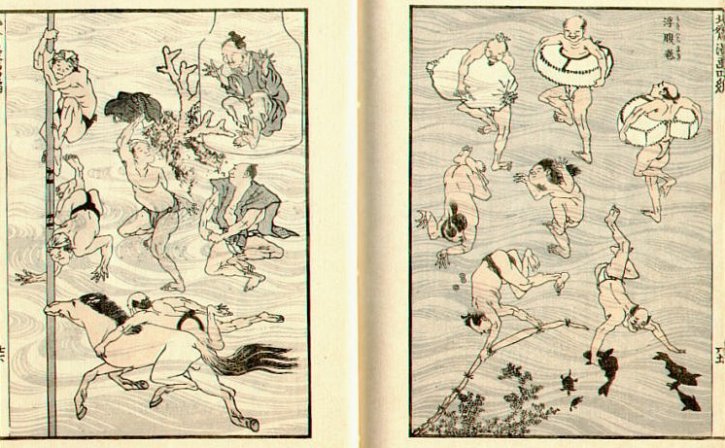 In the mid-19th century, French printmaker Félix Bracquemond was amazed at his friend's house when he unexpectedly saw the details of a wrapping paper for a ceramic ware which was sent from Japan. There were numerous pictures printed freely and generously that were never seen before.
The artwork that Bracquemond witnessed at that time and was greatly impressed by was the "Hokusai Manga", the painting of the whole world creation and universe, which Katsushika Hokusai worked on continuously from the age of 53 until he passed away at 90 years old. From this moment, Hokusai instantly became "a painting teacher" amongst the impressionists who had a friendship with Bracquemond and these impressionists such as Vincent van Gogh as well as Edgar Degas, Édouard Manet etc. began to draw on "Hokusai Manga" as a "picture model".
It was right in the trend of Japonism and his presence came into acceptance being praised "Hokusai embodies Rembrandt van Rijn, Jacques Callot, Francisco de Goya, Honoré Daumier by himself" (Louis Gonce, "Japanese Art," 1883) with enthusiasm in the world of Western art culture.
The Paris Exposition that Shook the West: Hokusai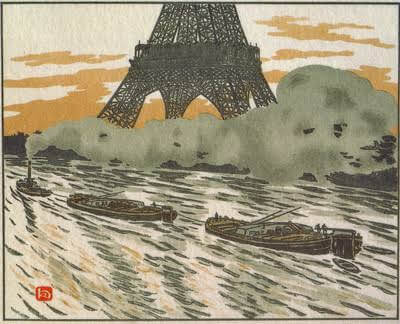 Since the middle of the 19th century, the name of the artist Hokusai, brought about by Japan, an island nation in the East perceived as mystical, spread with shock among European artists and intellectuals.
This all started from Hokusai's picture book, 'Hokusai Manga,' which was secretly brought from Japan during the Bakumatsu period. The precise and unique design of all things in nature, drawn by Hokusai, an unknown painter, was merely something that European artists had not seen until then. The influence that it had on artists seeking a new direction was something immeasurable.
Hokusai's name became widely known through the ukiyo-e exhibited at the 1867 International Exposition held in Paris. The French, as well as other European art scenes were astounded by the vivid colors of ukiyo-e, absent in western oil paintings, it was something new, innovative and unique to westerners of that time. As a result, Hokusai's name became synonymous with everything ukiyo-e.
This had the biggest influence on impressionists and similar painters, who played a major role in the modernization of western painting. Famous names including Édouard Manet, Edgar Degas, Claude Monet, Paul Cézanne, Vincent van Gogh and Paul Gauguin were captivated by Hokusai and ukiyo-e, and the 'Japonisme' boom took off. It is not an exaggeration to say that without Hokusai, modern western art would not have flourished.
Story of the Hokusai Influence on the Western Countries
Katsushika Hokusai Was Introduced to Europe by Siebold.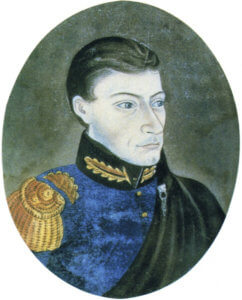 An ukiyo-e artist, Katsushika Hokusai spent most of his ninety years of life in painting, from the mid to late Edo period. Works by Hokusai, who dedicated himself on paintings and kept pursuing an ideal, were the stars of the Edo period popular culture. Then, how to bring such Hokusai's works into overseas and become popular?
Ukiyo-e was not only related to the public authority of the time, but it was also regarded as anti-establishment. Ukiyo-e was not exported even though in the trade with the Netherlands at Dejima in Nagasaki, which is only international trade conducted by the Tokugawa shogunate, whose policy was national seclusion.
However, there was a man who held the key to the solution of the mystery, in Dejima. He was Siebold, a doctor who had worked at the Dutch Trading House in Dejima since 1823. On his return to the Netherlands, Siebold was banished for attempting to take Japanese maps and other items outside, but he brought back to the Netherlands a lot of Japanese works related to botany and ethnology, including the Hokusai Manga, an art manual created by Katsushika Hokusai.
The Siebold collection has been displayed at the Leiden National Museum of Ethnology, in the Netherlands, since 1837. Though it was the earliest display of ukiyo-e in Europe, there were only a few people who noticed its value and remarked it, at that time.
Later, in 1856, in a corner of Paris, the episode that made the Hokusai Manga go out into the world arose. When a copperplate artist, Felix Blackmon visited his friend's printing studio, he found there was a package that had arrived from Japan.
Hokusai Manga Brought about Full of Japonism in France!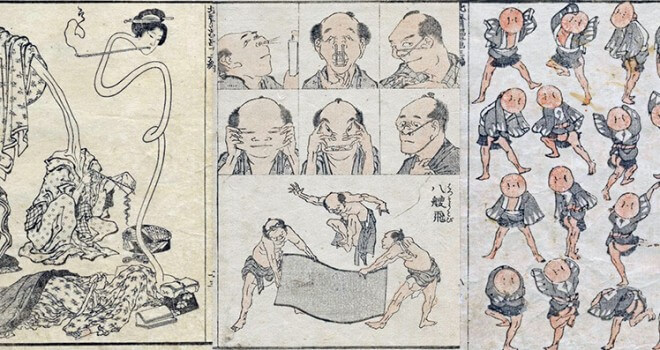 The package sent from Japan packed a porcelain and the paper wrapped to protect it was a part of "Hokusai Manga" what on earth!
Paris at that time was close relationship in art with the Netherlands so that Félix Bracquemond who heard about the scoop of "Hokusai Manga" could jumped up for joy to see the every and single fantastic drawing than he had imagined. Then, he asked his friend who owed the picture to give it over to him. Although that was refused, he could not give it up easily but stuck to "Hokusai Manga". Two years later afterward, Bracquemond found out that an acquainted woodblock artist owed the genre picture. He proposed the exchange between his treasured book and the picture. In result, he finally got a piece of "Hokusai Manga" to fulfill his long-cherished desire.
Félix Bracquemond, a Man who Looked at "Hokusai Manga" and Let It Widely Known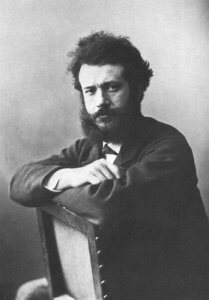 Supposing that Seybold is the birther for the movement of Katsushika Hokusai in Europe, Félix Bracquemond is supposed to be the foster parent. Whenever he went out around outside, he carried "Hokusai Manga" on his hand, and boasted to let his artists friends look at it whenever meeting up them, which might provide him a role to let a great number of people know "Hokusai Manga".
In those times, so many well-known painters such as Édouard Manet who led French modern painting, Edgar Degas and Claude Monet who belonged to Impressionist took the place to touch on Katsushika Hokusai by the introduction through Bracquemond.
They were authoritarian painting style represented by "Le Salon (exhibition sponsored by the government)" which was regarded as the gateway to become first-class painter in France at that time straightforwardly and sought for any new styles of painting. They were so surprised once they took looks at such avant-garde painting styles and colorings of genre pictures including "Hokusai Manga", and were falling love with such styles and colorings deeply as well as trying to copy them. That could be the background to called "Impressionism" helped open the door to French modern painting history. Hokusai significantly influenced the stream even it could be indirect.
Bracquemond, who might play the role of promotional activity on behalf of Hokusai also adopted the style and coloring into his works about ten years later after he got the "Hokusai Manga" at first.
Bracquemond was ordered to draw a design of a crockery which can call Japan as its imagination from François-Eugène Rousseau who was engaging in design and production of porcelain wares in Sevres porcelain factory and succeeded in producing "Service Japonais" which can evoke Japan with the drawings of animals, plants and fishes modeling "Hokusai Manga" as its motif. The crockery given variety tastes of Japan to was exhibited at Paris Exposition in 1867 and got great favorable notices. Bracquemond was not only enhanced his reputation as an artist but also whipped up people's interests to Japan furthermore.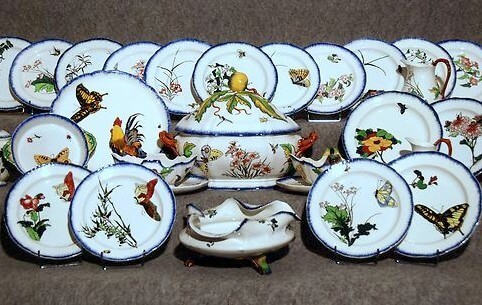 Ukiyo-e (Genre Pictures) Played a Starring Role of New Era Painting at Paris Exposition.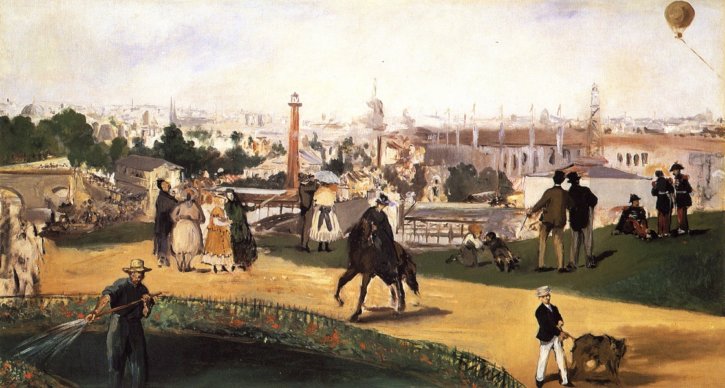 This Paris Exposition in 1867 could be a turning point for Japanese art. Every and single art piece exhibited from Japan such as Rinpa school and various artifact including ukiyo-e, genre pictures were rare, definitely beautiful and curious to European artists. In the French art world that was greatly jolted by the exhibits, a new aesthetic trend that was called Japonism (Japan-taste) was born eventually. "Japonism" was bringing about a great impact not only to the painting filed including Impressionist but also to the worlds of crafts and music. Émile Gallé who was a glass craftsman and a main player of the decoration art movement called "Art nouveau" that assimilated the essence of Japonism, was just the one who was given the sign of the impact from Hokusai in his wide range of works.
Gallé, who succeeded his father's job to became a glass craftsman exhibited which be an ideal form of Japonisme crafts at Paris Exposition in 1878. It has been pointed out that the craft modeled a carp in "Vase with Carp" (Rigyomonkabin, 鯉魚文花瓶) in 13th series of "Hokusai Manga" as its motif because the carp drawn on the craft was much rare in Europe. Gallé also seemed to be inspired by Hokusai to create many ideas for his works such as a glass artifact which modeled "frog" in the 1st edition of "Hokusai Manga" as its motif.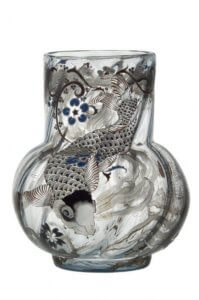 In fact, Gallé is believed to own "Hokusai Manga" itself, which was realized by a story that tells he bought it when it went on sale after closing Paris Exposition in 1867. Gallé was just the one artist who was most strongly inspired "Hokusai Manga" and sublimated the movement into beautiful three-dimensional objects. Nobody can hesitate to say that he was able to be a main player to move ahead "Art nouveau" that was an epoch-making decoration art movement in the era by touching on the brilliant designability of Hokusai.
Paris Exposition at the time was an epoch-making place to send any new art information as Bracquemond and Gallé demonstrated their successes. In 1867 when the Shogunate exhibited, in 1878 when the Meiji revolutionary government participated in with its national commitment, in 1889 when the Eiffel Tower was built up and in 1900 when "Grand Palais" as the new venue was built up, the awareness and influence of Japanese art were getting more increased each time.
Manet assimilated the technique of ukiyo-e, genre pictures in the field of painting as the first one earlier than anyone else. In addition, Claude Monet, Edgar Degas and Paul Cézanne acted on series of works which modeled "Thirty-six Views of Mount Fuji". In the meantime, Gauguin and Sisley found out a new way of painting inspired by ukiyo-e, genre pictures. Especially, Monet who made a commitment to Hokusai gained public notorieties in some leading collections and consequently he made a typical Japanese garden on his own in his mansion house in Giverny.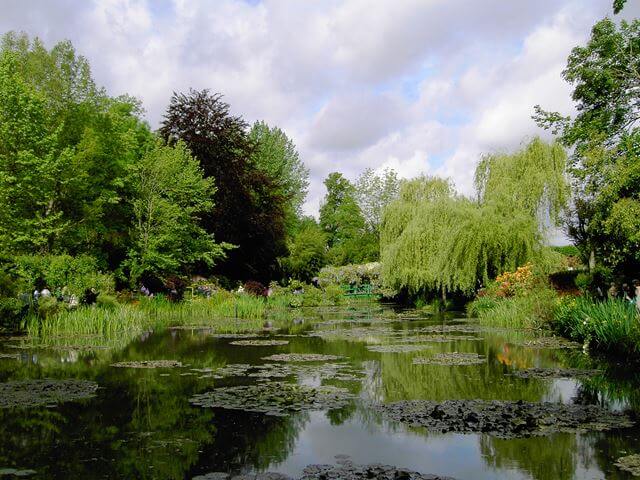 The next generation of post-Impressionist Vincent Willem van Gogh did not trouble to conceal the influence of Hokusai and ukiyo-e, genre pictures. And in the field of Art nouveau, the artists who stressed designability and exerted great talents in the field of poster as a new media including Henri de Toulouse-Lautrec and Alphonse Mucha developed Art nouveau movement furthermore with the inspiration obtained from ukiyo-e, genre pictures.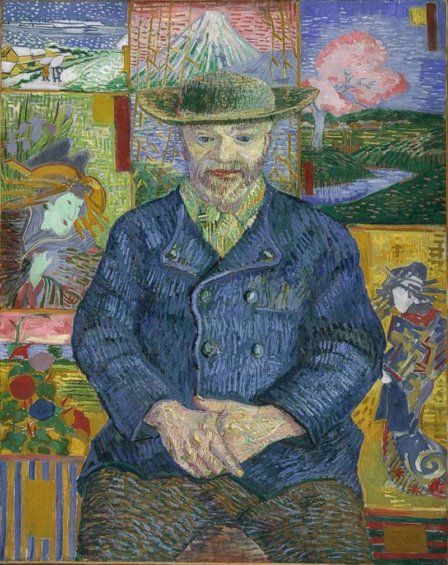 The Artistic Talent of Hokusai Revolutionized Western Art.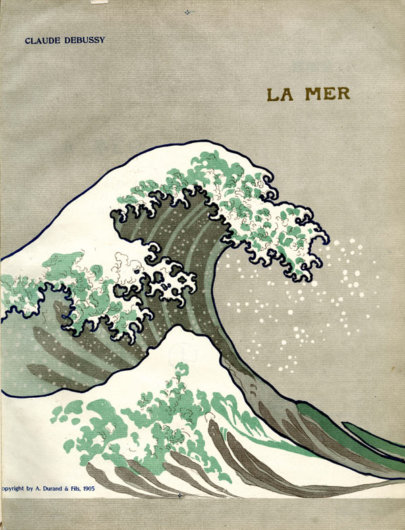 The influence of Hokusai went further and beyond the visual arts field. It was voiced that French composer Claude Debussy wrote the song "La mer (The Sea)" when he was inspired by Hokusai's "Thirty-six Views of Mount Fuji: The Great Wave off Kanagawa", which was the most famous Japanese painting in Europe at that time and a part of "The Great Wave off Kanagawa" was used for the front cover of the score published in 1905.
Further, it is believed that the series of "Waves" painted by the artist Gustave Courbet was influenced by "The Great Wave off Kanagawa", and Henri Rivière published prints depicting various Eiffel Towers including those under construction, and expressed similarities to Hokusai in a composition and deformation by replacing Mt. Fuji of "Thirty-six Views of Mount Fuji" to Eiffel Tower. He was even praised as "ukiyo-e artist in Paris".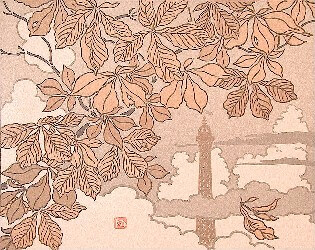 When people are talking about modern Western art, it is surely said that "the late 19th century of Paris wouldn't exist without Japonisme", and the person who laid the foundation was none other than Hokusai. Such a great influence Hokusai exerted and his presence is truly unique. Today his magnificent achievements are acknowledged all over the world.
Paris Was Excited Again with the "Hokusai" Exhibition in 2014.
In 2014, 200 years after the publication of the first volume of the "Hokusai Manga," the largest ever exhibition of Hokusai's work in Paris was held. The venue was the Grand Palais National Gallery, built as the main venue for the Paris International Exposition in 1900. In about 1,000 square meter exhibition space, there were more than 700 works and materials, including the "Great Wave Off Kanagawa," which is one of the world famous works as the "Thirty-six Views of Mount Fuji" series, as well as original paintings, cartoons, and nishiki-e woodblock prints. Also, there were some works which have never been published in Japan. Katsushika Hokusai, who can be called as the father of Japonism and Art Nouveau, is the most famous Japanese artist over the world, and is also a very popular painter in France. During the period of the exhibition, which was the object of envy by fans, the popularity was true to his name and there was a long line for days. The number of visitors exceeded 350,000, proved that popularity of Hokusai had been still potent, also acquired a lot of new fans, and further enhanced reputation of Hokusai.
The Journey of a Long Distance Traveller Who Moved from One House to Another, a True Man of the Wind: Hokusai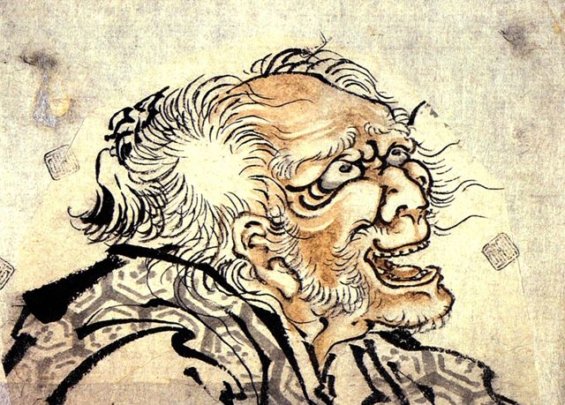 During the Edo era where life expectancy was said to be about 50 years, Hokusai lived to be 90, and continued to hold his paint brush until the final years of his life. Moreover, he also moved houses 93 times and travelled to various places; he even round-tripped between Edo and Obuse in Shinshū when he was over 80 years old in 1842. His strong and marvelous life force, as well as his vigorous activities, is unusual even from the perspective of a modern man. Without staying in one place, he ran through at full speed like the wind. That is the image which comes to mind.
Hokusai did not own a single piece of furniture nor household goods, and only ate take-out food. It is also said that the number of his apprentices across the country ranged between 1000-2000, he strung up a network in every place and when he felt like it, he made his apprentices conduct travel arrangements and did as he pleased. It is established that he had lived a life of poverty, but as a popular painter, his income could not have been small. Rather than fixating on money, Hokusai was more passionate about his works, and the truth is that he did not spare any expenses when it came to his art.
Take-out food was sufficient to not waste any time. Yet, on the contrary, he used paint luxuriously, and when he had to travel, whether by boat, horse, palanquin or cattle, he chose the fastest way available without a care for expenses, to set aside time to paint. For the sake of painting, he chose time over money. Keeping that in mind and running through all the 90 years of his life at five, or even ten times the pace of an ordinary person, Hokusai was truly a man of the wind.
His driving force was nothing but the genius obsession he had with pursuing the best art.
Obuse, Nagano Pref. Where Katsuhika Hokusai Loved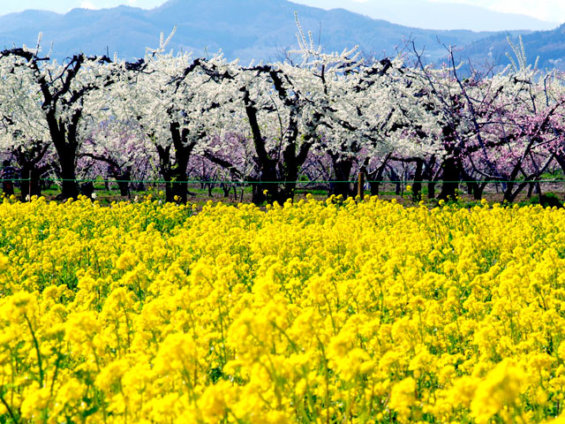 Katsushika Hokusai who frequently changed the painting styles and pseudonym as well as moved repeatedly. Its life is masked in mystery. One of the most amazing episode is visiting Obuse in Shinshū area totally four times even at very old ages more than 80 years old and leaving some masterpieces.
Although there are various views about the exact years when Katsushika Hokusai visited Obuse, the first time he did that was 1842 according to some records in Obuse. At this time, Hokusai was 83 years old, and it has been reported that he visited and stayed there again and again in 85, 86, and 89 years old.
It was not going on pleasure jaunts but doing paintings no doubt. He found out his own way in hand-painted genre pictures after age 80 years old. What Hokusai, who fastened to draw better and better pictures until dying sought for in Obuse and left his marks there…?
The road from Edo to Obuse at the time was steep and the distance was so far away around 240km. Absolutely, such long journey to go up hill and down dale must have been harsh for the old Hokusai.
Here are some spots where you can feel Hokusai in Obuse.
Decorative Ceiling Painting Drawn with a Phoenix That Is Full of Power to Extent Everyone Looking at Must Be Overwhelmed
"Ganshō-in" where Hokusai, who died at the age of 90, left a huge decorative ceiling painting that was completed in the previous year to his death. You can go there by taxi around 5 minutes from Obuse Station on Nagano Electric Railway Line (NAGADEN). The "Happō Nirami Hōōzu (A drawing of a phoenix figure that is staring the all directions)" which was named because of the reason that you may feel you are glared with its sharp eyes as long as you are there in the hall wherever and it overwhelms everyone who see it with full of the power just along its name exactly.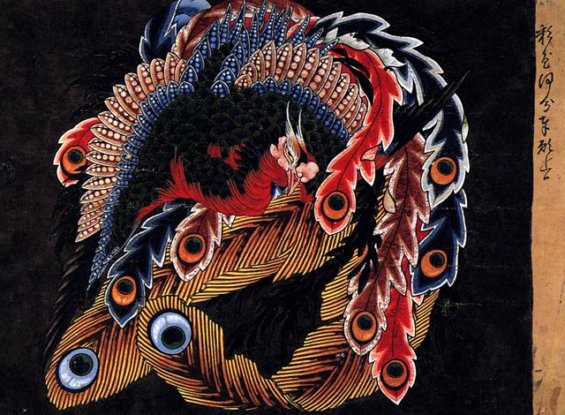 The richly colored phoenix drawn with plenty of expensive pigments looks just flying off. It can just meet what we can call a best masterpiece of Hokusai in his last years with its full of power.
The Hokusai Museum ("Hokusai-kan") Which an Overwhelming Decorative Ceiling Painting of Festival Float Belongs to
The Hokusai Museum ("Hokusai-kan") is an art museum where mainly hand-painted pictures Hokusai drew in Obuse are displayed. Decorative ceiling painting of festival float (Matsuri Yatai) Hokusai drew when he visited Obuse for the second and third time is displayed here.
At Obuse, each town used to cruise festival float once at the time of its summer festival. Hokusai stayed there for about half years at his age of 85 and drew decorative ceiling paintings of Higashimachi Matsuriyatai (Festival float in Higashimachi) "Paintings of dragon and phoenix". A dragon soaring in the sky on a fiery red background while surrounded by splashing waves and a phoenix colored in bright vermillion backed by dark indigo blue basically. You can see a bud flush that leads to the "Happō Nirami Hōōzu (A drawing of a phoenix that is staring the all directions)".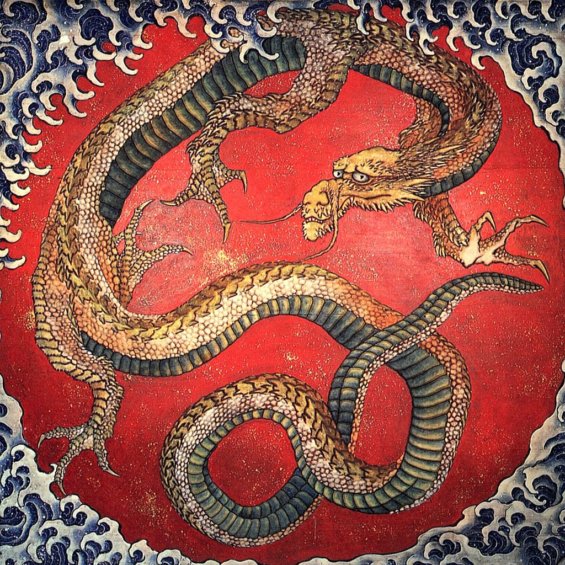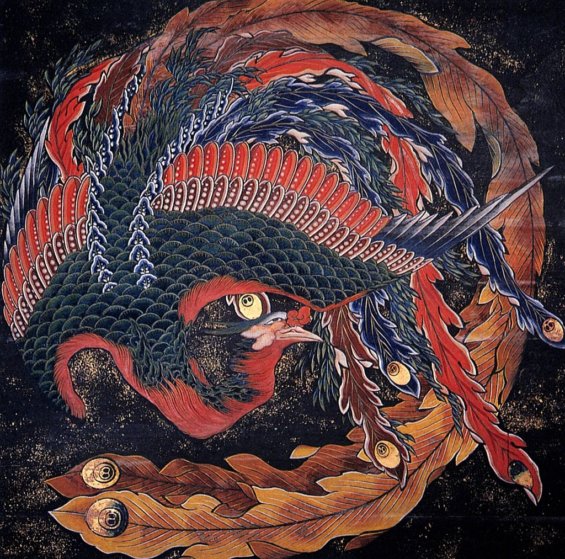 Hokusai visited Obuse again on the next year and worked on drawing of Kamimachi Matsuri Yatai (Festival float in Kamimachi). Consequently, he succeeded in expressing breaking waves and beachcomber in his works named "Onami (Male waves)" and "Menami (Female waves)" brilliantly. While it is reminiscent of the world-famous masterpiece "Kanagawaoki Namiura (The Great Wave off Kanagawa) ", the waves drawing hand-painted with some delicacies and resonances have something that can fascinate you.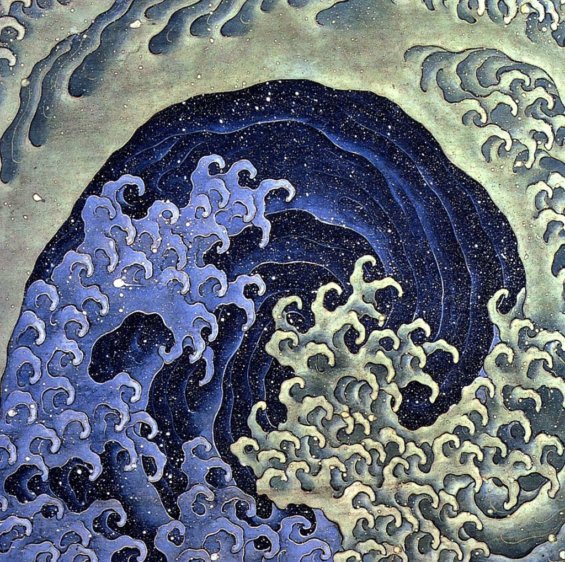 It is said that it took one year to complete the ceiling painting. And it has been come down that the edging pictures around it was colored by Takai Kōzan who followed the design to do that.
Takai Kōzan is just the person who eventually connected Hokusai and Obuse.
Takai Kōzan, Who Was a Wealthy Farmer as well as a Wealthy Merchant and Invited Hokusai to Obuse
Takai Kōzan was born in a house which was a wealthy farmer as well as a wealthy merchant. He went down to Edo and established a wide network of contacts after studying academics and arts in Kyoto. There are various stories about the contact point between Kōzan and Hokusai. Even a story that Hokusai had a debt with a wealthy merchant in Obuse named "Jūhachiya" which had a branch office in Edo was the fate, is there among the stories.
However, why Hokusai visited Obuse even four times despite he was over 80 years old? Even if he had used a horse or a palanquin, such long journey to Shinshū must have been too tough to his old body.
The key to puzzle out the answer is attributed to the historical background at the time.
When Hokusai passed the age of 80, the public world became extremely confused due to the "Tempō Famine" that had been continued from 1833, and the shogunate carried out the " Tenpō Reforms." It forbade luxuries and strictly restricted works of ukiyo-e, genre pictures as well as performances of kabuki (a Japanese traditional drama performed by male actors) and music for the sake of enforcement of strict official discipline.
Hokusai made his mind to leave Edo finally because such circumstances might not allow him to draw painting as desired. In addition, he decided to go to Obuse where Takai Kōzan went back home and succeeded his parents' wealthy farmer and merchant house resorting to his favor once Hokusai enjoyed when Takai Kōzan had lived in Edo.
At the first time when Hokusai visited Kōzan, Hokusai was 83 years old and Kōzan was 37 years old. The ages between them were very far suchlike a grandfather and its grandson. However, they admitted each other and built up a close relationship with trust to call "Master" and "Sir" between them eventually.
The Takai Kōzan Memorial Museum (Takai Kōzan Kinenkan) which is located within a stone's throw from the Hokusai Museum ("Hokusai-kan") and tells us what these two people were doing there.
The detached room which is the building at the time has been thought as an atelier Kōzan built for Hokusai. However, it looks too small to draw paintings and the building time does not meet the time when Hokusai was there. Because of those so many unnatural points, now the research is in progress reportedly.
Meanwhile, an episode that Hokusai drew a picture of a lion every morning as his daily routine and he refused to meet up anyone until he finished the drawing, and conversations between Hokusai and Kōzan anytime sitting on a veranda-like porch in "Yūzenrō (a building of the house)" are facts. The states when Hokusai was staying there including the facts have been gradually bringing out into the open.
Although Kōzan was regarded as a wealthy farmer and merchant, he was much more profiled as a cultural figure and a highbrow because he studied away to Kyoto and Edo for learning Confucianism, classical Chinese poetry, painting and calligraphy. That may the reason why and background so many writers, artists and patriots visited him including Hokusai, Sakuma Shōzan who was a thinker as well as clan of Matsushiro and Fujimoto Tesseki who was a calligrapher and painter as well as a patriot. "Yūzenrō" which entertained them played a role to be just like a cultural salon.
You Can See the Tight-Knit Relationship Between Hokusai and Kōzan, Here There and Everywhere
When you visit and look around the Memorial Museum Hall that introduces the achievements of Takai Kōzan, you can see many his painting works including ghost pictures which Kōzan was good at and let him renowned.
Actually, Kōzan was not only one of Hokusai's disciples but also created collaborated works between Hokusai and Kōzan and left copies of rough sketches Hokusai drew. Among them, some works which seem to be drawn by Hokusai and Katsushika Ōi (the third daughter of Hokusai) are there although the actual painters have been unknown so far. You may feel that the remnant of Hokusai is still much in evidence here there and everywhere in the Memorial Museum.
The close relationship between Hokusai and Kōzan should help Hokusai make his mind to leave Edo where painters of ukiyo-e, genre pictures were hard to live in at the time and go to Obuse.
Finally, Hokusai got to a favorable environment so that he was able to work on the drawing arbitrarily. In addition, he facilitated his works at the service of his mind also with Kōzan's financial support. Consequently, his dedication bore fruit to create such Herculean tasks as the huge decorative ceiling painting and the detailed decorative ceiling painting in a festival float at his senescence. Obuse, there is still full of free atmosphere Hokusai felt at last and his volition for the creation, which you may feel there.
Over 80 years old, Hokusai Still Did Not Lose Ambition and Challenged to Make Compilation.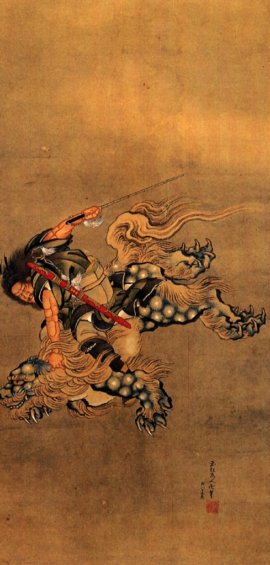 In reviewing Hokusai's career as an artist, it can be noticed that his main work has changed every ten years after the year he became an ukiyo-e artist at the age of 20, one year after that he became a follower of Katsukawa Shunshō. *Kibyōshi in his twenties, picture books for comic-tanka in his thirties, reading books and *surimono in his forties, and art manuals from his fifties to sixties. In his seventies, he turned to *nishikie and made landscape and flower-and-bird paintings, and in his eighties, he began working on original paintings of ukiyo-e. After fifty years old, he gained fame as an ukiyo-e artist, and it was in his seventies that he created his masterpiece "Thirty-six Views of Mount Fuji." Besides, he began working on original paintings in eighties, and until the day of his death, he kept hoping to master original paintings, and we cannot help being surprised about it. In fact, it is said that he devoted himself to original paintings because making woodblock prints is collaborative work with a publisher, engraver, and woodblock printer, and he had a lot of difficulties to pursue ideal lines and colors which he truly wanted to draw.
However, at the age of 80 years old, there was no escaping from the physical deterioration, even for a genius like Hokusai.
In his last year work, "Fujikoshi-Ryūzu," there are dark and straight lines just by looking, but short lines drawn over and over in actual. However, Hokusai's ability as a paint artist was not overcome by his age, and he kept improving, even though his hands shook. It is said that, at the age of ninety and before he died, Hokusai said, "Let me live more ten years or at least five. If you do so, I will become a true artist." This comment was not overstatement and Hokusai felt sure of and said it.
---
*kibyōshi: an illustrated comic book during the Edo period in Japan

*surimono: Woodblock prints

*nishikie: Colored woodblock print
Episodes that Shows Hokusai's Awesomeness
He Could Draw Even What Is Unable to See!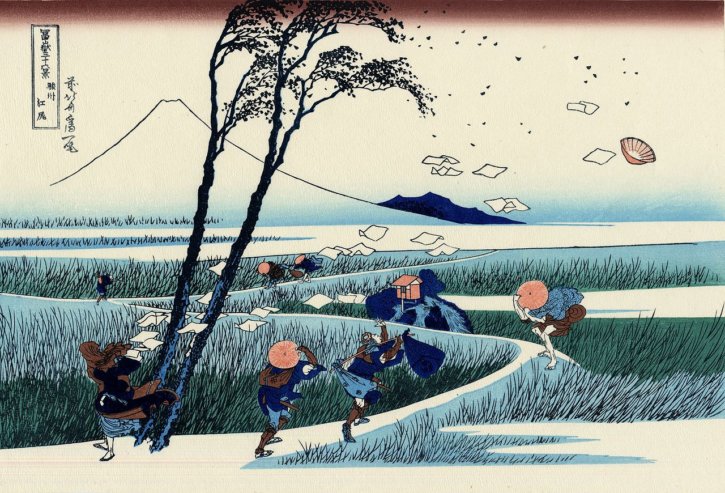 "Sunshū Ejiri" in the landscape painting masterpiece "Thirty-six Views of Mount Fuji," paints the vicinity of a scenic spot known as "Pinery of Miho" now.
At Ejiri, a post town on the Tōkaidō, travelers have trouble walking due to hit by strong winds, and sunshades and *kaishi are blown away.
A particular note of this painting is that the wind can be felt from the screen even though the flow of wind is not drawn at all. Not only the visual sense, but also the sound of the wind blowing and swaying vegetation, and the moaning of travelers are appealing to the hearing.
Hokusai's advanced technique, drawing what is unable to see is also easy for Hokusai. The roots date back to the fifties.
Hokusai, who was enthusiastic about making art manuals of painting pictures for his many followers, improved his ability to be able to paint everything in this world realistically, which led to the effect of such painting.
For example, in the "Hokusai Manga," there are number of excellent drawings that capture the moments of things that are unable to see or that change their shapes without stopping, such as the expression of the wind and the movement of water and waves. In this era, there were no artists who practiced such accurate and effective painting other than Hokusai. That is why "Hokusai Manga" became a sensational topic in Europe and America, and it became a model for many artists.
---
*Kaishi: Also pronounced as futokoro-gami. Double-folded traditional Japanese paper, and its size is small enough to carry in a pocket.
The Great Master of Impressionists, Monet Challenged to Create a Series of Works, Following Hokusai!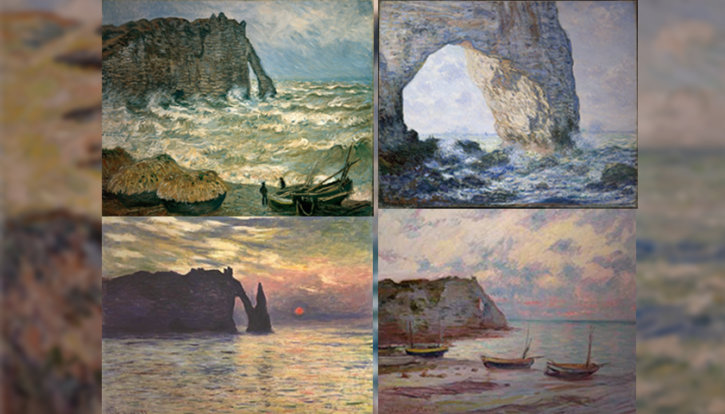 The influence of Hokusai on the Impressionists is too numerous to mention.
There are a two-dimensional yet vibrant depiction, a composition with asymmetry and the use of white space, a deformed composition with parts of the object enlarged and cropped, vivid and colorful colors, and others.
The various techniques used in ukiyo-e were cutting-edge to Western painters, and all of them were truly terrific expression methods.
Though before then interests in Japanese art was called as "Japonaiserie," with the appearance of Hokusai, European artists became aware of the needs to incorporate the novelty of Japanese arts into their work, and the style known as "Japonisme" had come to stay.
In particular, the Impressionist painters who actively adopted Japonisme not only copied the painting technique, but also the technique of painting a single theme in various conditions, like "Thirty-six Views of Mount Fuji."
The representative painter was Claude Monet, the founder of the Impressionists. Inspired by the "Thirty-six Views of Mount Fuji," Monet painted a series of works on a single theme at different times and seasons.
In "The Etruscan Coast," one of the main products of Monet's series of paintings, Monet excellently achieved mastery of the techniques of series of works by depicting the ever-changing light rays of the seasons and time in gentle colors.
It can be seen that Monet enjoyed painting a series of works by expanding his themes beyond nature to people, rooms, and still life, such as "Straw mattress," "Rouen Cathedral," and "Water Lilies," which is his best work and the most popular in Japan.
Besides, other impressionists, Degas created a series of "Dancers" and Cézanne created "Mount Sainte-Victoire," and Lautrec and Mucha, who were well known for their poster designs, created a series of works and stimulated the art scene in Paris.
In this way, Hokusai not only introduced a new form of artistic expression methods to Europe, but also raised a question about how to show the works. Since the Hokusai's influence has kept affecting on contemporary art shows still now, it is truly understandable that his influence of those days was not insignificant.
Graphic Depiction that No One Could Have Come up With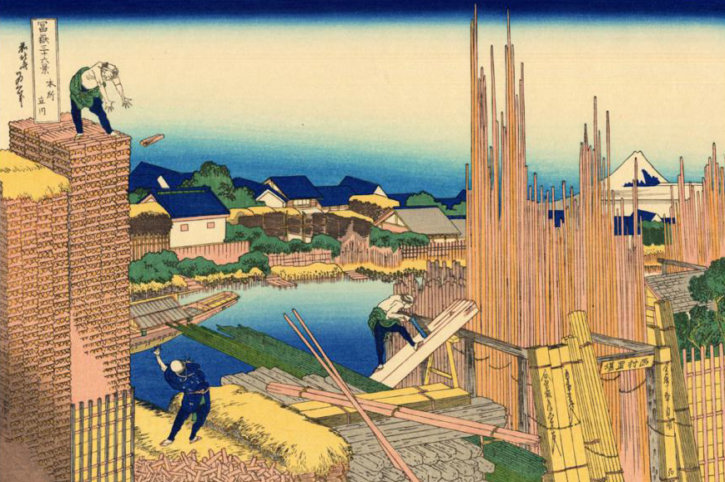 In this painting, which depicts the scene of the "Honjo Tategawa" where the lumber wholesalers gathered, along with a small Mt. Fuji, the graphic and design interest is prominently emphasized.
A man who receives a piece of lumber thrown up from below, is riding on a pile of lumber. The height of the lumber is clearly exaggerated. However, if this pile were lower, the tension and dynamism of the painting would be less distinct.
Similarly, in the lumber arranged vertically on the right, pictorial interest is preceded.
At that time when there was no concept of graphic design, Hokusai could create graphical expressions with ease by emphasizing the interestingness of the screen structure above all things.
In addition to the " Thirty-six Views of Mount Fuji," Hokusai's other works include many graphically appealing works, such as "Gaifū Kaisei" and "Sanka-Hakuu," which depicts Mount Fuji, "Bishū Fujimigahara," in which many circles are used, and "Tōto Asakusa Honganji," in which triangles are arranged, all of which are impressive for affluence of ideas.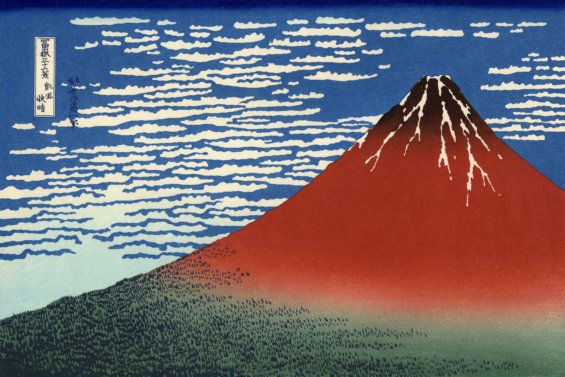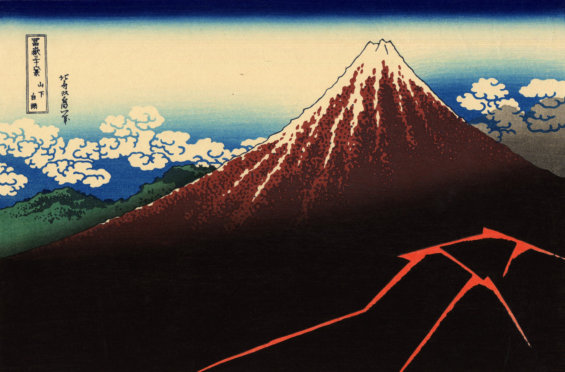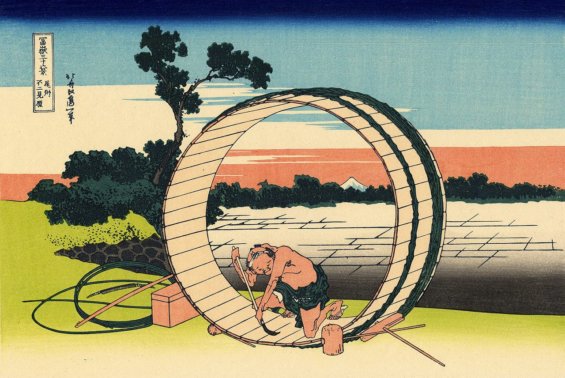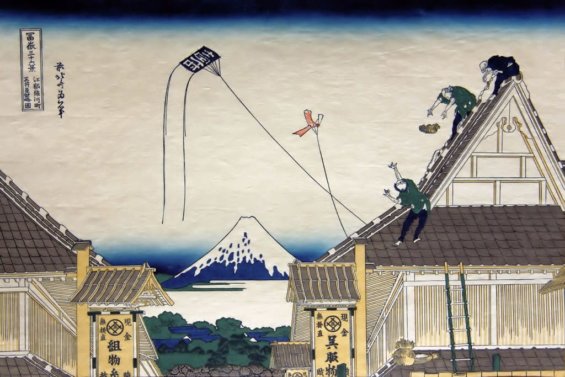 It is impossible to find artists with such a wide range of expression methods, not only in Japan but also in oversea.
Having achieved such a wide range of expression with ease is one of the strong points of Hokusai. This is the reason why his works are still admired to this day.
At the Age of 90 Years Old, Having Drawn a Line Which Does Not Move an Inch!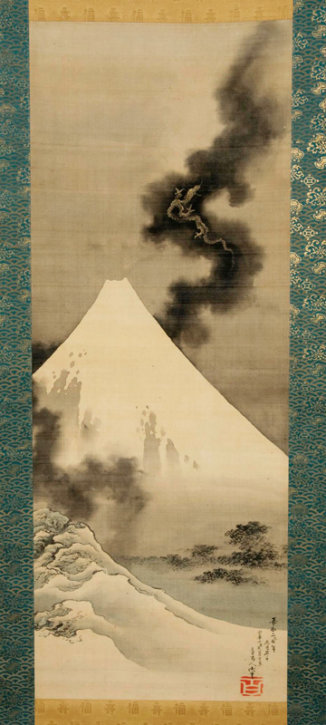 The first step in practice for Japanese art starts from drawing straight and round lines with free hand.
In those days, from preliminary sketches to coloring and finishing, were painted with a single brush, and using a ruler was not to be thought of. Lines without wavering or blurring were the lifeline of an artist. However, it is common that as getting older, muscles deteriorate and fingertips tremble. Nevertheless, Hokusai started to work on original paintings in real earnest when he was over eighty years old, which is so surprising. Besides, Hokusai's original painting is monstrous in that the lines are strikingly beautiful and show no disorder.
Regarding "Dragon Flying over Mount Fuji (Fujikoshi-Ryūzu)," painted in his ninety, it is said that since Hokusai had difficulty for drawing long lines, short lines were drawn over and over, but this is the result of Hokusai's spirit to improve his paintings until the last moment.
The World Well Known Word "Manga" Was a Made Word by Hokusai?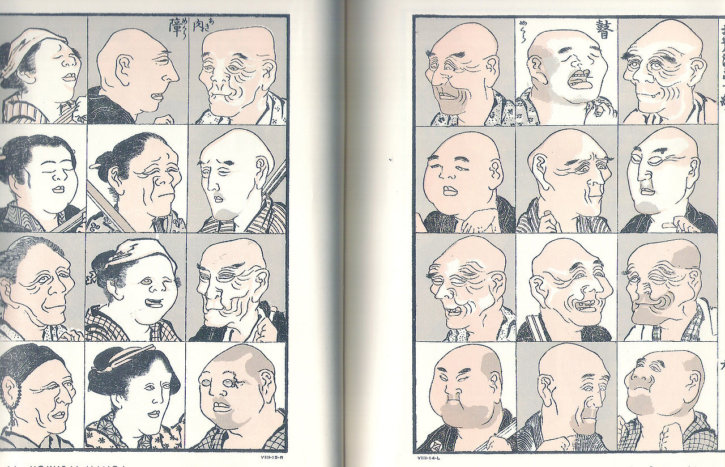 Did you know that the word "manga" was actually coined by Hokusai when he drew the "Hokusai Manga"?
Before Hokusai used it, the word "manga" was the Chinese word for spoonbill. Why Hokusai used such word? There are various theories, including that Santō Kyōden, an Edo period author of popular stories, used the word as meaning of "drawing at will" based on that spoonbills are omnivorous and they feed on food by flailing in the water with their beaks, or having been adapted from the Chinese word, "Manpitsu" for essays. However, it is not known why Hokusai named art manual "manga."
The original intention is unknown, but the word "manga" is now one of the most common Japanese words in the world. It is surprising that Hokusai was the first person to use the word "manga," which shows his foresight and influence on future generations.
Recognized by the U.S. LIFE Magazine as the Greatest Artist of the 19th Century!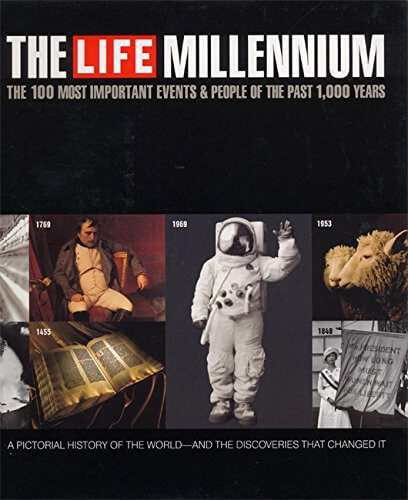 In 1998, the famous American photo journal LIFE magazine conducted a survey, "Who are the most important people of the last 1000 years?" and announced the ranking of the top 100 people.
As a result, familiar names from American history, such as Edison at No. 1 and Columbus at No. 2, dominated the top positions.
Surprisingly, the only Japanese who was selected for the ranking was Katsushika Hokusai.
There is Edgar Degas comment added, "Hokusai is not just one of the ukiyo-e painters. He is an island, a continent, and a whole world." Also, it is introduced that his profound influence on Western art and his role as a guidepost for great painters such as Monet, Degas, Renoir, Van Gogh, and Picasso.
Besides, he was the only one selected as a 19th century painter among the 100 people.
It is truly understandable that Hokusai was far more famous and regarded as important abroad than in Japan.
---