Kikuchi Keigetsu: The Beautiful Portrayal of Women by 'The Painter of Lines'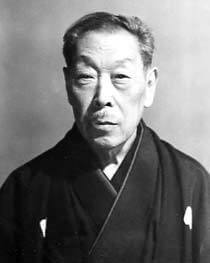 Kikuchi Keigetsu was a Japanese painter who was active from the late Meiji period to the mid-Shōwa period. Together with Konoshima Ōkoku, who was also active around the same time, he was hailed as the first star artist to originate from the Bunten exhibition.
Mainly creating historical paintings, portrait paintings and particularly leaving behind works which depicted women, he was highly valued, even in the artists' world of that time. The characteristic of Kikuchi Keigetsu's work is its diverse style, which repeatedly changed along with the time period, with each having its own highlight, entertaining viewers even today. This time, I would like to introduce the exemplary works of Kikuchi Keigetsu with commentary included.
Dedicating Lanterns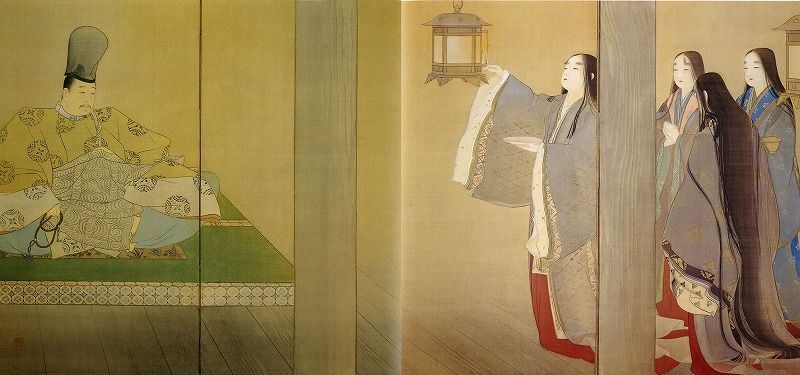 A notable piece from Kikuchi Keigetsu's early years, this work was exhibited at the fourth Bunten Exhibition in 1910, and won second prize. Depicted on the left half is Taira no Shigemori. Having strong faith in Buddhism, he built a temple with 48 rooms at the foot of Kyoto's Higashiyama, and hung a lantern in every room. Furthermore, on every 14th and 15th day of the month, he invited young and beautiful court women, placed six of them in each room, and under the lamp lights, held loud recitations of Amithaba's name. It is said that the spectacle resembled Sukhavati. This work is a depiction of that situation, and in contrast to the bold composition of pillars at the center of the image, the people are depicted with delicate lines that do not thin or thicken. What can be observed from this work, is Kikuchi Keigetsu's first emerging steps as a painter who was later hailed as 'the Painter of Lines.'
Summer Evening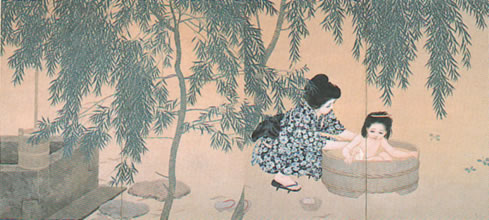 In the Taishō period, the majority of his works were inspired by his surroundings, rather than historical events up to that time. 'Summer Evening' is a work that won the second prize at the eighth Bunten Exhibition in 1914. The figure of a woman washing her child on a summer evening is drawn, and the blue color of the kimono gives off a cool feeling and makes the viewer feel the summer. From the facial expressions and gestures of the woman, one can feel the priceless love that a mother devotes to her child in everyday life.
Young Girls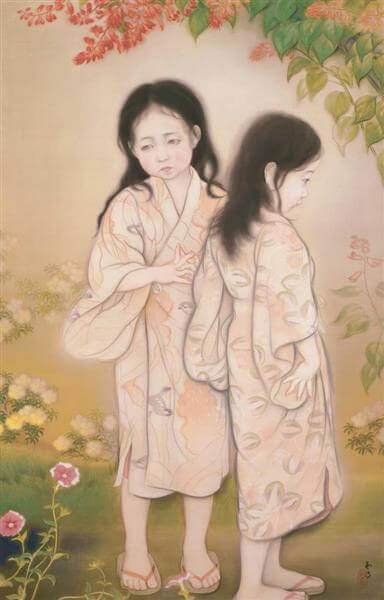 Kikuchi Keigetsu's master, Kikuchi Hōbun, had great hopes on him and adopted him as a son in law, but consequently, he was conflicted by the heavy burden of having to succeed the Shijō school, and his desire to create new Japanese paintings, building up the anguish of trying to search for an answer. It was during this time, in 1918, that Kikuchi Hōbun died, which became a turning point for Kikuchi Keigetsu. This work is from 1920, and the vivid colors, and eerily realistic expressions absent in his previous works could be seen. Upon observation, one can see Kikuchi's attitude of adhering to the Shijō tradition inherited from his master, but also establishing his own distinct style of painting.
Haihateroma Island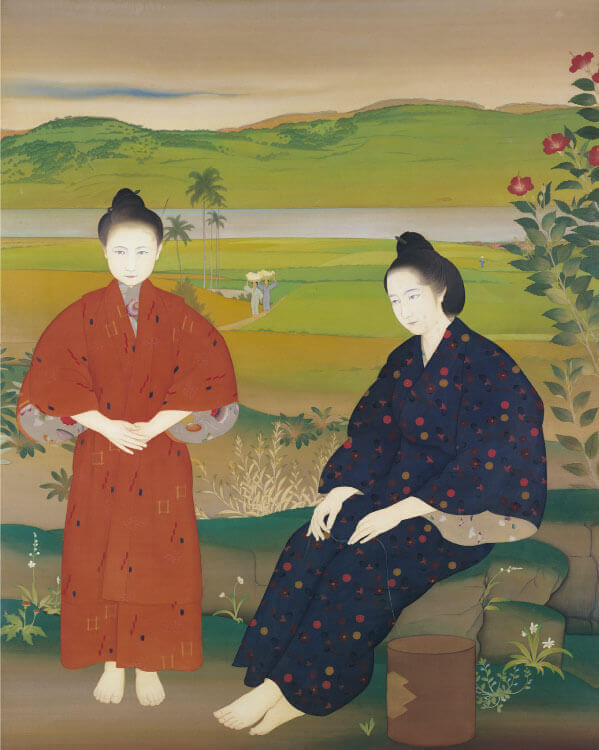 Kikuchi Keigetsu was deeply impressed by the Renaissance frescoes and portraits during his tour in Europe for around a year from 1922. Reaffirming the greatness and value of classical works, he also studied and collected a variety of Buddhist art, yamato-e, and ukiyo-e after returning to Japan.
This work, 'Haihateroma' was created in such a flow in 1928. Two women in traditional Okinawan dressing are depicted, a girl wearing an orange Ryūkyū Kasuri, and a woman wearing a navy blue Bingata-dyed kimono, sitting on a stone wall, and spinning hemp thread. There are women carrying luggage on their heads, walking from the village at the foot of the mountain. Depicted in the painting is a gentle life in a southern land, where people sweat from labor, and coexist with nature. It is said that the completion of this work was greatly influenced by the impression he got from a trip to Okinawa in the same year. At a time when Japan was undergoing modernization from the Meiji to the Taishō period, Okinawa, which retained a nostalgic climate, left a great impression on Kikuchi Keigetsu, who was studying classics at the time.
Young Girl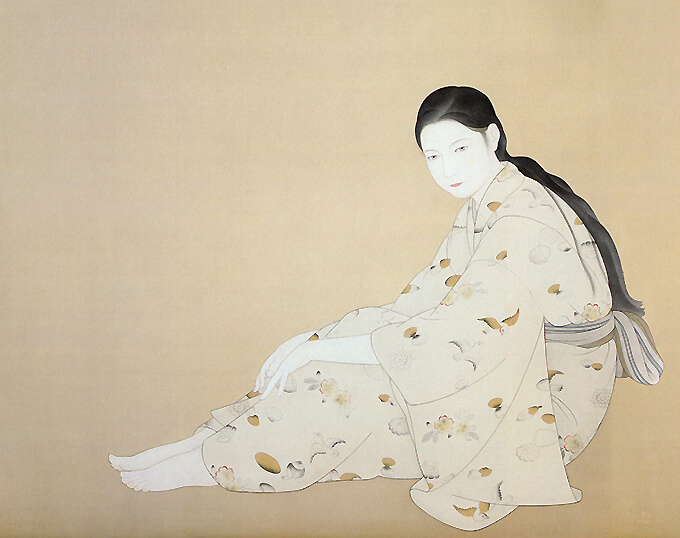 After his approximately year-long tour in Europe, Kikuchi Keigetsu was reassured by the importance of lines in Japanese paintings through his study of classical art. This led to many of his great *hakubyōga creations that consisted of his own style of sophisticated *tessenbyō wire-line drawings and faint colors. Some of the representative works with this style are 'Atsumori,' 'Woman,' 'Cherry Lips,' 'Young Girls,' 'Hakurome, woman who dyed her teeth black,' 'Rice Sprouts,' and 'Winnowing Wheat,' but here, I'd like to introduce 'Young Girl.'
Only four paintings of Kikuchi Keigetsu, including this work, 'Young Lady in Yūzen,' 'Walk,' and 'Seidan' are known to have portrayed young women from the same time period as his. Keigetsu has explained that he did not depict people from his time because he was 'trying to express my (his) ideology, thoughts, and aesthetics through people in ancient times.' However, although he did portray women from his time, this does not mean that these works do nothing but show his interest in modern customs of that time. Similar to the way he tried to present images of ideal humans through historical figures, the willing look on the eyes of the nameless young girl tells how Keigetsu challenged himself to depict universal ideals placed upon women and beauty.
The characteristics of the women in Keigetsu's paintings are seen in how beautiful they are, living gracefully and boldly. This gives off an elegant, yet dignified impression. The artwork is often perceived as a celebration of Buddhist paintings because of the gold paint that is thinly distributed on the entire surface, the neat lines, and the wise look on the woman's face. This is definitely one of the finest pieces of Keigetsu's art.
---
*Tessenbyō: wire-line drawing. The term refers to how the drawings' lines are like iron wires, and the way they do not thin or thicken, remaining the same thickness throughout each piece.

*Hakubyōga: A type of Eastern painting that only utilizes ink lines. The style is known for consciously excluding colors, and entrusting the artistic potentials of ink lines to express its objects.
At Last
Hailed as the 'Painter of Lines,' Kikuchi Keigetsu continued to draw beautiful figures of women. His works, which used various expressions to depict the unchangeable beauty of women throughout time, still continues to impress many people today.
---