Takashima Hokkai: Japanese Painter Who Painted Landscapes and Birds-and-Flowers from a Scientist's Perspective
Picture of flowers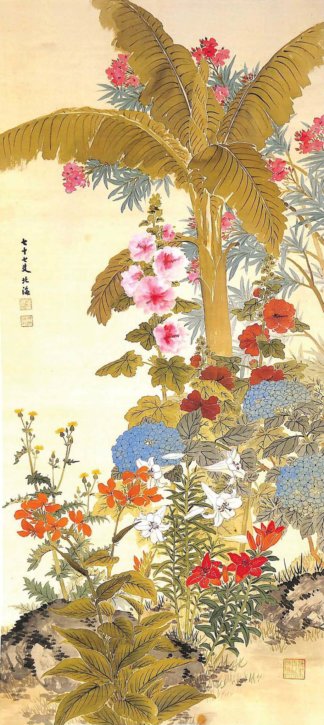 Takashima Hokkai was born in Hagi City, Yamaguchi Prefecture in 1850, as the second son of an official doctor of the Hagi domain. Perhaps because of the influence of his father's painting, Takashima Hokkai also took up painting at an early age. After studying at the clan school Meirinkan, he joined the Ministry of Industry in 1872 and then worked at the Geographical Bureau of the Ministry of Home Affairs and the Forest Bureau of the Ministry of Agriculture and Commerce, where he conducted research on geology and forests. At that time, he left behind geological maps, but one of the reasons why Hokkai began to actively draw pictures may be that there was a need in this geological and botany research. In 1884, he traveled to England to participate in the World Forestry Exposition, and after surveying European countries, he studied at the Nancy Forest High School in France in 1885. The influence that Hokkai had on Emile Gallé and other artists of the Art Nouveau and Nancy schools was significant. After returning to Japan, Hokkai was active in forestry administration as a technical officer in the Ministry of Agriculture and Commerce, but he decided to become a painter and resigned from the Ministry of Agriculture and Commerce in 1899. After working as a professor of drawing at a junior high school in Yamaguchi Prefecture, he moved to Tokyo in 1902. Hokkai, who became a professional painter, was already 52 years old this year, but it can be said that Hokkai performed a satisfactory painter activity for about 30 years until his death. In 1906, he completed "One Hundred Landscape Paintings", a compilation of his mountain and landscape paintings, and after the second Bunten exhibition, he served as a judge for many of the exhibitions and produced many works. After the Great Kantō Earthquake, he returned to Shimonoseki City and continued his work, but returned to Tokyo in 1930 and died in 1931 at the age of 82.
Hokkai is known as a landscape painter. In fact, he drew many landscape paintings, mainly for the "One Hundred Landscape Paintings" series, and his published works were landscapes, such as "The Strange Landscape of Europe" and "Hundred Views of Shina". However, we cannot forget that there are also some excellent flower-and-bird paintings left behind. As mentioned earlier, if we assume that Hokkai's paintings were largely encouraged by his research in mineralogy and botany, the fact that he produced works that could be called botanical illustrated books, such as "Plant miniature," while studying in Nancy is understandable. With such a scientific perspective as a starting point, Hokkai went on to create flower and bird paintings. He also exhibited several flower-and-bird paintings at the Bunten exhibition.
This painting is a combination of oleander, hydrangea, lilies, Hibiscus syriacus, and other summer flowers with a banana plant at the center, but there are similar works on folding screens depicting flowers, which may have been Hokkai's favorite theme. The expression of the flowers and rocks is very familiar as a late work, and this work strongly makes us feel the hand of a painter rather than the views as a scientist.
---