Sakai Dōitsu: The Successor of Edo-Rinpa School Who Was Active During Meiji Period
"Keshi-Zu (Opium Poppies Painting)" by Sakai Dōitsu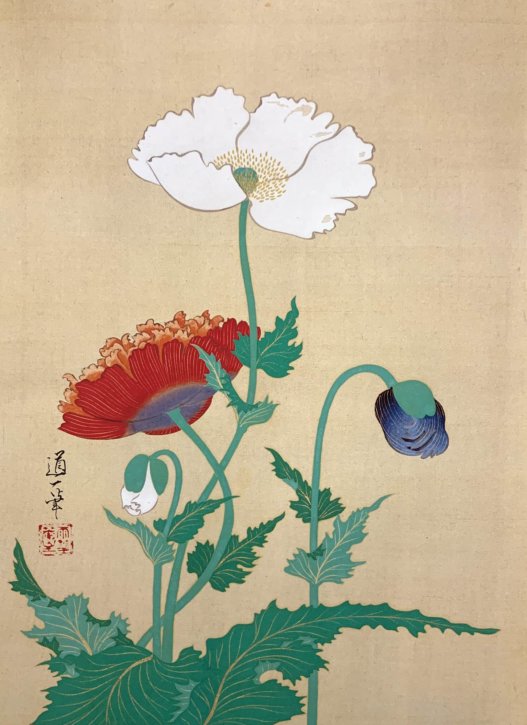 Sakai Dōitsu (1845-1913) was born in 1845 in Edo. He was the second son of Yamamoto Sodō, a disciple of Suzuki Kiitsu. He learned the painting from his father Sodō and his grandfather (his mother's dad) Suzuki Kiitsu. He was adopted by Sakai Ōitsu, the 3rd generation of *Ugean artist name, and after Ōitsu's death, he became the 4th generation of Ugean. It can be said that he was a direct line of the Edo-Rinpa school.
This painting "Keshi-zu (opium poppies painting)" also tells Sakai Hōitsu's painting style. Sakai Dōitsu exhibited "Sue no Matuyama kai (meaning of a song Sue no Matsuyama)" and "Kusabana (flowers)" to the 2nd Naikoku Kaiga Kyōshin-kai exhibition in 1844 and received an award. The work is not known, but it is thought that it was mostly like this painting style. Hōitsu had a style of painting with a lot of sketchy elements added to the style of Ogata Kōrin's style, and even in this painting, the flowers are drawn in traditional *kōroku method, but the buds have the round shape from the shade of color. It is also interesting how he used gold paint on the veins of the leaves to create a decorative effect.
---
*Ugean: Sakai Hōitsu's residence and also an art studio, and because he used " Ugean" as his artist name, Sakai Ōho, who succeeded Ugean, is called the 2nd generation of Ugean, Sakai Ōitsu is called the 3rd generation, and Sakai Dōitsu is called the 4th generation.

* Kōroku: One of the techniques of oriental painting. You would draw a contour with a thin line and color the inside. It is mainly used in Kachō-ga (painting of flowers and birds).
---