Hara Zaichū: The ounder of Hara School That Was a Painting School to Devote It the Orders by Court Aristocracies
Lots of excellent painters appeared during the Edo period besides Kanō school and Tosa school, which were the mainstream in the painting world, and some ones who formed their own clans emerged among them. In addition to Maruyama school founded by Maruyama Ōkyo and Shijō school done by of Matsumura Goshun, so many painting schools including Kishi school, Mori school and Mochizuki school were born.
Hara school was one of them, and it was founded by Hara Zaichū (1750 -1837). Although there are various theories about whom Hara Zaichū studied under, it is said that he was inspired by Ishida Yūtei and Maruyama Ōkyo. His painting style shows something like the assimilated style mixed with the traditional Yamato-e painting technique of Tosa school in addition to the Chinese painting brush stoke of Kanō school and realistic painting style of Maruyama Ōkyo.
Here are accounts for some pieces of works Hara Zaichū put out.
Yang Kuei Fei

Yang Kuei Fei is looking at the flowers on her hand and smiling while leaning on an almost blossoming aronia tree. Beautiful Chinese women may be likened to be Yang Kuei Fei when they are synergized with an aronia tree. That came from the analogy that Emperor Xuan Zong would compare Yang Kuei Fei who got hangover with an aronia blossom. No other works of Figure of Yang Kuei Fei like this has not been known before what Maryuyama Ōkyo did. That is the reason why, the style may be originated by Maryuyama Ōkyo. It was one of the most popular pictorial materials at that time so as to be used for various designs.
Zaichū left some pieces of works based on this particular subject in his last years. He denied that he had ever studied under Ōkyo after Ōkyo passed away, which led to a story that Saeki Ganku might accuse him. Although we do not know whether that was true or rumor actually, we can see the fact that he must have been a disciple to follow the Ōkyo's painting style as long as looking at this very interesting piece of work.
Fukurokuju (a God of Happiness, Wealth, and Longevity, and One of the Seven Deities of Good Fortune)

A charming and smiley figure of Fukurokuju who is one of the Seven Deities of Good Fortune and a symbol of happiness and longevity, faces a turtle which is also a symbol of longevity. Kanō school is well-known as a clan that emphasizes how to use the painting lines and such dynamic brushstrokes with such thick and thin lines can be seen in this work as well. Probably it was inspired by Ishida Yūtei who belonged to Kanō school and whom Zaichū studied under along what they say.
Roosters Beside Chrysanthemum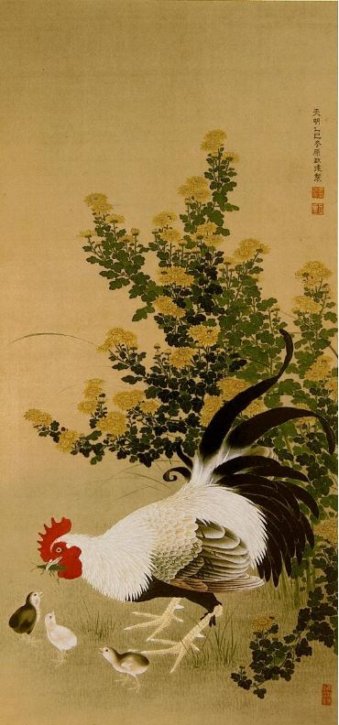 The picture expresses playing parent rooster and baby chicks beside a bloomy chrysanthemum beautifully. The chickens are drawn in detail by a realistic painting technique and that makes us feel the typical painting style of Zaichū, inspired by Maruyama Ōkyo who pursued the realistic painting of the materials. The coloring is also expressed in a skillful manner using a lot of high-quality natural mineral pigments.
Folding Screen of Arashiyama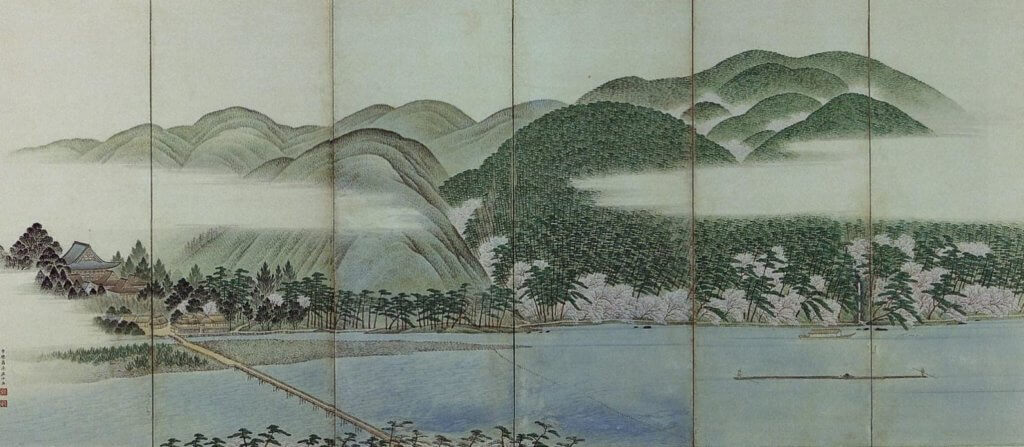 This is a piece of work by Zaichū to depict a spring scene of one of the best scenic spots in Kyoto, called Arashiyama. Togetsukyō Bridge built over Ōigawa River and Hōrinji Temple is arranged on the opposite shore. Actually, Maruyama Ōkyo drew a piece of work that is the similar composition to this Zaichū's picture.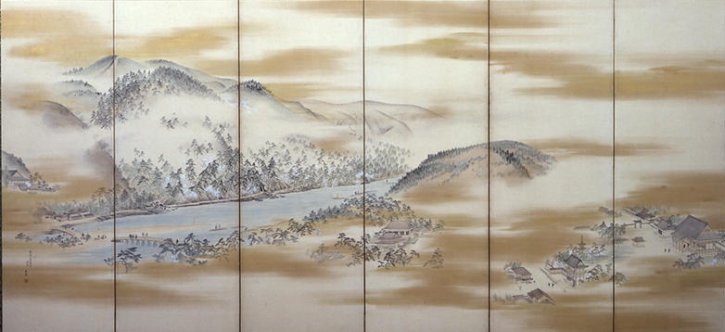 Although the overall atmosphere may be somewhat different, the composition of Togetsukyō Bridge, Ōigawa River, Hōrinji Temple and Arashiyama is much similar to the one Zaichū drew. Zaichū himself denied that he studied under Ōkyo. The comparison makes us realize that Zaichū got quite a little inspiration from Ōkyo.
Mt. Fuji seen from Futamigaura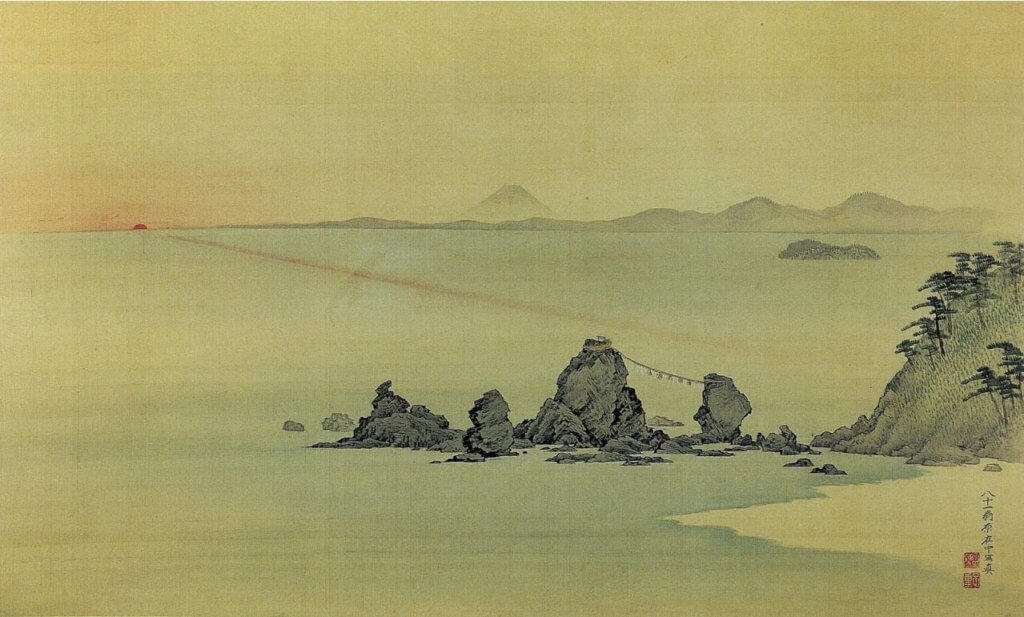 Until the middle of the Edo period, some painters who incorporated the perspective frequently used in Western painting world into their painting styles were coming in. Maruyama Ōkyo was one of the most renowned ones. This piece of work by Hara Zaichū should make us feel the influence. This picture that depicts Meoto-Iwa Reef positioned in the eastern side of Futamigaura realistically draw the rising sun on the opposite shore and Mt. Fuji as the most sacred mountain in Japan seen from Meoto-Iwa Reef with the careful brushstroke. The light shading straightly extended from the rising sun brings about something sacred atmosphere.
Hara School
Hara Zaichū
---