Abe Shunpō : The Master of Kachō-ga Who Was Active in the Bunten and Teiten Exihibitions
Secchū Suikin(Waterfowls in the Snow)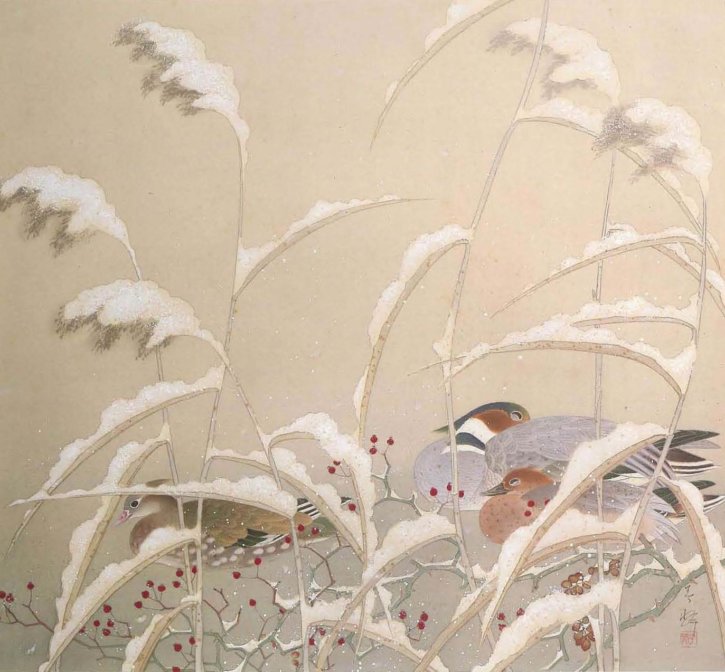 Abe Shunpō was born in Fukuoka Prefecture in 1877. He went out to Kyōto and studied the techniques of drawing bird-and-flower in the Shijō style under Fukada Chokujō first. Then, he worked even harder to master it under his second master, Kikuchi Hōbun. He exhibited splendid bird-and-flower paintings at art exhibitions hosted by the government and left many of these paintings on the sliding doors of temples. He temporarily returned to his hometown Fukuoka, but after the Second World War, he returned to Kyōto. He died in 1956 at the age of 78 years old.
"Secchū Suikin-Zu (Waterfowls in the Snow)" was a work made in 1942 when Shunpō was 65 years old and it was a dedication painting to the military. The society was in the midst of wartime turmoil, and many of the subjects in Japanese paintings were intended to heighten the war spirit, but Shunpō painted a tranquil scene of waterfowl, a mandarin duck couple, and a single duck in the snow.
Snow settles on dry plants and leaves of the reeds by the water. The water is cold, and in this white world, the flamboyant mandarin ducks and the small red fruits of the multiflora rose are impressively depicted.
Still, we can say, the mandarin ducks are depicted in a restrained manner. Shunpō chose the theme: the bird-and-flower painting for his dedication artwork to the military, probably because that was what he was best at. The figure of waterfowl in the snow likely reflects Shunpō's thoughts during the harsh wartime period. Depending on how you look at it, deep snow and thorny multiflora roses seem to express a social condition that is becoming more and more absorbed in a military-controlled society day by day. The painting captures waterfowl floating in the water, which Shunpō was accustomed to depicting. In front, there are dry reeds covered with snow. The composition skillfully produces subtle movements in the quiet painting since the viewers feel as if they peer into the waterfowl in the water through reeds. The male mandarin duck is dozing with half-open eyes, while the female mandarin duck has her eyes open and seems to look for something. We can read a slight movement here too.
Although the work lacks the decorativeness unique to bird-and-flower paintings, it is a work that we can see through the experienced technique of Shunpō, who has devoted his life to this kind of painting.
---