Kitazawa Eigetsu: The Nihonga Painter Who Pursued Female Beauty
Kitazawa Eigetsu was a person who established her status in the art scene with portrait paintings, and more specifically, female portraits. With gentle lines and calmly harmonic color tones, she painted fictional women, and as displayed in 'Deep in Thought (Higuchi Ichiyō,)' women from real life as well, capturing the varying beauties that lie in their kindness, relentlessness, and compassion in a style that can only be realized through the eyes of a woman.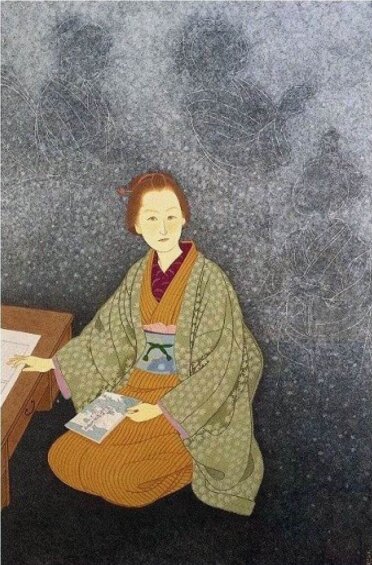 Eigetsu exhibited a portrait painting of two women at the 65th Inten exhibition in 1980 as well, in which she was widely acknowledged for her magnificently accomplished style of expression, and was awarded the Minister of Education Award for the painting.
Kitazawa Eigetsu was born in Kyoto in 1907. She lost her father when she was in sixth grade. Despite being in a situation that could have discouraged her from pursuing the arts, she became an apprentice to Uemura Shōen. She was only 16 years old at the time, and this was when she learned the basics of portrait painting. She later joined the art academy of Tsuchida Bakusen in 1932, at 25 years old. Although Eigetsu's work was selected to be exhibited at the Teiten for the first time in the eighth exhibition in 1927, in the same year, she experienced the death of her master, Tsuchida Bakusen, whom she was largely influenced by. She started to exhibit her works at the Nihon Bijutsu-in exhibitions from the following year, and was nominated as one of Inten's administrative members as early as in 1941. Kitazawa Eigetsu's shift from Teiten to Inten nurtured the quality of her paintings, and led to her later success. Her works from this time period such as 'Cleaning Cloths (Meisho)' (1940), which portrays two women in Japanese clothing spreading out kimonos, display her efforts to incorporate features of neoclassicist paintings, developed by her seniors in the Inten, including Kobayashi Kokei. Although her work is accomplished to a certain degree, here, it is not yet in its distinctive form.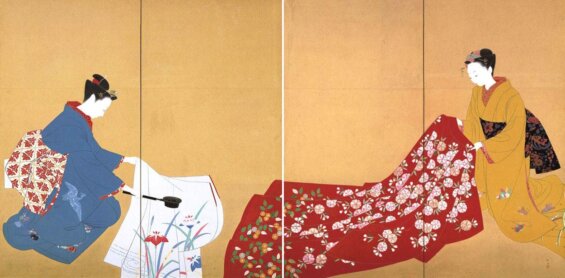 Nevertheless, the work shows the start of Kitazawa Eigetsu's progression towards portraying the underlying beauty of women. It was after she moved to Tokyo in 1960 that this specific painting style of hers gained further depth. It is as if her aesthetical sensibility, which was cultivated by Kyoto's culture, paradoxically started to shine on its own as she found herself in Kantō, an environment that was alien to her. Some of her commonly known works include 'Yasue-san on One Day (Aruhi no Yasue-san)' (1967) and 'Nene and Chacha (Nene to Chacha)' (1970).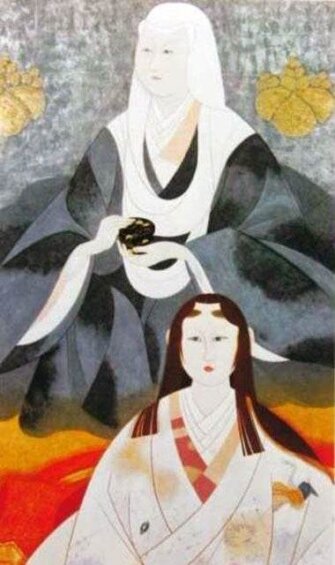 There may be several more pieces that are considered to be representative of her artistry, however, it is in these works that her stylistic traits, which consist of balanced silhouettes drawn in gentle lines, the harmony of mellow color tones, and her beautiful gaze that captures the uniqueness of every woman, are pieced together. Sometimes strict, at times kind, and at times bewitching, their expressions are brought to life with their eyes. What is created in her works, is a world of female beauty that differs from that of her first master, Uemura Shōen.
'Camellia Sasanqua (Sazanka)'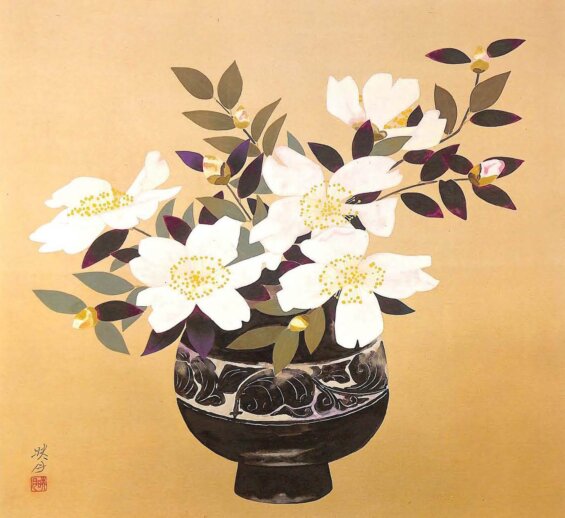 'Camellia Sasanqua (Sazanka)' is a piece from 1958. This, perhaps, is from when she still lived in Kyoto. The painting's tone is clear and shows no lack of order. The piece seems to be quietly settled in a manner that is neither bright nor dark. One will notice that, from looking at it, the whiteness of the bloomed camellia sasanqua flowers will start to float out of the canvas. Similar to her works that portray women, in this painting, she depicts a world of profound beauty that gently finds its way into people's hearts.
---