Recommending Museum, 6 Selections, to Know More about Katsushika Hokusai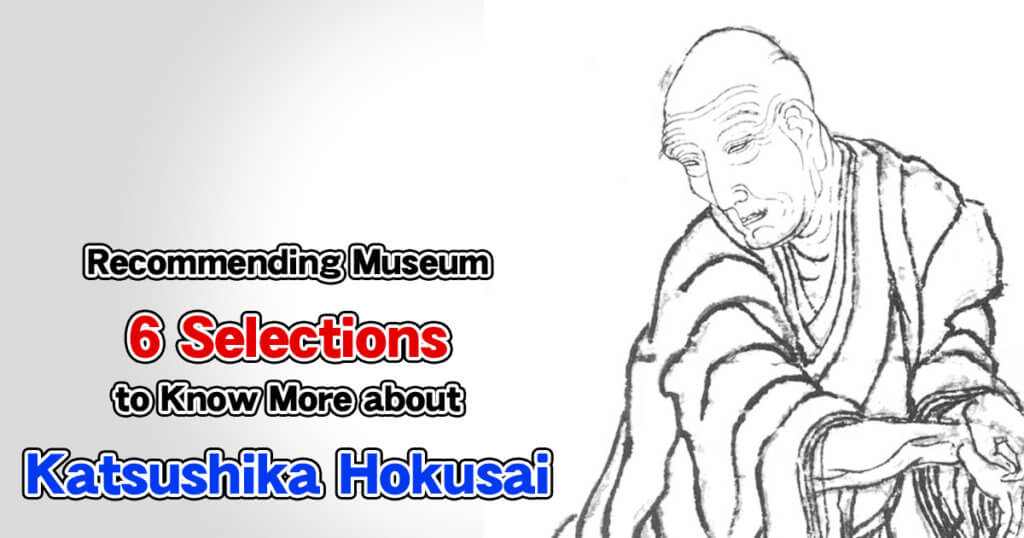 Katsushika Hokusai had produced approx.30,000 paintings in his 70 years' painting life. Many of his works are at museums specialized to Japanese arts.
Those museums keeping masterpieces of wood block prints, rare original paintings are picked up herewith.
Fully enjoy sparking and dazzling beauty of Edo era described by Hokusai with beautiful color and credible brushstrokes.
1, Ōta Memorial Museum,Treasure House of Hokusai's Wood-block Prints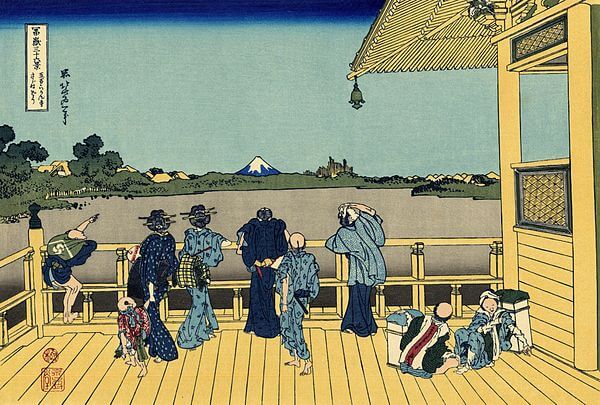 Ukiyo-e has been developed as a Japanese-specific popular art born at the early Edo era. However, regrettably, a plenty of masterpieces of ukiyo-e wood block prints and original paintings had been drained from Japan to the Western countries during the late Edo era and Meiji era. Mr. Ōta Seizō (5th generation of Ōta family) disappointed such a trend and consequently tried to collect approx.14,000 pieces of ukiyo-e during almost half century from the early Showa era. They were roots of "Ōta Memorial Museum" covering many representative works of ukiyo-e from the early stage to the end stage most of which are in good preserved condition.
2, Okada Museum Covering Masterpieces of Hokusai's Hand-painted Ukiyo-e

Okada museum opened at 2013 is located Kowakudani, Hakone, felt close to nature in four seasons exhibits Japanese and Oriental antique arts as well as archeological remains.
Collection line-up of ukiyo-e is prominent in Japan like Kitagawa Utamaro's "Snow in Fukagawa", which was finally and recently opened to public, and drew attention. There are plenty of Hokusai's original paintings such as "Summer Morning", one of his well known masterpieces and "Beach with cherry blossom", his rare landscape painting. We can see his changing history of painting style from them.
Very impressed in taking a look of delicate brushstrokes and beautiful color touch in a spacious exhibition hall with efficiently devised design.
3, Original Painting with the Presence of Japanese Ink line Is the Main Part of the Ukiyo-e Collection: Idemitsu Museum of Arts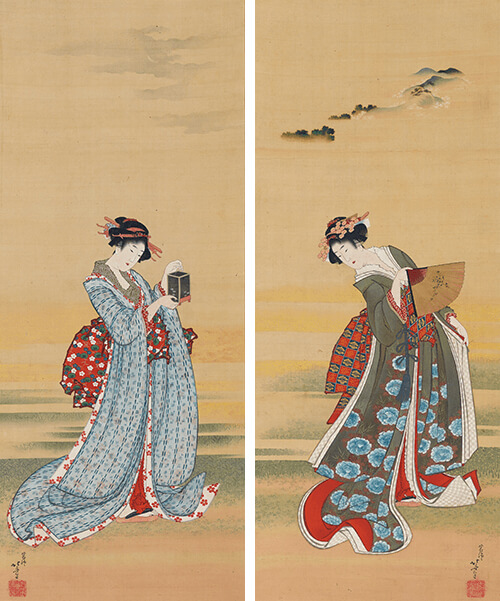 The Idemitsu Museum of Art introduces a different theme from Japanese calligraphy to ancient Asian antique art such as Chinese and Japanese ceramics, collected by Idemitsu Sazō, the founder of Idemitsu Kōsan Co. Among the painting works, the zen painting collection of Sengai Gibon is famous, and it is said that the hand-painted ukiyo-e became a member of the collection in the latter half of the collection.
It is not certain why Sazō became so attracted to Hokusai's hand-painted ukiyo-e. Unlike woodblock prints, hand-painted ukiyo-e has presence of Japanese ink lines. It is thought that the reason is that Sazō had a same kind of interest with Sengai and bunjinga (literati paintings) on that part.
4, Has Full 27 Pieces of Hokusai's Ambitious Work "Hyakunin Isshu Ubagaetoki": Machida City Museum of Graphic Arts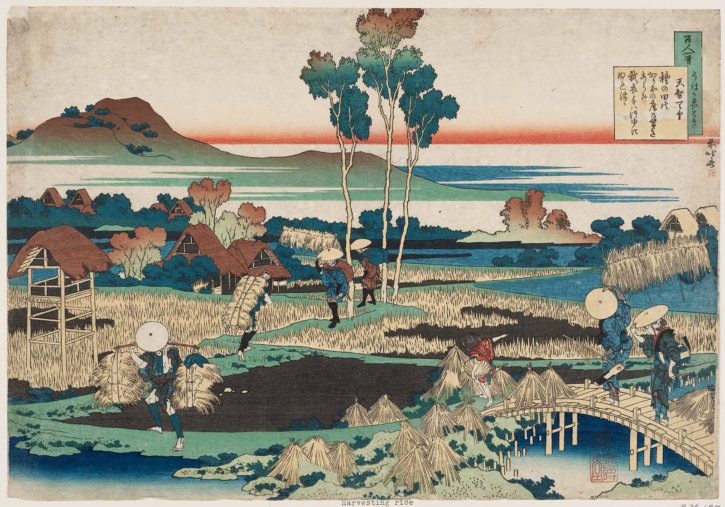 Machida City Museum of Graphic Arts, which opened in 1987, is one of the few graphic art museums in the world. It boasts a collection of more than 28,000 items, including excellent graphic art works and materials both from Japan and overseas.
What I would like to mention specially in Hokusai's work is "Hyakunin Isshu Ubagaetoki" which was drawn for nanny to explain the contents of the Hyakunin Isshu poem to the child. After succeeding in the famous "Fugaku Sanjū-Rokkei", this work was a series of works that are famous for the beauty of luxurious printing. Initially, it was planned as a set of 100 pieces, but in some circumstances, only 27 pieces were completed. There is no one in the world who has all the pieces. Each pieces are fully packed with the charm of Hokusai, as they were drawn when he was at the best at nishikie (colored woodblock print) art.
5, Chiba City Museum of Art: Holding a Variety of Hokusai's Works of Multi-colored Printed Nishikie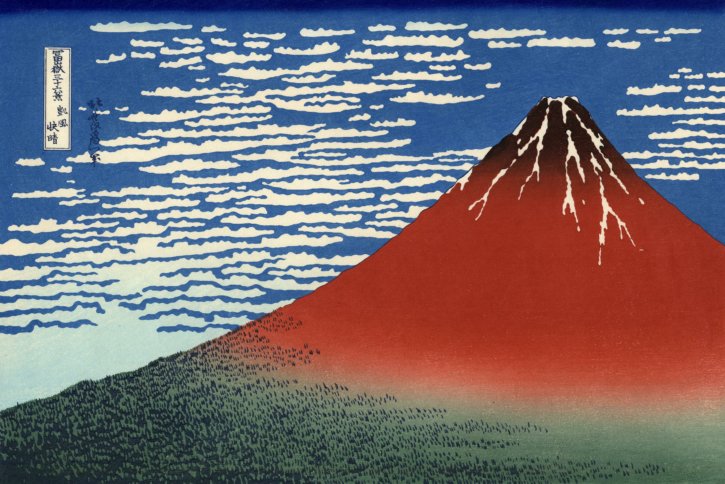 The Chiba City Museum of Arts is famous for the wide range of collections of the early modern (the Edo period) to modern periods, and local area Bōsō (southern peninsula of Chiba Prefecture), and other related Japanese artworks. Among their collections, the Chiba City Museum owns about 3,000 ukiyo-e works. They are the nice line ups: nishikie with unique styles and excellent multi-layered color printings techniques and ukiyo-e booklets.
Some of Hokusai's works the museum curates are "The Great Wave of Kanagawa" and "Fine Wind, Clear Morning" from The Great Thirty-six Views of Mt. Fuji. They are well-maintained, so the condition attracts visitors. Some series of printings Hokusai added graphics to calendars, kyōka (comic tanka), or haiku appeal to visitors for his unique but dexterous composition.
6, Splendid Collections of Nishikie which Includes Beautiful Women Ōkubie, Rare to Hokusai's Works: Hagi Uragami Museum, Yamaguchi Prefecture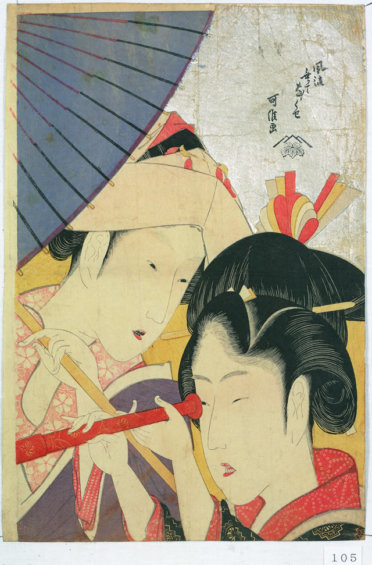 The Hagi Uragami Museum opened in 1996 for a valuable donation from a local entrepreneur. Uragami Toshirō, a Hagi City-born entrepreneur, collected various kinds of ukiyo-e and oriental pottery. The Hagi Museum was introduced by "Michelin Green Guide Japan 2009" which rated the Museum as a two-star tourist attraction. The museum majors in oriental ceramics and pottery. There are Hokusai's printings in the museum starting from Seven Foibles of Young Women:The Telescope (Fūryū nakute nana kuse), a rare Hokusai's beautiful ōkubie (one of the genres of ukiyo-e drawing only the head or the head and upper torso of the object) to Hokusai's masterpiece, The Great Thirty-six Views of Mt. Fuji, all of the "*Original Fuji". Besides the above, a variety of Hokusai's fine works, such as Hyakumonogatari kaidankai (A Gathering of One Hundred Supernatural Tales), a humorous monsters' picture, Syokokumeikyōkiran (Rare Views of Famous Japanese Bridges), a booklet version of The Great Thirty-six Views of Mt. Fuji, Hokusai Manga (Hokusai Sketches).
---
*Originally, The Great Thirty-six Views of Mt. Fuji were supposed to be completed with 36 pictures. However, the works were so popular, Hokusai added 10 extra pictures. The original 36 are called 'Original Fuji" and another 10 are called "Additional Fuji".
---