Gōkura Senjin: The Master of Kachō-ga (Painting of Flowers and Birds) and a Buddhist Painting Who Lived before and after the War Time.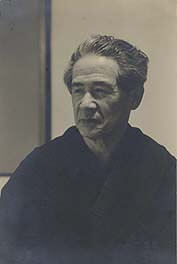 Gōkura Senjin was born in 1892 at a kimono merchant's house in Toyama Prefecture. After graduating from the lacquer course at the Takaoka Kōgei School, he moved on to Japanese Art department of Tokyo University of Arts. There, he learned in Terasaki Kōgyō's class.
It is said that Senjin was worried about starting his career although he graduated from Japanese Art department of Tokyo University of Arts. At this time, he was inclined to the post-impressionists, especially Paul Cézanne, Vincent van Gogh and Paul Gauguin, and that was one of the motivations that led him to the United States in 1916 after graduation. After spending a year going to an art museum in Boston and studying at an art school, he kept looking at Japanese paintings objectively. After returning to Japan, with a desire to pursue Japanese Art, Senjin exhibited his work at the Inten exhibition. His first selection was at the 8th Inten in 1921 with his work "Chijō no Haru (Spring on Earth)". Speaking of selection, he won his first prize at the 2nd Teiten (exhibition sponsored by the government) a year before, but he didn't mean to change his exhibition to Inten. It seems that his supporter had put his work to the exhibition without permission. You can feel the pure spirit of a young man as he continued to work hard for Inten after he was selected for the Teiten.
It was 1924 when he became a member of Japan Art Institute, along with Katayama Nanpū, Sakai Sanryō, Tomitori Fūdō. After that, he established his own style by drawing works such as "Dōji Zumō (Children's Sumō)" (exhibited at the 12th Inten) that express the innocent scenes of children playing in a simple atmosphere. During that time, he became a professor at the Teikoku Art School in 1932 and a professor at the Tama Art School in 1936. At the Tama Art School, he taught the students until 1966.
After the war, he also served as a judge for Nitten (an exhibition sponsored by the government) in 1949. In 1960, he was awarded the Japan Art Academy Award for his work "Yamagiri (The mountain fog)" at the 44th Inten. In 1961, with the request of drawing a Buddhist mural painting by Shōriki Matutarō, the owner of the Yomiuri Shinbun (a newspaper company) and also from the same district as Senjin's, he went on a journey to study Indian Buddhist art at the age of 69. Based on what he learned, in 1963, he completed the mural painting trilogy "Shaka Fuō ni Aitamō Zu (a painting depicting a scene where Buddha meets his father, who is a king)" at the Kyoto Higashi Honganji Ōtani Fujinkaikan.

In 1969, with another request from Shōriki, he drew Ōsaka Shitennōji Daikōdō mural painting "Bukkyō Tōzen (Buddhism gradually spread to the east)". It was a masterpiece with 18 faces, and was produced when he was halfway through the age of 70. Senjin, who was specialized in Kachō-ga, completed a large mural painting about Buddhist narrative since he was born and raised in a town that is told to be the kingdom of the Jōdo Shinshū, where there were many enthusiasts. He borrowed books such as Dunhuang's murals in western China and Ajanta's murals from the library when he was a graduate of Tokyo University of Arts, and copied them all during his summer vacation without returning home, and he learned the techniques by playing a leading role as a Japanese painter for many years. For those reasons, he was able to complete the masterpiece at the experienced state. In 1972, he became a member of the Japan Art Academy but died suddenly in the same year due to acute heart failure.
He studied under Yasuda Yukihiko, but he opened up his field to Kachō-ga rather than to the field of history painting, which his teacher was good at. In the latter years, he focused on Buddhist painting, but the vibrant painting of Senjin's Kachō-ga is still popular today. What people like about Senjin's style is the pure, cloudless warmth. The naive painting is filled with dignity exuding from his honest and various personality. It may also be derived from the native nature of Kosugi Town of the Toyama Prefecture, where he was born and raised.
"Tōchō" : Kingfisher Fluttering in the Quiet Snow Scene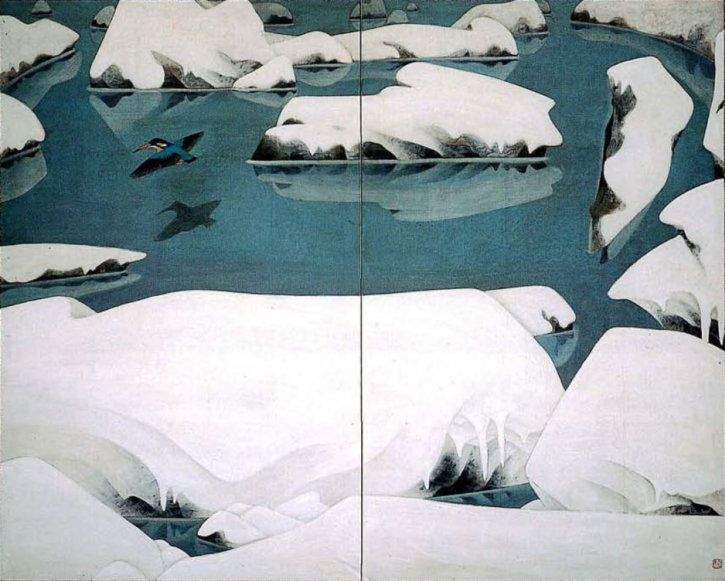 Since the 30th Inten was held in 1943, the exhibition was not held due to the influence of the war. The long-awaited the 31st Inten was held in 1946 for the first time after the end of the war. This work is an exhibition by Gōkura Senjin at that time.
You can see a kingfisher flying in a snowy mountain stream. It may be a work that has the spirit and hope of flying from the long and difficult times (war). A kingfisher shines on the painting based on white color. At the same time, you will be fascinated by the blue beauty of the river surface. The feeling of life in the deep snow that Senjin, who was born and raised in the snowy Toyama, had always felt is expressed without hesitation. It is an exquisite painting that you can feel the warm feeling even on a tense painting.
---