Kikuchi Hōbun: A Master of Cherry Blossom Paintings, One of the Best Four Disciples of Kōno Bairei
Kikuchi Hōbun was born in 1862 to the family of a merchant selling calligraphic/painting works and also dealing with the picture mounting work in Ōsaka. He started to learn about pictures under Shigeno Hōen in Ōsaka as just a hobby. At the age of 21, he became a disciple of Kōno Bairei in Kyōto. He became a prominent painter soon in the Naikoku Kaiga Kyōshinkai exhibition and painting study groups, getting later the title of one of the Best Four Disciples of Kōno Bairei along with Takeuchi Seihō, Taniguchi Kōkyō, and Tsuji Kakō. While lodging at the Bairei's house, he, originally in good shape, was reputed to throw three of the other Four Disciples in the air when they played sumo wrestling. His serene character fitting with his well-built looking adds a kind of tender taste to his painting style. While he mainly drew bird-and-flower paintings, he has been also widely acclaimed as a master of cherry blossom paintings with 'Yoshino in Drizzle' in 1914 as one of his outstanding works.

In the early time of his carrier, he studied Yamato-e paintings, thus creating excellent historical and genre paintings, too. By the end of the year 1894, he had already taught at the Kyōto City Technical School of Art, with his status in the art world well-established. Thus, he played a prominent role as an authority of the art world on one hand, for example, serving as a judge in the first Bunten exhibition in 1907 and committed himself to the fostering of younger painters on the other. Kikuchi Keigetsu, renowned for his Ukiyo-e paintings of beautiful women, was adopted as heir to Hōbun. Hōbun also used to be a member of the Imperial Academy of Fine Arts and one of the Imperial Household Artists. 'Spring Evening/Frosty Morning' in 1903 is one of his masterpieces.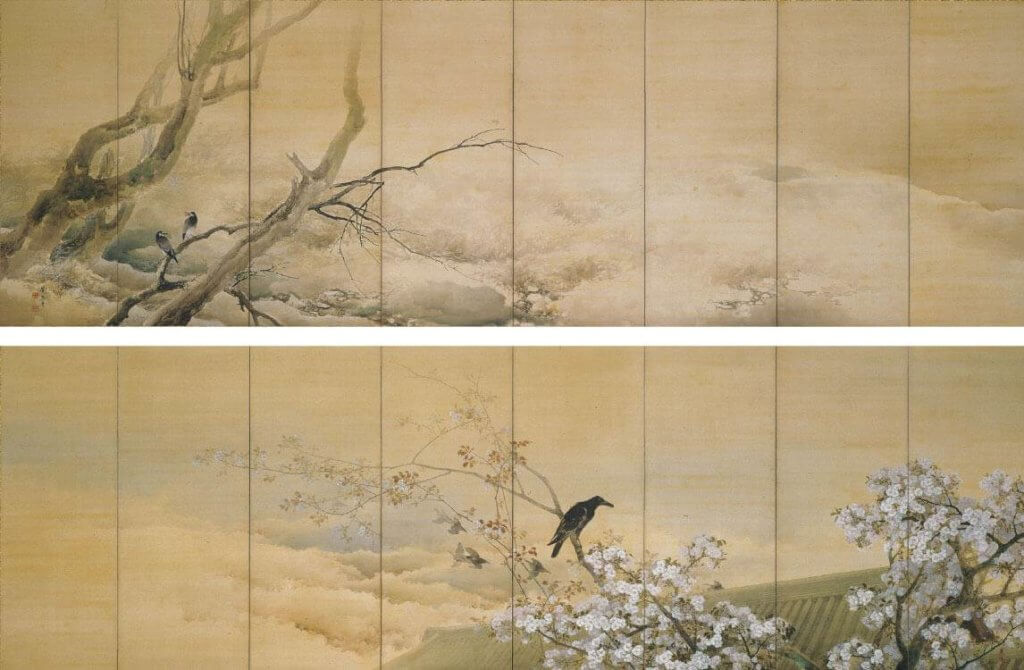 He died in 1918.
Great Tits on a Weeping Cherry Tree/The Moon with Pine Trees/Mandarin Ducks in Snow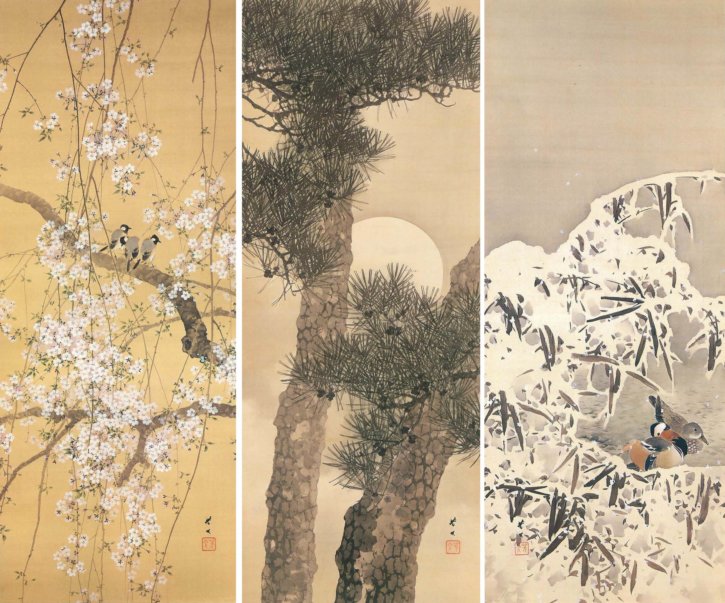 This set of three paintings deals with the classic subject of 'snow/moon/flower'. It is estimated that this set of paintings was completed around 1907. Three great tits were placed on a weeping cherry tree in full bloom, in which the depiction of the cherry flowers is so awesome as to make this painting unrivaled with none of the alternative depiction more befitting than Hōbun's. The latter two paintings of the moon between the pine trees and mandarin ducks in snow with modest taste even in the seasonal sense of each painting make this set of three paintings as a whole the one enabling the creation of some serenity. This set of paintings must be a typical example shown by Hōbun of bird-and-flower paintings of Kyōto school.
Peony Flowers Sparrow Chicks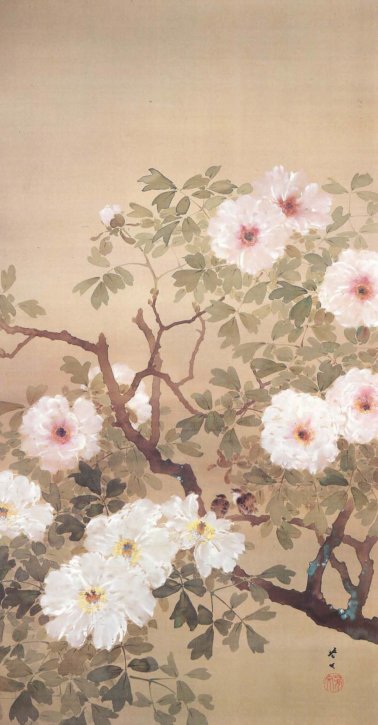 This painting depicts peony flowers in graceful color tones. The glamorous taste with some freshness after the rain, often found in the work of Hōbun, brings about the creation of a serene appearance as if the weak cry of two yet-matured sparrow chicks could be heard. This work was sent to the fifth Bunten exhibition in 1911 with the title 'Little Sparrows', one of his excellent works representing Hōbun's painting style.
---