Yamaguchi Hōshun: Japanese Painter Who Developed an Original Style of Paintings by Incorporating Western Painting Expressions into Yamato-e
Sunny During Rainy Season by Yamaguchi Hōshun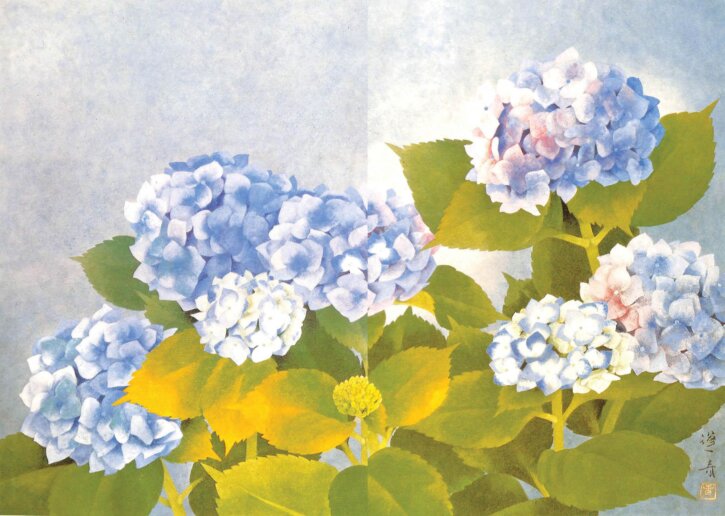 Yamaguchi Hōshun had shown outstanding skills as a Western-style painter, winning two awards at the Nikakai exhibition while he was still a student at the Tokyo School of Fine Arts, but his professor at the time, Nagahara Kōtarō (a Western-style painter), who was trying to find a way to transform Western paintings into Japanese paintings, evaluated his painting style, saying that it resembled Yamato-e scroll, and Hōshun wanted to try Japanese-style paintings, so he switched courses and became a pupil of Matsuoka Eikyū. Hōshun had a such unique career. At the time, Matsuoka Eikyū had just started the new Yamato-e movement, and Yamaguchi Hōshun naturally participated in this movement and painted landscapes using Yamato-e techniques. The peak of his career was "Nachi Mountain in Mikumano."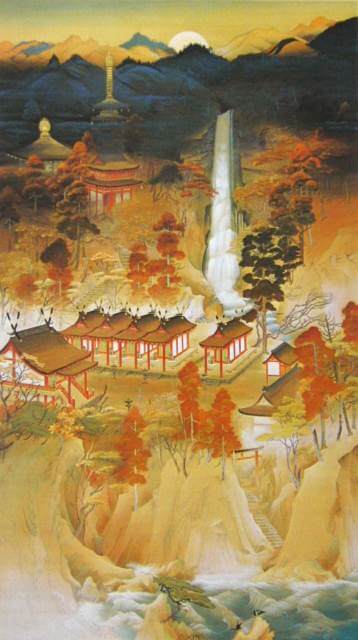 This work, which was exhibited at the 7th Teiten exhibition in 1926, won a special prize of the Teiten exhibition and the Fine Arts Prize of Imperial Academy, and was purchased by the Imperial Household, made his spectacular debut in the art world. However, Hōshun who dreamed to create a new Japanese painting, parted from Eikyū, left the Teiten, and in 1930 formed the Rikuchōkai with Fukuda Heihachirō, Nakamura Gakuryō, Kimura Shōhachi, Nakagawa Kigen, Makino Torao, Yokokawa Kiichirō, Togari Kenshō, and others. Through interchange with other artists from different schools, including Japanese-style painters, Western-style painters, and art critics, he expanded his own painting fields. After the war, he attempted to develop a more abstract style of Yamato-e paintings, but eventually returned to more sketchy pursuit.
This painting, "Sunny During Rainy Season," is from that period and captures the refreshing atmosphere of hydrangeas changing into seven different colors, washed by the rain. The tones of blue and pink are beautiful, and the painting of the leaves is particularly brilliant.
Chrysanthemum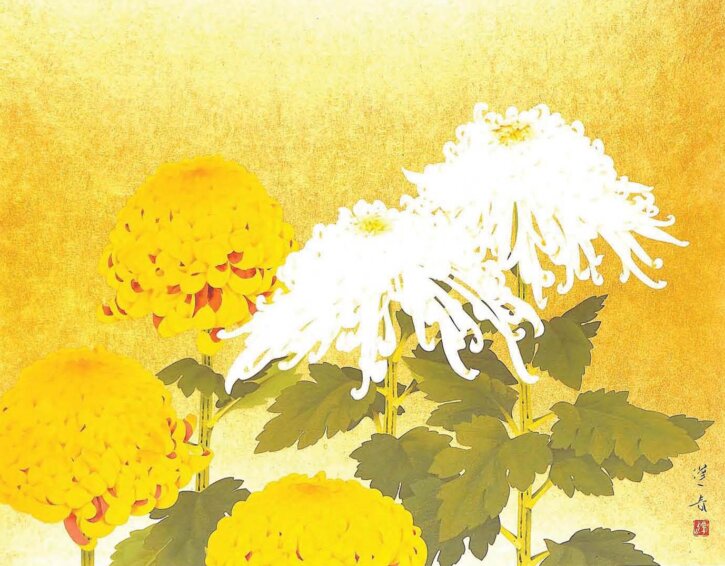 He painted yellow chrysanthemums and white chrysanthemums. This work was also done after passing through the period of Yamaguchi Hōshun's attempt at abstract Yamato-e, which was mentioned earlier, and shows thick and rich chrysanthemum petals. Of course, it goes without saying that this work is based on a sketch without getting water, but even so, it is struck by the sense of life that seems to be moving through it. The leaves and trunks are also drawn in a simplified manner, but their characters are accurately captured, and as for the green of the leaves, by skillfully coloring, which makes us even feel its stain, it reminds us of "Colorist Hōshun."
Early Summer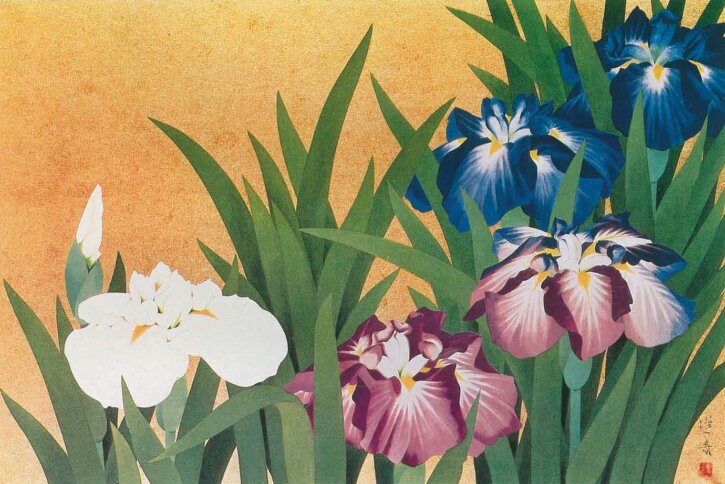 Blue, purple, and white irises are lined up diagonally from upper right to lower left, with white buds forming a period. The subtle changes in the colors of the irises accurately express the softness and volume of the petals. The overlapping petals, which may have been struck by an evening shower, are particularly tasteful. The leaves are sharp and vigorous, like the shape of a sword. Since such color intensity is inevitably hard to apply to the entire screen, a breather is taken in the upper left space.
---