Hashimoto Seisui: A Painter Who Gained Popularity Through His Delicate Brush Strokes
Peony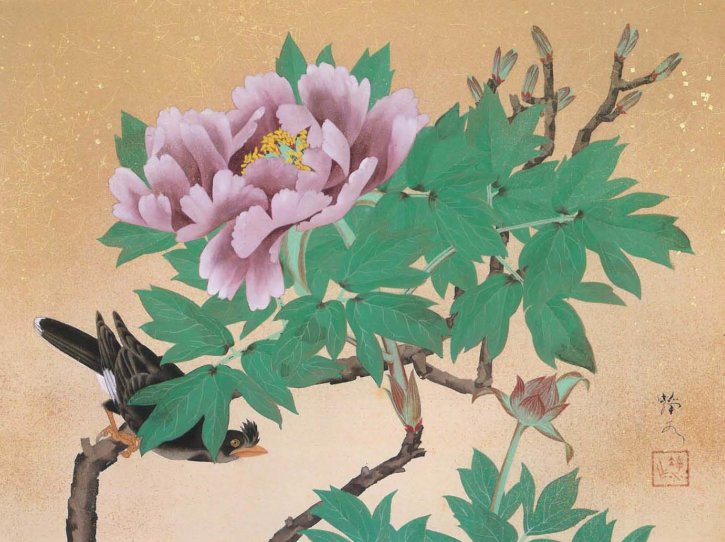 Hashimoto Seisui was born in Hiroshima in 1876 and moved to Tōkyo to become a painter. He dropped out of the Tōkyo Arts School and studied under Hashimoto Gahō, becoming his adopted son. In the first exhibition he submitted a painting, which was the Fifth Bunten Exhibition (art exhibition sponsored by the Ministry of Education) in 1911, he received an honorable mention. After that, he exhibited at the Japan Art Institute (Nihon Bijutsuin) Exhibition from the First Revival Exhibition in 1914 and was recommended to be a "Dōjin" (a member of the management committee) of the Japan Art Institute in 1916. Since then, while exhibiting at the Japan Arts Institute Exhibition, for many years, he taught younger generations as the manager of Hashimoto Gahō's painting school Futabakai. He died in 1943 at 67 years old.
This work shown here "Peony" is made by scattering gold dust over the whole surface and drawing a large purple peony on silk, sprinkled with gold leaves. The petals of the peony swaying in the wind, the leaves deeply colored here and there with the Tarashikomi* technique, and the bird's pose created through shadowing by blur are realistic in contrast to its decorative, flat background. In addition, the peony buds and sprouts about to grow upwards, and the eyes of the bird that, aiming for something, seems to be about to take off give movement to this work whereas there is also a calm element with the combination of gorgeous colors throughout it, truly being a scroll which enchanting scent seems to drift.
---
*Tarashikomi: A high-level technique of Japanese-style painting for attaining natural blur by making use of the difference in the specific gravity of pigments.
---