Watanabe Kōkan: Disciple of Morikawa Sobun. A Talented Painter from Shiga Prefecture.
Ryūro-zu (Willow Tree & Egrets)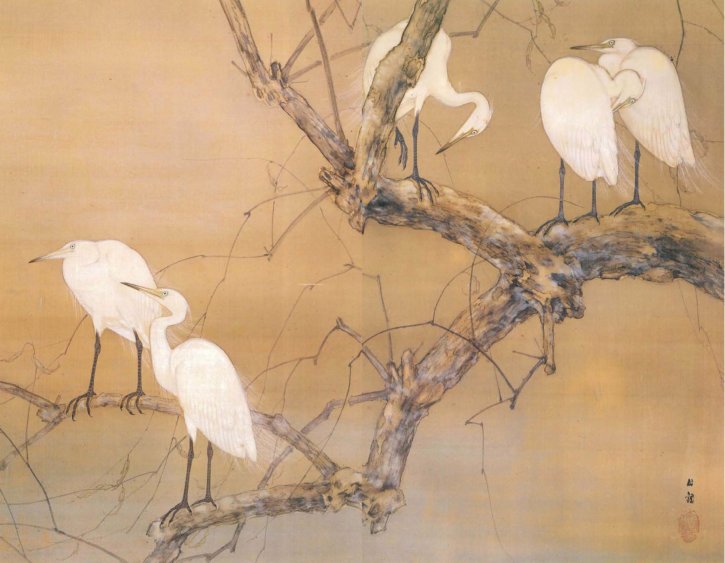 Watanabe Kōkan was born in 1878 in Ōtsu, Shiga Prefecture. After only spending two years at Hikone Junior High School and one year at Kyōto Bijutsu Kōgei Gakkō, he became a disciple of Morikawa Sobun without graduating from the schools. With the recommendation of his parents, he went to Hikone Junior High School, then moved to Kyōto Bijutsu Kōgei Gakkō, but since he wanted to become independent as a painter as soon as possible, he stopped attending and became a disciple of Sobun. Eight years after he started to learn under Sobun, his teacher died. It was when Kōkan was 26 years old. He won prizes for the Bunten exhibitions, but when the Teiten exhibition started in 1919, he felt the harmful effects of the government exhibition over the years, so he called on mid-career artists in Kyōto to create the Jiyū Gadan (free painting circle). Kōkan held an exhibition with his colleagues as a member of the Jiyū Gadan. In later years, he devoted himself to copying the classic Chinese paintings, but he died in 1938 at the age of 61.
This work is a large hanging scroll work. Many egrets are living on the shores of Lake Biwa, and you can still see them hanging out on dead willow trees in real life. Since it shows the winter season, the old willow tree has no gentle twigs and willow leaves swaying in the wind. You just see the dark old tree swaying in the cold wind. Five egrets are perching on a branch. Sharp eyes seem to be constantly chasing prey. The few willow leaves that remain on the bent branches sway in the cold wind over the lake. It is a painting that condenses the familiar lakeside scenery on the screen.
---