Kawabata Gyokushō: A Japanese-Style Painter Who Is Told to Be the Last Master of Maruyama School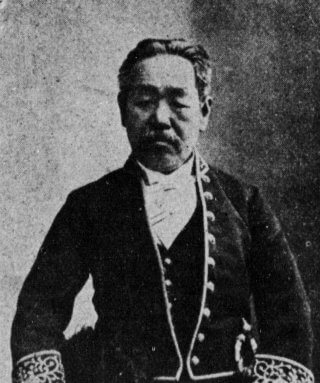 Kawabata Gyokushō was born in Kyoto in 1842 as a child of a Makie-shi (the master of gold lacquer art). He has been fond of painting since he was three years old, and at the age of eleven he entered Nakajima Raishō's painting school and learned Japanese and Chinese studies. When he was 18-9 years old, he had already made his name in the art circle of Kyoto. He traveled to Okayama, Shikoku, Ise, etc., and moved to Edo in 1867. However, during the turbulent period from the end of the Edo period to the beginning of the Meiji period, few people worked on their paintings since it was difficult to live at that time. Around this time, he began studying Western painting, which was popular at that time, and in 1872, he studied oil painting under Takahashi Yuichi. Under the patronage of Mitsui family, he gradually gained fame from around 1877, and received an award at the first Naikoku Kangyō Hakurankai exhibition that took place in the same year. He had a relationship with Ryūchikai, Tōyō Kaigakai, and Nihon Bijutsu Kyōkai, and he was active during the rise of the nationalism. While receiving the Bronze Award in the 1st and 2nd Naikoku Kaiga Kyōshinkai exhibition (1882, 1884), he also produced many paintings for the government, and in 1888 he drew Sugito (door made of cedar) painting for the Imperial Palace that was being constructed. He was invited to the Tōkyō Bijutsu Gakkō (Tōkyō School of Fine Arts), which was founded in 1887, and became a professor in 1890, and became Teishitsu Gigeiin (a member of imperial art experts) in 1896. He was enthusiastic about teaching younger generations in particular, and assisted in the formation of the Nihon Seinen Kaiga Kyōkai (Japan Youth Painting Association), and established Kawabata Painting School in 1909 with his own expense. He was the last Maruyama school painter. Museikai was established by Hirafuku Hyakusui, Fukui Kōtei, Shimazaki Ryūu, Watanabe Kōgai, Yūki Somei, Ōmori Keidō and Ishii Hakutei, 7 members that learned under Kawabata Gyokushō. Museikai had naturalism and formed a major trend in modern Japanese painting. He was 72 years old when he died in 1913. For this article, I would like to introduce two works by Kawabata Gyokushō.
Secchū Shōkinzu (Snow and Nandinas)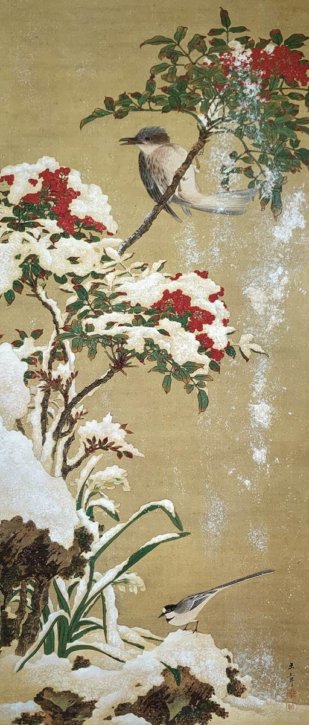 You can tell that this is kachō-ga (painting of flowers and birds) drawn in Gyokushō's style. The rich colors and powerful brushstrokes create a momentary view of a corner of the winter garden. Heavy snow covers both the fruit of nandinas and the neatly bloomed daffodils, and the bulbul that flew through the snow are holding on to the twigs of the nandinas. Then, snow fell apart from the swaying nandinas, and a bulbul quickly held one of the fruits, colored in red like a coral pearl, in its beak. It seems that the wagtail walking under the snow does not notice the bulbul. The contrast between the lively appearance of the bulbul and the quiet appearance of the wagtail is depicted in a perfect balance. It lightly captures the subtleties of nature, and draws with meticulous and delicate realistic painting style with the expression of Western paintings.
Fuji Shōkin (Wisteria)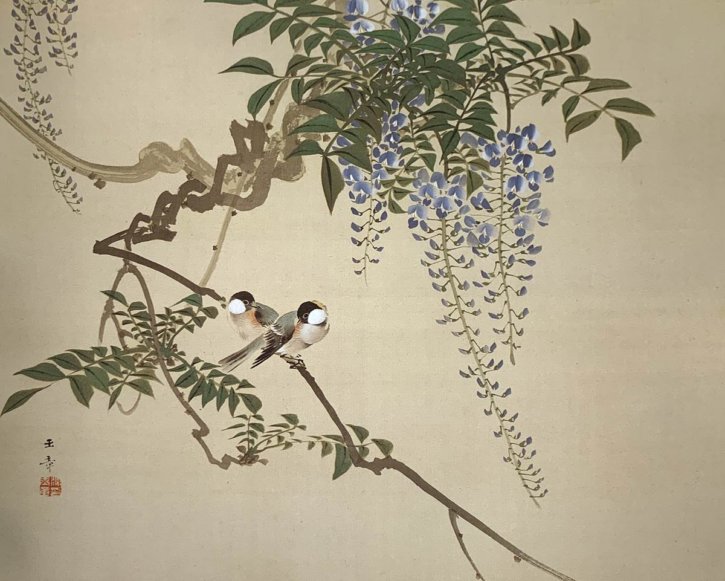 Kawabata Gyokushō is told to be the last master of the Maruyama school, and he always called Ōkyo as his teacher and he refused to be confused with the Shijō school. However, it is said that he first self-studied the painting from Matsumura Gyokubun (Shijō school painter and the son of Matsumura Keibun). Without the fact that Gyokushō named himself Gyokushō from Gyokubun's "Gyoku" and Nakajima Raishō's "shō", whom Gyokushō became a disciple of, you could say that some works of Kawabata Gyokushō had Shijō school techniques in it. This is because the Maruyama and Shijō schools did not have a large technical or sensible gap at this point.
This painting is also an example in which a moderate Maruyama-Shijō school-style sketch was made with amazing brushstrokes. Wisteria flowers, leaves, twigs, two great tits, etc. are all drawn in *Tsuketate technique, drawn lightly with a splendid brush stroke, and the composition with a margin on the right is also clever, and it is put together in an extremely elegant painting. It can be said that this painting is the masterpiece of Kawabata Gyokushō.
---
Tsuketate: A technique that uses the bulge and momentum of brush strokes to express an object with darkness of ink and paint, without using drafts or contour lines. It was often used by Maruyama-Shijō school painters.
---