Yamauchi Tamon: A Japanese-Style Painter Who Was Born in Miyazaki and Active from the Meiji era to the Shōwa Era.
Hawk

Bird and Flower

Figure of Cranes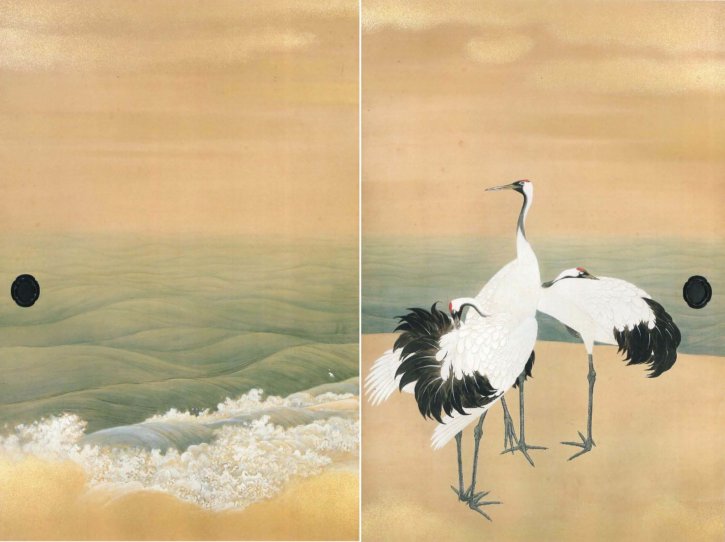 Wild Geese in Reeds

Yamauchi Tamon (1878-1932) was born in Miyazaki Prefecture. Initially, he studied under Nakahara Nankei to learn the Kanō school and then, did under Kawai Gyokudō after he went up to Tokyo in 1900. He was also coached by Hashimoto Gahō. He started to exhibit his works at the Nihon Bijutsuin Exhibition from the following year and often received awards so that he could stand out. He received 2nd prize at the Tokyo Kangyō Hakurankai exhibition in 1907. He was awarded from the 1st Bunten Exhibition and often received the 3rd prizes at the exhibitions. He was chosen as a judge in the Kokuga Gyokuseikai (an art association of a new school) and Tatsumigakai (an art association formed in the Meiji era). He was recommended to be a judge at the 2nd Teiten Exhibition in 1920. He released masterpieces throughout his life. In addition, he formed the Josuikai together with his compeers. However, he withdrew from the association after only one exhibit at the 1st exhibition because the association was split into the Teiten faction and the anti-Teiten faction.
"Hawk" is a scroll of the painting drawn instantly according to the order at a banquet held in an inn in Tsukimiyama, Suma, Kōbe city, Hyōgo Pref. in 1921. The hawk was depicted with his full force by sumi ink, which brings about keen eyesight. It can be said to be one of his clean-cut works.
"Bird and Flower" was produced when he was 17 years old in 1894. It was apparently drawn based on the sketch by the Kanō school and known at the production around when he studied under Nakahara Nankei. Although he drew it referring to a model, it must have reached at a certain level so that it can remind us of his artistic talent.
Both "Cranes" and " Rogan-zu (Wild Geese)" show the due results that are countable as the representative works of Yamauchi Tamon. "Cranes" is a painting that used dark colors. The swell of the waves was drawn in a slightly standardized style like typical Yamato-e picture scroll, and the live views were added to the wave crest like the style of the Kanō school.
"Rogan-zu (Wild Geese in Reeds)" is one of his masterpieces, which depicted the all ecology of geese such as flying-out ones, flying-down ones, and resting ones on the reeds or the waterside. It expresses the space size of the reeds field and the harmony in the combination of the sumi ink and gold paint looks richly elegant and deploys one aspect of the world that the painter reached at.
---