Tonouchi Mishō: A Japanese-Style Painter Who Gave New Sensation to the World of Yamato-e.
Frost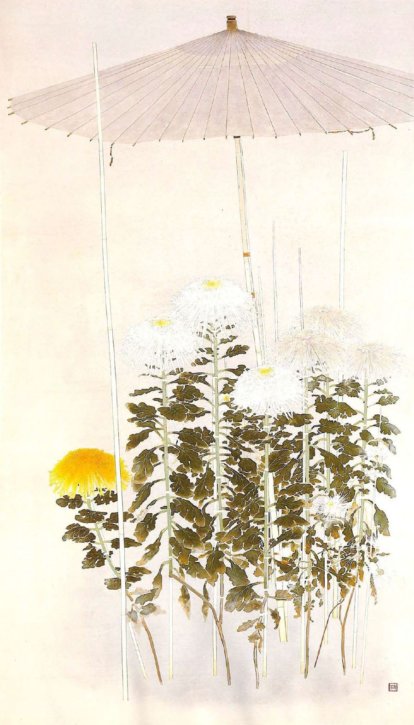 Tonouchi Mishō was a painter who adored the world of Yamato-e and tried to revive its traditional methods and classical world. Mishō was born in Kanda, Tokyo in 1891. When he first started learning painting, he took lessons from Terasaki Kōgyō in Tokyo. Later on, he moved up to Kyoto to enter Kyoto City Specialist School of Painting (the predecessor of Kyoto University of the Arts) and learned painting under Kikuchi Keigetsu there. He was awarded his first prize at the 2nd Teiten Exhibition in 1920 and won the special commendation at the 6th Teiten Exhibition in the year he graduated from the painting school (1925). He was awarded the special commendation again for his work titled "Tounomine Shunsetsu (Spring snow-covered Mt. Tounomine and Its Temples and Shrines)" at the 8th Teiten Exhibition in 1927. He was chosen as a judge at the 10th Teiten Exhibition in 1929. "Tounomine Shunsetsu (Spring snow-covered Mt. Tounomine and Its Temples and Shrines)" is the work for which Mishō won his second special commendation. It is said to be his best work that faithfully presents the world of classical Yamayo-e, depicting slightly snow-covered Mt. Tounomine and the sanctuary of Tanzan shrine. Those places have a sacred atmosphere.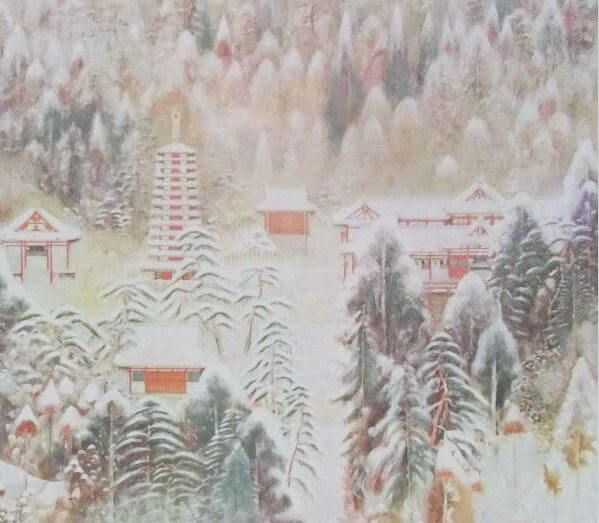 Mishō was qualified for exemption of examination when displaying artworks at the Shin Bunten exhibition for years, and he became a contracted artist of the Nitten after World War II. He passed away in 1964 at the age of 73.
"Frost" featured herein was released in 1937 when Mishō was 55 years old. There stand 7 or 8 large chrysanthemums that have gold and white petals. They bloom dignifiedly on a vertically long screen. Lean over bangasa (coarse oilpaper umbrella) is placed above large chrysanthemums, possibly to avoid frost damage. A combination of soft lyricism and distinctive sharp drawing line he learned from his master, Kikuchi Keigetsu, produces a relaxed ambiance in this bird and flower painting. Especially, the interaction between the linear composition of the bangasa and supporting bamboo sticks, and curved lines of the large petals, branches, and leaves, has an effect of creating rich and poetic sentiment in the painting, without lacking tension. This beautiful flower painting bears grace and emotional leeway. It is hard to believe it was created during turmoil and despair after the defeat of Japan in World War II.
---