Hamada Kan: An Authority in the Japanese Art World of Kyoto. A Great Master of Bird-and-Flower Painting.
Opium Poppies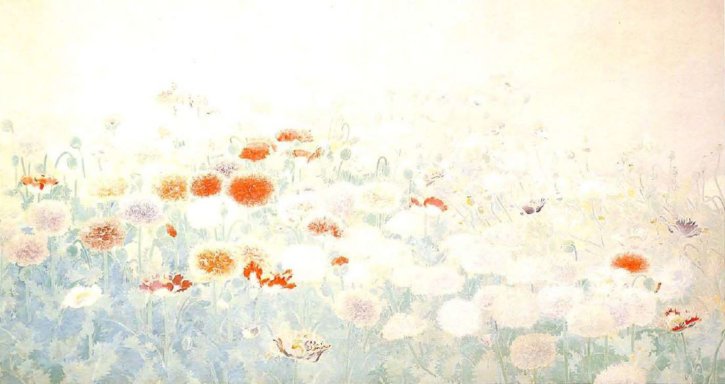 There are two kinds of artists. The kind who explores different art themes and the kind who have an apparent favorite subject. Hamada Kan, who was generally known as a leading expert of bird-and-flower painting, belongs to the latter. His dominant and consistent subjects were opium poppy, peony, lotus pond, and carp. He was very clear about what he wanted to create. Although feeling gentle and Kyoto-styled elegance at first glance, we feel his strong will in his paintings.
Hamada Kan, born in Himeji city, Hyogo prefecture in 1898, moved to Kobe city at an early age. He learned Japanese painting, working as a houseboy at his master's house. However, he engaged in commercial designs in Osaka for 10 years to earn money for studying painting. It wasn't until Hamada Kan had become 31 years old that he really began to paint. He joined "Chikujō-kai" in Kyoto that was a private painting school hosted by Takeuchi Seihō, then also entered Kyoto City Specialist School of Painting (the predecessor of Kyoto University of the Arts) around the time. While in school in 1934 (age: 36 years old), he was accepted for the 14th Teiten Exhibition (The Imperial Exhibition) for the first time. It was after World War I that he first won the special prize. In 1938, he won the special selection of the 3rd Nitten Exhibition, and another in 1949 at the 5th same exhibition. Afterward, he was honored to receive the award from the Ministry of Education in 1963 and the award of the Japan Art Academy in 1965. For his achievements and contributions to Japanese painting, he received a "Person of Cultural Merit" honor from both Kyoto city and Kyoto prefecture. He was successively appointed as a director of the Japan Fine Arts Exhibition. In the association, he got promoted to the senior counselor next and the advisor in the end.
"Opium Poppies" featured herein is one of his early masterpieces. It was exhibited and highly esteemed at the Bunten Exhibition in 1940 to celebrate the 2,600th anniversary of the founding of Japan of the Empire of Japan by the first Emperor Jimmu. It received the Welkin Prize as well as was purchased by Kyoto City. At 3.75 meters wide x 2 meters long, Hamada Kan depicted a bunch of wild opium poppies. Blooming lively yet mysteriously, they radiate a surreal atmosphere while following the principles of realism art.
Peony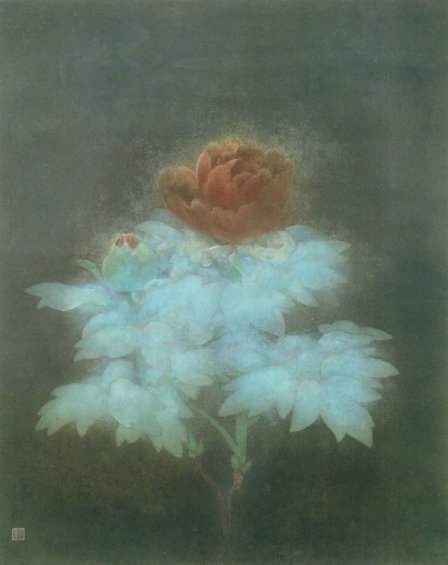 Most artists paint flowers but there are not many who can render their atmosphere as are. Hamada Kan, an authority in the art world of Kyoto, was one of those few artists. His house stood at the foot of Mt. Kinugasa where his wife grew hundreds of plants and seasonal flowers. Those plants and flowers became great sketching ideas for Hamada Kan. When it comes to sketching, he was very serious about it. For example, it is expressed in "Peony" produced in 1959.
"At midnight, I got out of an inn and went to a peony field. It was around 1 o'clock. I was watching peonies, sitting on a stepladder. Then, they talked to me. It was surprising to know they could talk. I responded to them. In the meantime, a few hours had passed, and I noticed peonies' leaves turned white from black. It lasted for only a short period, but it was utterly bewitching and truly divine. That's the reason I drew this peony." Hamada Kan once explained. He exhibited a painting of a peony at the Japan Art Exhibition, with almost the same composition as the "Opium Poppies". He remained entirely committed to bird-and-flower paintings. Especially, peony and opium poppies outnumbered others. Hamada Kan portrayed a moment when those flowers showed the mysterious looks near dawn. There is a world where nature and human breathing are perfectly united.
A Flower at Noon (Opium Poppy)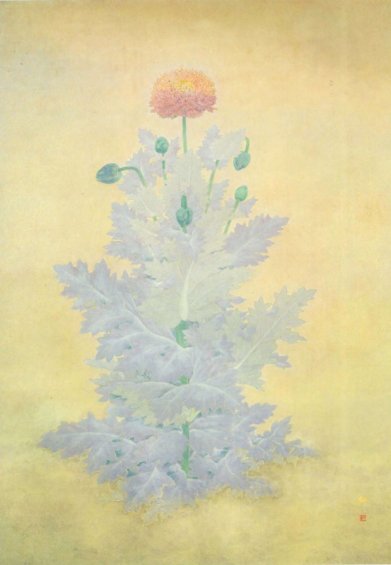 From the paintings produced by Hamada Kan, a seasoned painter, we feel depth and profundity. The road to becoming authority was no bedtime story for him. It was long and bumpy but surely affected Hamada Kan's personal growth and development in the art world.
Born in 1898 in Himeji, Hyogo Prefecture. Hamada Kan left Himeji at an early age and became a live-in apprentice of a painter of Shijo school. After that, he engaged in commercial design work in Osaka for about 10 years to make a living. He had been over 30 years old when he moved to Kyoto to join "Chikujō-kai" (a private painting school hosted by Takeuchi Seihō). In 1934, a work that he exhibited at the Teiten Exhibition was awarded for the first time.
It was the year his eldest son, Hamada Shōji (who is also a Japanese-style painter and current member of the Japan Fine Arts Exhibition) entered an elementary school. Hamada Kan himself also entered Kyoto City Specialist School of Painting (The predecessor of Kyoto University of the Arts). It was rather late that he started a professional art career. Hamada Kan, whose art career was all about the sketch, had never been slacking off, just kept focusing on bird-and-flower painting. He was awarded the special selection at the Japan Fine Arts Exhibition in 1946. Two years later, he won the special selection again at the same exhibition. Then, he won the Award of the Japan Art Academy in 1965.
This painting titled "A Flower at Noon" is the work exhibited at the 5th Japan Fine Arts Exhibition in 1973. Making good use of a large-scale painting, the work depicts an opium poppy standing comfortably in the abstract and mysterious background. Hamada Kan pursued subtle variations of an opium poppy's look, by sketching it at different times. For this work too, Hamada Kan succeeded in portraying the true nature of the opium poppy. He had sketched it from every angle, very early in the morning, and in the midnight as aforementioned.
---