Kaneshige Ankō: A Female Japanese-Style Painter in Combat Over Adversity, Master of Kachō-ga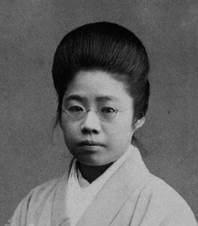 Gyokuran Sōkujakuzu (Picture of White Magnolia And Two Peacocks)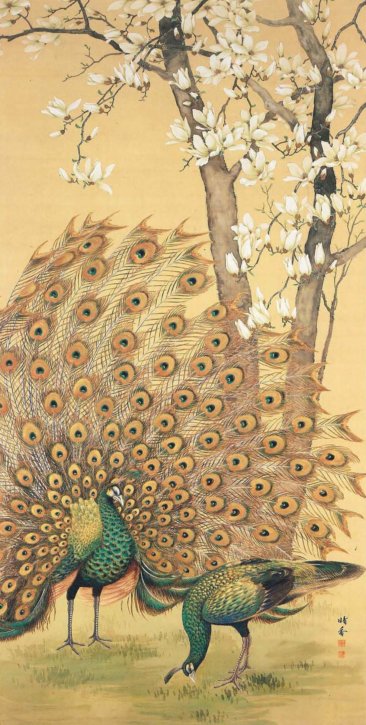 Kaneshige Ankō was born in Yamaguchi prefecture in 1872. She lost the complete freedom of her legs in an accident when she was 5 years old, which has no denying that this had a significant impact on the development of her painting career. She followed her father to Tōkyō in 1880, where she initially studied Western-style painting. She then switched to Japanese-style painting to study it under Noguchi Shōhin, a female Nanga painter who later became an Imperial Household Artist. Gaining experience under Shōhin, Ankō was very active in the Japan Art Association and the Japanese Painting Association to be selected for the 2nd Bunten exhibition in 1908. She returned to Yamaguchi Prefecture during World War II for evacuation, where she died in 1946.
"Gyokuran Sōkujakuzu" was painted in 1927. Completing large paintings one after another at this period, Ankō placed herself at her best. Ankō summed up this large painting in a concise and powerful composition with a finish of the peacocks in gold paint and vivid colors to beautifully depict their lustrous feathers.
Shunjū Kachōzu (Picture of Spring / Autumn, Flower / Bird)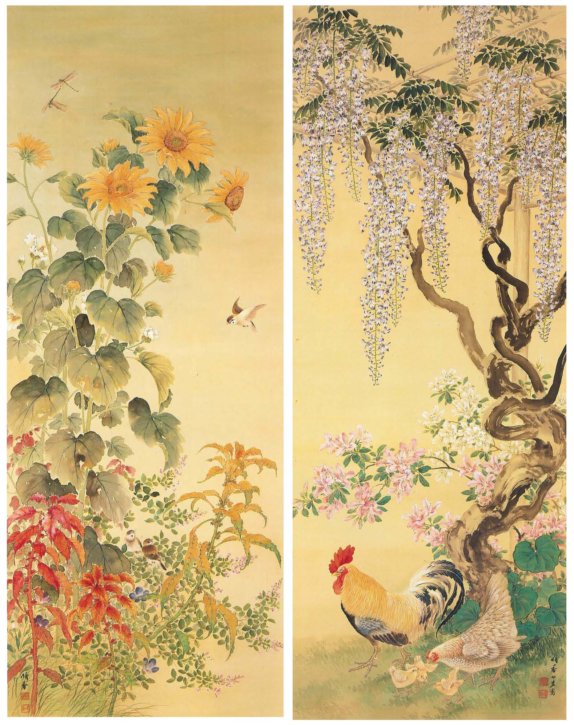 This is a 1928 painting by Kaneshige Ankō. She was lame as mentioned earlier, which seems to make landscape painting out of her forte. Many of Ankō's landscape paintings, available from the data, are patterned in the Nanga style, which is thought to have been learned from her master, Noguchi Shōhin. In terms of Kachō-ga, on the other hand, she showed her great ability as you can see even in this work. Similar to this work, Ankō's works include "Kouka Zenkei," in which wisteria and chicken are depicted (a traditional painting of a male and female chicken with a flock of chicks), and "Shūen Kinshū," in which autumn plants are depicted (an autumn garden with autumn leaves and flowers). Particularly in this work, azaleas, Farfugium japonicum, sunflower, and sparrows are added to each of its scrolls to make it more decorative. It is accordingly inevitable that the painting looks a little complicated. In terms of technique, the depiction of the wisteria trunk is splendid. She skillfully devises different shades of sumi (black ink) along with the use of brush's blur to depict the smooth but uneven texture uniquely of the wisteria trunk. In addition to the vivid depiction of sparrows and dragonflies in autumn, the considered use of the tarashikomi technique (Tarashikomi: A high-level technique of Japanese-style painting for attaining natural blur by making use of the difference in the specific gravity of pigments.) for the depiction of sunflower leaves cannot be overseen.
Ume-ni Kasasagi (Plum and Magpie)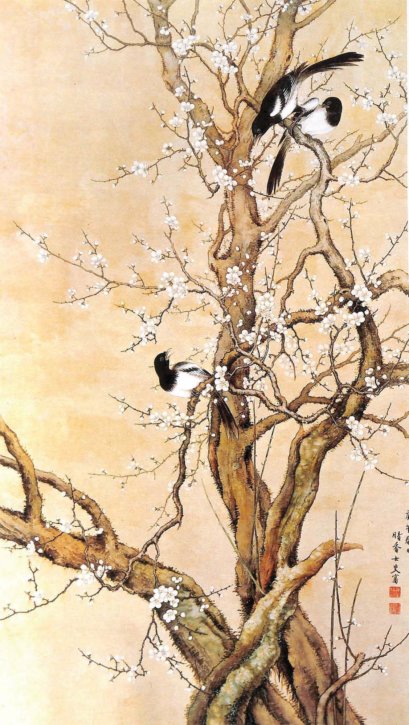 The free-growing trunks of the giant mossy plum tree are very powerfully depicted, adding intensity to the painting. You may wonder if this way of depicting a plum is quite rare. The scene is composed around the tree trunk, which is drawn up to the very top, leaning slightly to right. 3 magpies are placed diagonally from the upper right to the lower left to give the composition some variety and movement. The absence of splendor with colors through the combination of the white plum blossoms and the magpies gives a sense of withdrawn strength. This work is one of Ankō's masterpieces.
---