Noguchi Yūkoku: Nanga Painter Who Was Good at Drawing Elegant Kachō-ga
Kankōnozu (Early Spring)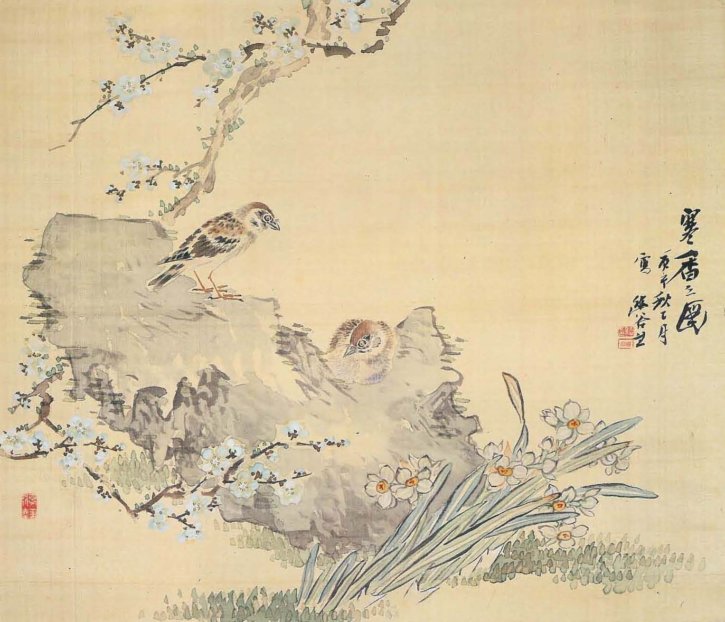 Noguchi Yūkoku was born in 1825 in Edo as the son of a carpenter. Since he had a serious illness when he was a child, he became a Miya-carpenter (a carpenter who builds temples, shrines, etc.) thinking that he could just draw the blueprint, but he realized that he needed to study painting to draw the blueprint of a sculpture. He met with some Shijō school painters at first, but then became a disciple of Tsubaki Chinzan. Chinzan was skillful in all of the Jinbutsu-ga (figure painting), Sansui-ga (landscape painting), Kaki-ga (painting of plants), Kachō-ga(painting of flowers and birds), Chōjū-ga (painting of birds and beasts), but he was particularly good at Kachō-ga. Yūkoku started his training in painting in earnest under Chinzan, but he worked as a carpenter in the daytime to earn money and spent his time learning painting and calligraphy exclusively at night. Chinzan died four years after Yūkoku became a disciple. After that, he opened a calligraphy terakoya (school) to earn money and to work harder on painting. The painting name Yūkoku was given when Chinzan was still alive. When he told his master that he wanted to draw a picture with the intention that his heart was in a valley deep in nature, even though he was living in the dust of the streets, the master who was impressed by the disciple allowed the name of Yūkoku (幽谷, means "mountain glens"). After the death of Chinzan, he studied paintings by Yuan and Ming painters and Watanabe Kazan and refined his painting skills. After the Meiji period, he was active as a painter by exhibiting at Hakurankai and Kyōshinkai exhibitions inside and outside Japan and became a Teishitsu Gigei-in (imperial artist) in 1893. He died in 1898 at the age of 72.
The "Kankōnozu (Early Spring)" has a trace of enjoying poetry when completing the work. Although it is still early in spring, the painting is full of fragrances such as plum blossoms and daffodils that herald spring. Unknown grasses are sprouting from the ground, and sparrows resting on the rocks seem to enjoy the warmth of spring. A kachō-ga expressing the full spring is good, but prior to that, the kachō-ga telling the arrival of spring is also good.
Kikkazu (Chrysanthemums)

"Kikkazu (Chrysanthemums)" is a painting exhibited at the 1st Naikoku Kaiga Kyōshinkai exhibition in 1882, as a judge. Yūkoku had received a silver award for this work. It depicts the chrysanthemum flowers that Yūkoku liked the most. His teacher, Chinzan, died four years after Yūkoku became his disciple. Therefore, he worked on his painting by imitating the paintings of Watanabe Kazan, who was the teacher of Chinzan, and the painter of Yuan and Ming. In particular, he was enthusiastically trying to learn the mokkotsu technique ["Mokkotsu" is a technique where the object is expressed by the shading of "sumi" ink or color rather than by using outlines ("koppō".) It is widely known as a technique for Kachō-ga (paintings of flowers and birds)] of Yun Shouping's Kachō-ga, which Kazan liked, as an extension of his teacher, Chinzan. "Kikkazu" is a masterpiece of Yūkoku with a style of Yun Shouping's Kachō-ga. Many nanga painters were born from the end of the Edo period to the Meiji period, but few painters surpass Yūkoku in the spiritual depth and dexterity. With the mokkotsu technique, he drew the painting similar to sketching, but he drew the painting with higher aspirations. This work is a refreshing picture befitting the name Yūkoku (幽谷, means mountain glens) as if he drew it in a valley deep in nature.
---