Itō Jakuchū's Paintings 003: Flower Ceiling Paintings
"Jakuchū Gafu (Jakuchū Painting Album)" is an illustrated book of Jakuchū paintings edited by Kondō Tokutarō in Kyoto and published by Shorin Fujii Magobē, also in Kyoto, in 1890. It contains 100 of the 167 'Flower Circle Drawings' painted on the grid ceiling of the Shingyō-ji Temple, a branch temple of the Jōdo sect Chion-in, at Niōmon, Higashiyama, Kyoto, with coloured woodblock prints.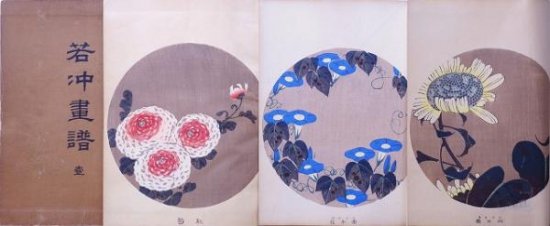 The Shingyō-ji was originally a temple in Settsu-Nishinomiya, but it moved around Kyoto, including Sanjo Higashinotōin, and finally arrived at Higashiyama Niō-mon in 1708. Later, when the main hall was completed in 1716, 167 round paintings of flowers and plants were displayed on the outer grid ceiling of the main hall.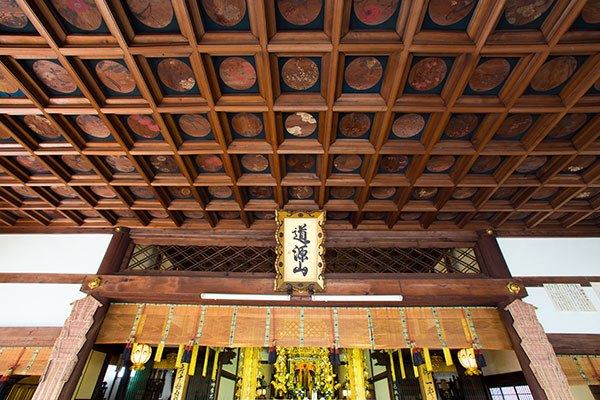 However, it is said that these flower circle ceiling paintings were originally painted for the Kannon-dō of Hyakujōzan Sekihō-ji Fukakusa, Kyoto, not for Shingyō-ji.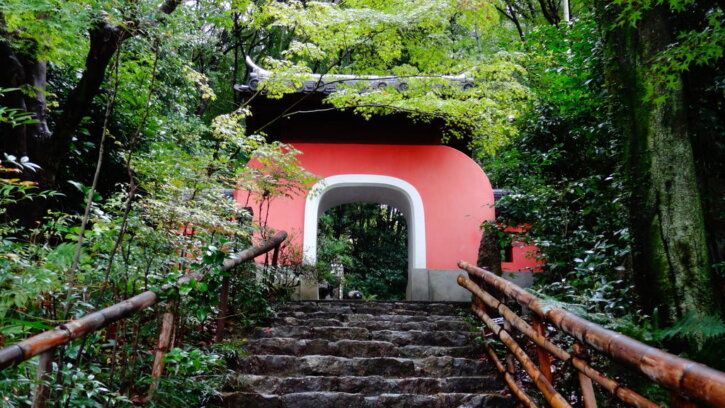 Jakuchū not only had deep friendships with Zen Master Daiten Shōchū of the Shōkoku-ji Temple and other monks of the Rinzai school of Zen Buddhism, but also with the Ōbaku monks Hakujun Shōkō and Hoan Jōei. He also made the Five Hundred Arhats Stone Buddha at the Sekihō-ji Temple in his later years, and after losing his house in a fire in 1788, he moved to the Sekihō-ji area to live.
It is believed that the flower circle ceiling paintings were painted in his later years when he lived in Fukakusa, and during the early Meiji era when the Haibutsu kishaku movement (anti-Buddhist movement) was rampant, the Kannon-dō of the Sekihō-ji Temple was destroyed, and the ceiling paintings were scattered. However, they were fortunately purchased by Inoue, a representative of the head of a parishioner's council of the Shingyō-ji, and donated to teh Shingyō-ji. And they were hung on the ceiling of the main hall.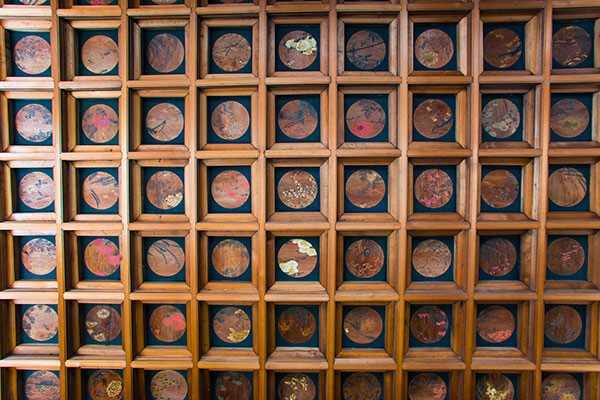 The ceiling has a total of 168 panels in eight sections from north to south and 21 rows from east to west, and on one panel in the north-east corner we can see the inscription and seal "Beitoan 88 years old". The flowers and plants are painted in a circular pattern about 30.3 cm in diameter, with one type of flower painted in each grid space. There are many types of flowers, including hydrangeas, morning glories, narcissus, begonia, wisteria, peach, hibiscus, cactus, clematis, poppy, nanten and camellias. There are more than 30 paintings of peonies and many chrysanthemums and plums, all with Jakuchū's own witty compositions and expressions.
---