Ukiyo-e Artists Who Painted Musha-e (Ukiyo-e Paintings of Military Commanders)
Musha-e
Ukiyo-e is a style of paintings that originated in the Edo period and is a genre-painting which depicts the Ukiyo (a world that is volatile and ephemeral). Initially, daily life and scenery were painted, but as single-color woodblock printing changed to multi-color printing, historical and legendary themes became to be used more often.
One of such themes was "Musha-e," which became popular in the 19th century during the late of Edo period. Such paintings were created together with "Bijin-ga" (Ukiyo-e of beautiful women) and "Yakusha-e" (Ukiyo-e of actors) and attracted a great deal of attention.
In Musha-e, there were famous scenes of military commanders appearing in military records and scenes of battles that have been handed down to future generations. It is believed that the origin of Musha-e can be traced back to Hishikawa Moronobu, the first Ukiyo-e artist who was active in the early Edo period.
Musha-e Boom Coming
Although Musha-e were created in the early to mid-Edo period, they were not highly evaluated. The reason was that from the Edo period, the world became peaceful and people became far from battles, and people's interest turned to new cultures and colors.
However, in the late of the eighteenth century, with the "Kansei Reforms", the morals of the common people also became subject to a crackdown. At that time, the story of Toyotomi Hideyoshi's success story, "Taikōki," became popular. In line with the popularity of Taikōki, Musha-e painting military commanders of the Warring States period also boomed.
Ukiyo-e depicting battles also attracted attention in the Meiji era, and the "Seinan War" and "First Sino-Japanese War" were depicted as Ukiyo-e.
Ukiyo-e Artist Who Painted Musha-e
Utagawaku Kuniyoshi
Lifetime
The leading figure of Musha-e is "Utagawa Kuniyoshi." Utagawa Kuniyoshi was born in Edo in 1798. At the age of 15, his talent was discovered by Utagawa Toyokuni I, and Kuniyoshi entered Ukiyo-e industry. There was Utagawa Hiroshige in the same generation, but Kuniyoshi was also highly evaluated and was called "Hiroshige for landscape Ukiyo-e and Kuniyoshi for Musha-e." Kuniyoshi is one of the three Utagawa masters, along with Utagawa Hiroshige and Utagawa Kunisada.
Fascination
It is said that Utagawa Kuniyoshi's Ukiyo-e, especially Musha-e, had a major impact on the Manga that has become a representative of modern Japanese culture. In particular, expressions of fantasy world are outstanding, with the composition of the eccentric idea, the overwhelming power, the facial expressions of the characters who uncover their fighting spirit, and the sense of dynamism, all works are as imaginative as modern fantasy animation. Not only simply depicting the warrior in an impressive manner, but also the legendary scenes that seem to have been exaggerated, are created with surprising compositions that far exceed expectations. It is believed that the main reason why Musha-e was regarded as one of the Ukiyo-e painting styles by the world was largely based on Utagawa Kuniyoshi's achievement. To express Utagawa Kuniyoshi as Japan's leading Ukiyo-e artist is not an exaggeration.
Works
One of the most powerful Musha-e by Utagawa Kuniyoshi is a series of three paintings entitled "Miyamoto Musashi and a giant whole."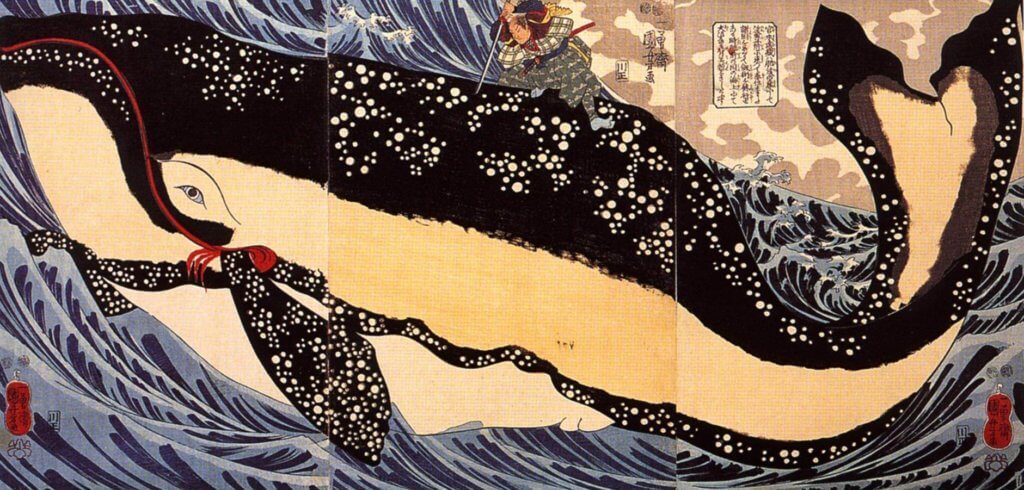 The main character, a great swordsman, "Miyamoto Musashi," is painted small as a figure swinging a sword in the upper part of the central picture, more than 80% of the picture is taken up by a giant whale, and it still does not fit in and will jump out from the picture.
The rough sea waves in the background, which can be seen slightly in gaps, also illustrate the power of the fierce battle. It is a fantasy world and not in reality, but it is a powerful work that captures the viewer's attention and makes them excited more than reality. This kind of composition is not uncommon battle scenery in modern anime, but Utagawa Kuniyoshi's ability to create such scenery in the Edo period was outstanding.
The other work introduced here is "Kōetsu yūshō-den Honjō Echizen-nokami Shigenaga," which uses red impressively.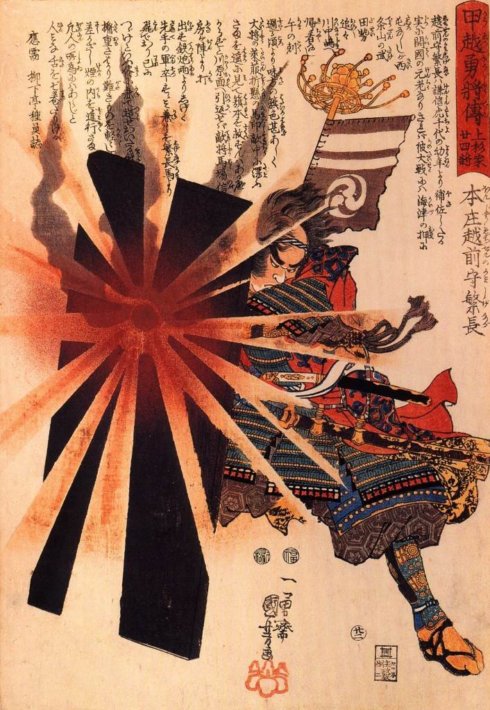 Honjō Shigenaga was a vassal of Uesugi Kenshin, who was admired as the strongest feudal lords and a military commander called as "A demon god in the Uesugi family," and was feared for his bravery. He was also independent, and sometimes he defied his master, Uesugi Kenshin, and fought against him.
In this picture, a moment at the Battle of Kawanakajima, Honjō Shigenaga fiercely battled against Takeda Shingen and bravely accepted the enemy's shooting with his shield, is painted. With gunpowder splashing like fireworks, the intensity of the battle and Honjō Shigenaga's bravery are excellently depicted. It can be said as a masterpiece of Musha-e that has both strength and beauty.
Utagawa Sadahide
Lifetime
Utagawa Sadahide was born in 1807 in Fusa, Shimōsa Province (Now Abiko City, Chiba Prefecture). He was a pupil of Utagawa Kunisada and was a genius expert who already drew illustrations at the age of 14. Later, he became the leading painter of "Yokohama-e", which depicts Western customs. In 1867, when Sakamoto Ryōma was assassinated, the Shogunate took part in its first and last World's Exposition, the Paris World's Exposition. Utagawa Sadahide exhibited his work as the representative of the Ukiyo-e artists.
Nisena-e
The picture book "Taikōki," which depicted Hideyoshi's achievement and became popular, was banned in 1804. It can be thought to be based on the danger of that the popularity of Toyotomi Hideyoshi might lead to the denial of the shogunate's governance. This banning led the punishment of the Ukiyo-e artists who drew the picture book Taikōki. Also, painting Musha-e themed the facts after 1573 became forbitten.
As 1573 was the borderline, the Battle of Kawanakajima, where Uesugi Kenshin and Takeda Shingen fought, was out of the scope of the regulation, but the Honnōji Incident and the Battle of Sekigahara were in the scope.
However, Ukiyo-e artists created Musha-e or Ukiyo-e of battles by changing the names of the military commanders. This is a " Nisena-e" (pseudonym picture). There are some Musha-e by Utagawa Sadahide where false names are used.
Work
There is a large-sized three-page woodblock print of "Kawanakajima daigassen Echigo kata nozu."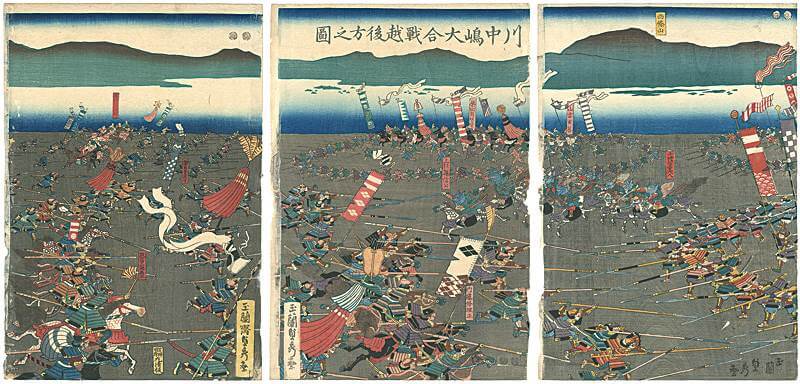 This war was a battle in which Takeda Shingen, a feudal lord of Kai (Now Yamanashi Prefecture), expanded his power in Shinano (Now Nagano Prefecture) and clashed with Uesugi Kenshin, a feudal lord of Echigo (Now Niigata Prefecture). The Battle of Kawanakajima took place total five times over 12 years. The front of both armies on the verge of collision are painted, one military commander who is riding his horse in the front line, on the right side of the center of the picture, is Uesugi Kenshin. Uesugi Kenshin is in front of the enemy's line with spears, which makes the audience wonder what will happen next. The spears and armors are colorful and vivid, and both sides of the battlefield are neatly arranged, but showing their momentum, which makes us anticipate a fierce battle.
There is also a large woodblock print of six pages of "Yamazaki daigassen nozu."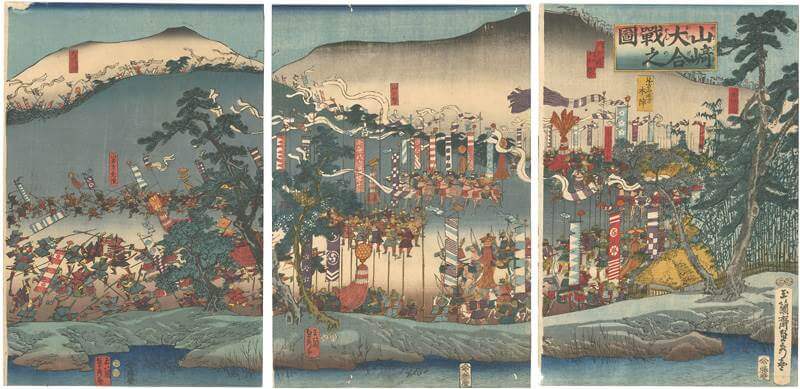 This is the "Battle of Yamazaki," which took place in June 1582. Here, Toyotomi Hideyoshi defeated Akechi Mitsuhide and paved the way for unification of the country.
The mountain painted on the right of the center is Mt. Tennō. There is "Kitakata Yamanakata Honjin" written on the right side of the picture. Since painting military commanders after 1573 was forbitten, the names of military commanders who participated in the Ōnin War (a civil war that occurred in 1467 and continued for 11 years until 1478) were used instead.
Nevertheless, since among the brightly colored banners in line, there are flags which seems the Kikyō mon pattern, it can be guessed that the headquarters of Akechi Mitsuhide is depicted.
Tsukioka Yoshitoshi
Lifetime
Tsukioka Yoshitoshi was born in Edo in 1839. When he was 12 years old, he became a pupil of Utagawa Kuniyoshi, who was one of the leading painters of Musha-e, and he was given the name "Yoshitoshi." Tsukioka Yoshitoshi is best known for his extreme blood-sludge paintings and *Muzan-e, as well as his fantastical ghosts and monster paintings. Although half of his life was tough with mental illness, he left behind many masterpieces of Musha-e. It is said that Tsukioka Yoshitoshi's works were more than 10,000 works, and he was widely known as one of the "Three Great Ukiyo-e Artists of the Meiji Era" along with Toyohara Kunichika and Kobayashi Kiyochika.
---
Muzan-e: One of the painting styles of Ukiyo-e from the end of the Edo period to the Meiji era. Most of the Ukiyo-e paintings depict the scenes of murders in plays, and blood and stains of blood are depicted in an especially vivid manner in each picture.
Work
Created in 1885, "Kyōdōrisshinomotoi Hashiba Hideyoshi" is a Soroimono (collection of multiple Ukiyo-e prints published under a single theme) of historical lessons about heroes with loyalty and piety, which is large size woodblock prints.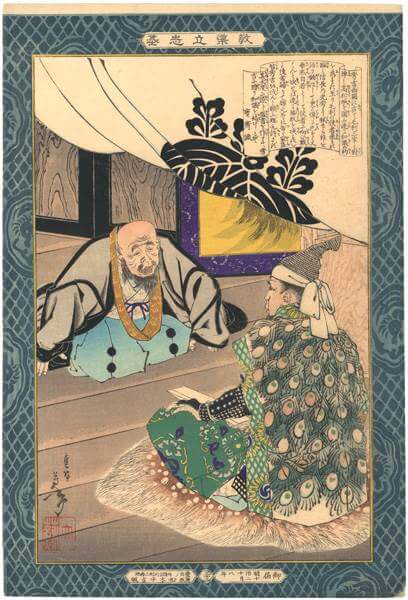 Kiri-mon (paulownia designs) which is famous as the family crest of Toyotomi Hideyoshi, is also painted. The Jinbaori worn by Toyotomi Hideyoshi is richly decorated with patterns of peacock feathers. The situation is Toyotomi Hideyoshi is telling a story, but Toyotomi Hideyoshi is depicted only in profile, and the facial expression of the monk, who is seriously listening to the story is eye-catching.
Besides, about painting of battle, "Kawanakajima daigassen nozu" is famous.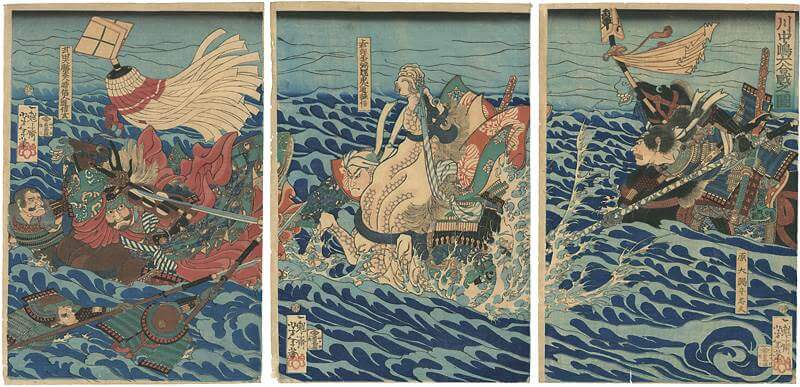 Large size woodblock print of three paintings. The situation painted is a clash of generals at the 4th Battle of Kawanakajima, written in the Kōyō Gunkan (a military book recording the strategies and tactics of the Takeda clan). Uesugi Kenshin who is straddling a white horse and entering a river, is swinging his Japanese sword down, while Takeda Shingen catches the blade by Gunbai (Japanese military leader's fan). In the scene, there is also "Haraōsumi no Kami," a vassal of Takeda Shingen, who is trying to save his master by thrusting his spear into Uesugi Kenshin's horse and forcing him to retreat. The expression of the white waves can be said as the very Ukiyo-e, and the blue colors are skillfully used. This work is a masterpiece that makes us feel both powerful and beautiful.
Tsukioka Yoshitoshi also left his Musha-e where a military commander is painted alone. In "Yoshitoshi Musha Burui Danjōshōhitsu Uesugi Kenshin Nyūdō Terutora," The brave figure of Uesugi Kenshin, which also appeared in "Kawanakajima daigassen nozu," is depicted. The dynamic brushwork which is suitable for painting of Uesugi Kenshin who was called as the "God of War" for his strength, is eye-catching.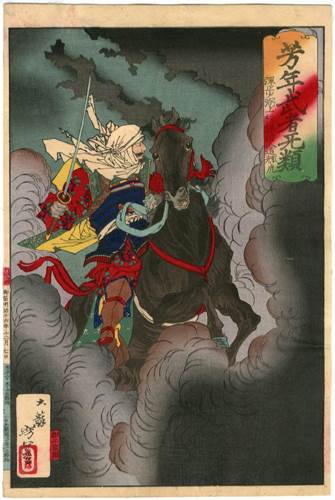 Utagawa Yoshitora
Utagawa Yoshitora was a pupil of Utagawa Kuniyoshi, the authority of Musha-e, and succeeded to Musha-e in the style of Utagawa Kuniyoshi.
In 1849, Utagawa Yoshitora published "Dōkemusha Miyo no Wakamochi," in which rice cakes pounded by Oda Nobunaga and Akechi Mitsuhide and kneaded by Toyotomi Hideyoshi, eaten by Tokugawa Ieyasu. The painting was confiscated for satire of the Shogunate in half a day and Utagawa Yoshitora was punished.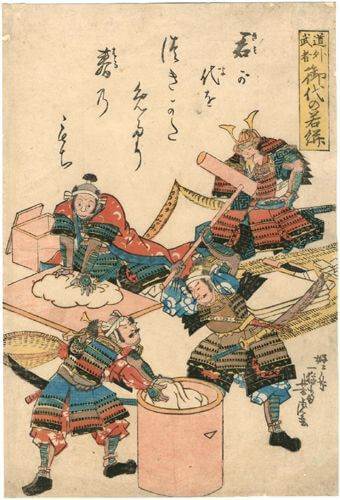 Since this work was inspired by an anonymous satirical poem about Tokugawa Ieyasu's taking the reins of the government, it is believed that the artist knew he would be charged with a crime. So, it can be said that Utagawa Yoshitora was a man of courage.
Besides, in 1858, Utagawa Yoshitora who had a bad relationship with his master Utagawa Kuniyoshi, was excommunicated in 1858. After the Meiji Restoration, Utagawa Yoshitora was involved in the creation of war paintings for the Seinan War and others.
Yōshū Chikanobu
An Ukiyo-e artist, who was a pupil of Utagawa Kuniyoshi, the same as Utagawa Yoshitora, and left behind masterpieces of Musha-e, is Yōshū Chikanobu. During the Meiji Restoration, he joined the "Ueno Shōgitai" as a retainer of the shogunate, fought against the new government army, and he was captured.
Later, he returned to Tokyo and devoted himself to painting Musha-e, and he earned reputation for his creations including the Seinan War. One of the most famous works of Yōshū Chikanobu is "Shizugatake gassen katō toranosuke Yamaji Shōgen," where "Katō Toranosuke" defeats "Yamaji Shōgen" who sided with Shibata, by rolling down a cliff, in "Shizugatake gassen" in 1582, is painted.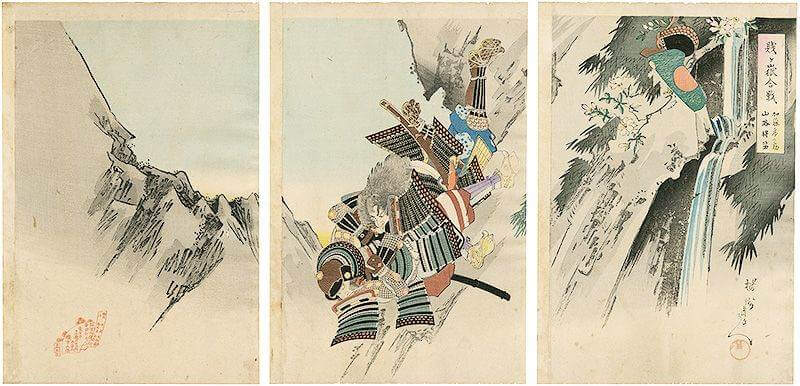 Kato Toranosuke equals Kato Kiyomasa and Yamaji Shōgen equals Yamaji Masakuni. The touch like the ink and wash painting is unique for Musha-e. Only two military commanders in armor are drawn in glossy colors, and with the power of the painting, the silence of nature and the impermanence are also expressed.
---