Anecdote of Takeuchi Seihō: A Gift for the Doctor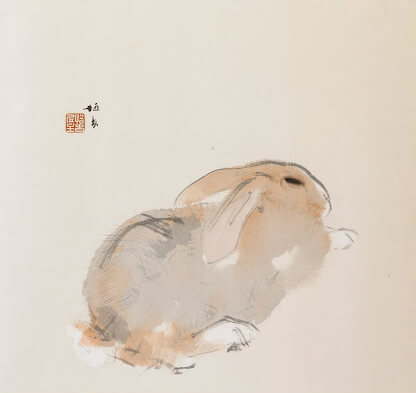 Takeuchi Seihō's personal doctor since Seihō was a young man asked Seihō to paint on a tanzaku (strip of paper) or a shikishi (paper board).
Takeuchi Seihō then painted a lion on a six-panel folding screen and presented it to the doctor.
When the doctor was surprised and tried to refuse, Takeuchi Seihō said cheerfully,
"To me, shikishi, tanzaku, and folding screens are all the same thing."
This anecdote can be said to be the most accurate expression of the essence of Seihō's art.
Although Takeuchi Seihō has created many large and small works with the same subject matter, he painstakingly creates each work with new ideas and ingenuity, even with the same subject matter.
This stance has remained unchanged throughout his life and is probably the main reason why his works continue to be loved by so many people even today.
Although there are several works with similar designs to this one, the composition and use of color on the screen is such that I never get tired of looking at it. This is an excellent work by Takeuchi Seiho.
---