Mochizuki Shunkō: Master of Paintings in the Flower-and-Bird Genre Who Loved and Enjoyed the Beauty of the Four Seasons.
Mochizuki Shunkō was a Japanese painter active in the Taishō and the Shōwa eras. He excelled at flower-and-bird paintings full of elegance and was a major figure among Japanese paintings. He died suddenly at the age of 85. His painting teacher was Yūki Somei, who taught him at the Tokyo Art School. Mochizuki Shunkō entered the school in 1914. At that time, some famous painters such as Kawai Gyokudō, Terasaki Kōgyo, and Matsuoka Eikyū were also there as professors in the Japanese painting department. After graduating as its top student, he remained at the graduate school and studied under Yūki Somei. Originally, he went to Tokyo trying to become a doctor. However, it is said his grade in drawing was good and that's why he went into painting. In 1921, he got his painting, "Striving to Live in Spring", accepted for the first time for the 3rd Teiten exhibition.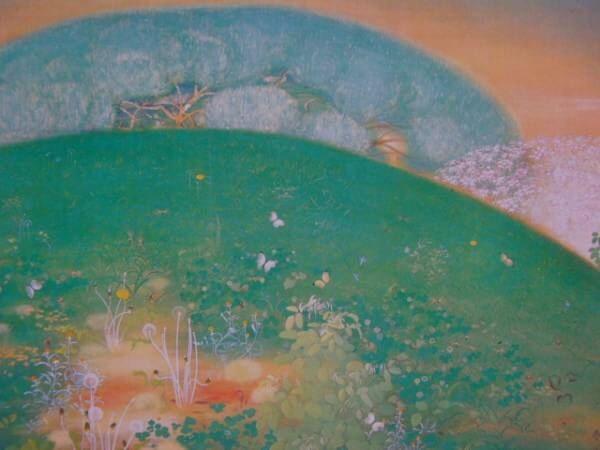 The grass and flowers that have begun to bloom with the coming of spring are blossoming on the green field hill. Cabbage white butterflies and bees are flying around in search of nectar. It was a bright, relaxing, unpretentious, and natural work. It is said that Mochizuki's pseudonym, Shunkō, came to his mind while working on this work. From then on, he got his paintings accepted for exhibitions for three consecutive years. And in 1928, he was awarded a special prize at the 9th Teiten exhibition for his piece, "Chasing After the Spring".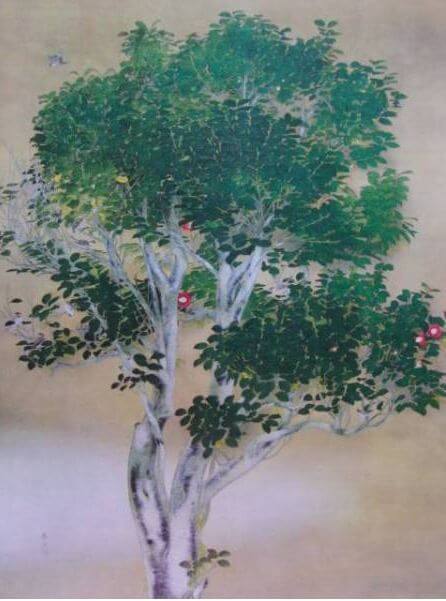 In the following year, he was awarded another special prize and at the 11th Teiten exhibition, he was permitted exemption of examination for his works. It was when he was 36 years old. The two works selected for this special prize were his masterpieces with profound depictions. Since they were created in line with the style of those days to some extent, when they are viewed in the course of Mochizuki Shunkō's painting career, the way these two were painted seems unusual. However, when it comes to the essence of Mochizuki Shunkō's art, the main characteristic is to create works based upon fresh sensibility that can be seen in his work selected for the first time for the 2nd Shin Bunten exhibition held in 1938, "Utsukushigahara."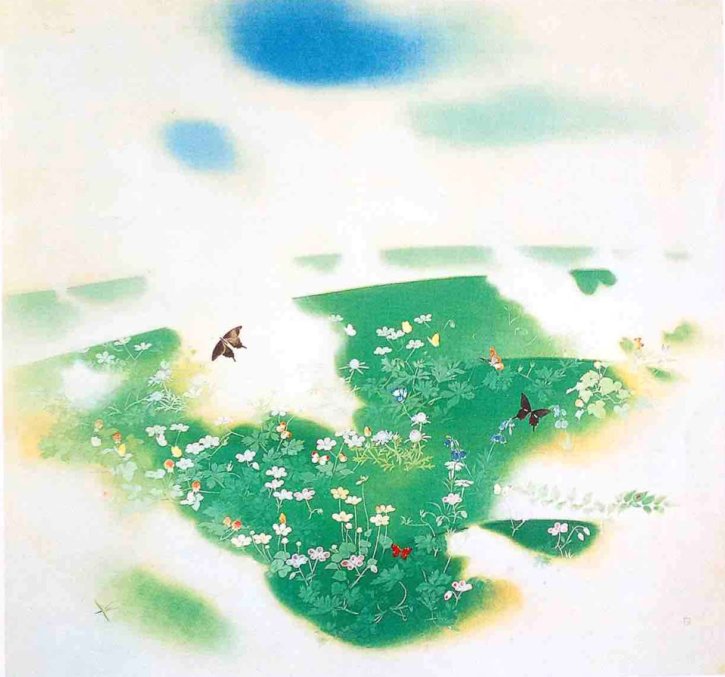 Camellias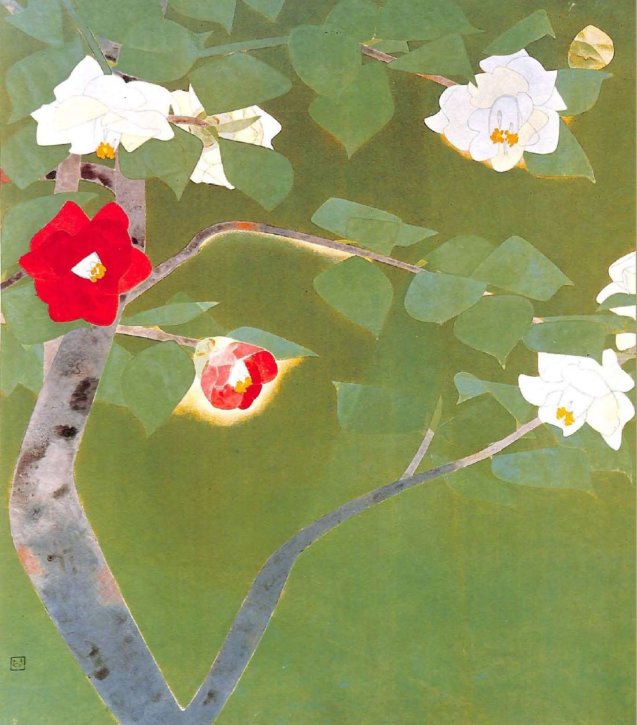 Yellow Peonies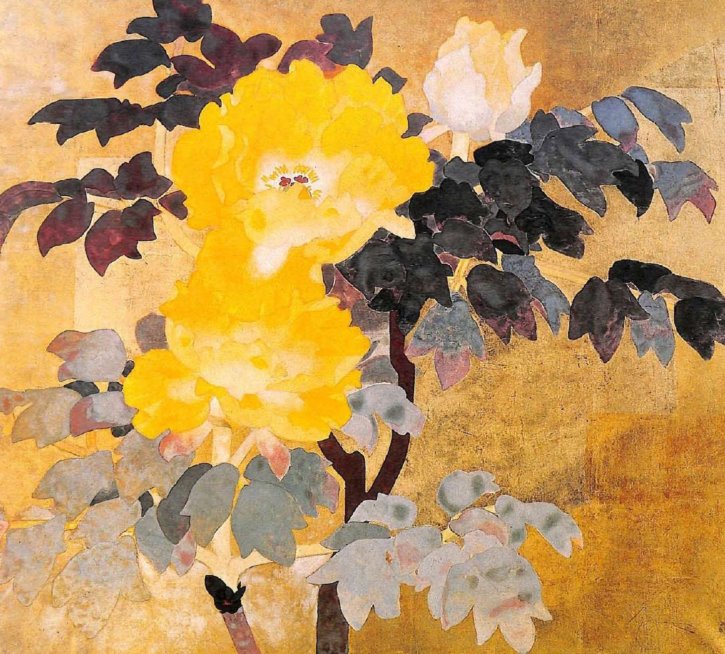 The work of Mochizuki Shunkō, "Camellias", was exhibited at the 12th Japanese Painting Institute Exhibition in 1952. Camellia is also one of the subject matters that he was good at painting, and a clear and gentle grasp of the subject has become a characteristic of his style.
Although people never get tired of appreciating this work, the main criticism at the time was that it was too elegant and lacked ambition. Mochizuki Shunkō is said to be always modest and rational. And his works reflect such a personality of him. His ability in flower-and-bird painting was highly evaluated. Still, he was sometimes asked to add a hint of wildness and sturdiness to his works. This was true for his piece created in 1956, "Yellow Peonies". However, a hint of shift can be observed in this work. Mochizuki Shunkō began to develop a more elegant style with emphasis on black, which is typical of his works in his later years. It was the stage of his artistic career reached in the last years of his life that had been slowly fostered over a long period of time. This work, just the same as the former one, "Camellias", was exhibited at the Japanese Painting Institute Exhibition. In 1938, Mochizuki Shunkō gathered twenty painters including Kawasaki Shōko and Nishizawa Tekiho and established the Japanese Painting Institute intending to transmit the tradition and creativity of Japanese paintings to posterity. Thereafter, Mochizuki Shunkō kept exhibiting his works both at the Nitten exhibition and the Japanese Painting Institute exhibition. The Japanese Painting Institute, therefore, became a place to train young artists to become skillful enough to exhibit their own works at the Nitten exhibitions, and there, Mochizuki Shunkō taught the younger generation until the end of his life.
Herons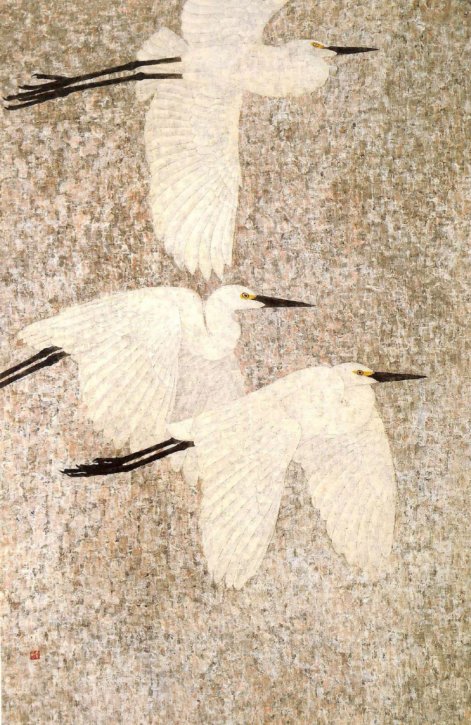 This work, "Herons", was exhibited at the 3rd Shin Nitten exhibition held in 1960. As for the subject matter, some changes can be seen. This work reached a certain level of his artistry. However, it does not constitute the core of Shunkō's art when compared to the works produced since 1965. For this work, Shunkō intentionally switched the subject matter from flowers to birds in search of a new style of painting. Nonetheless, this attempt made him further devoted to polishing his skill for the portrayal of flowers. Although he did not make any remarkable achievements in his career, the elegant and prestigious artistic viewpoint that he had been steadily refining was another traditional Japanese painting style that Mochizuki Shunkō has cut open. His final work exhibited at the Nitten exhibition in 1978, "Sunflower", shows a permanently imposing and wide-spreading brightness, and certain dignity, which were the splendid fruits that a man who had lived a modest life could finally bear at the end of his artistic journey.
Lament over the Leaving Spring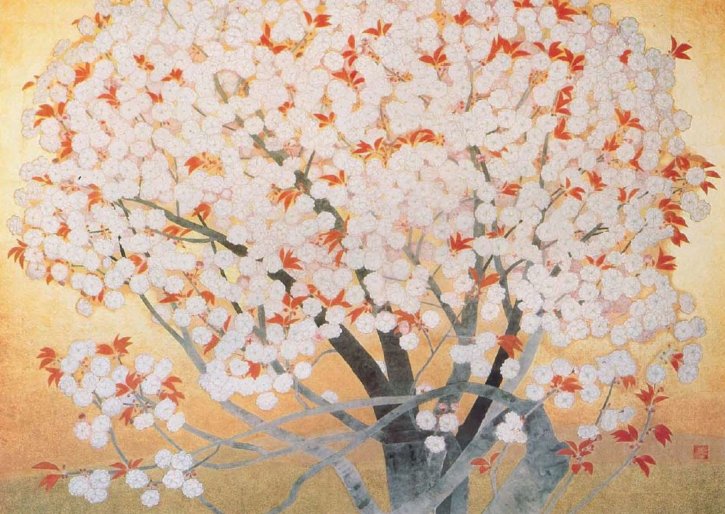 Mountain Lilies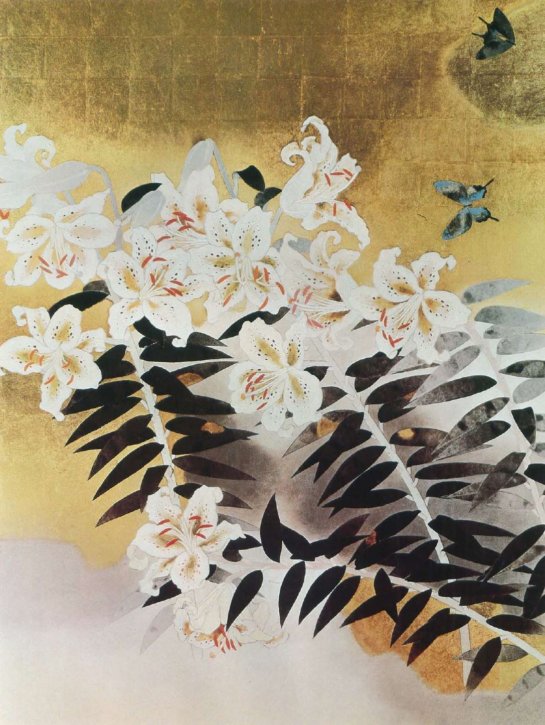 Iris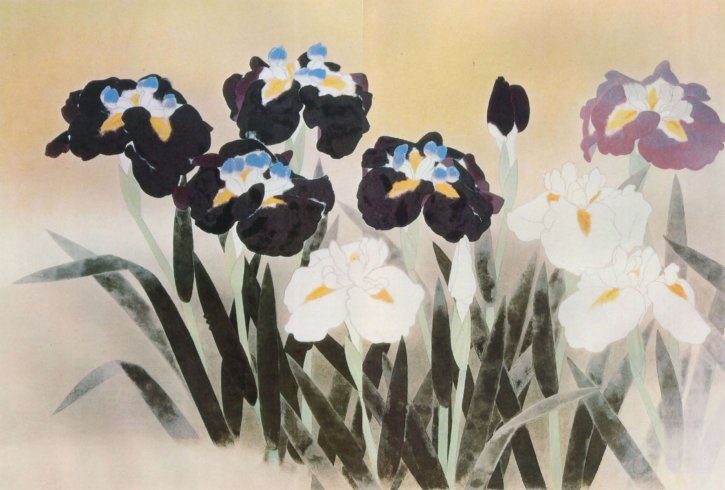 Magnolia Shining in Gold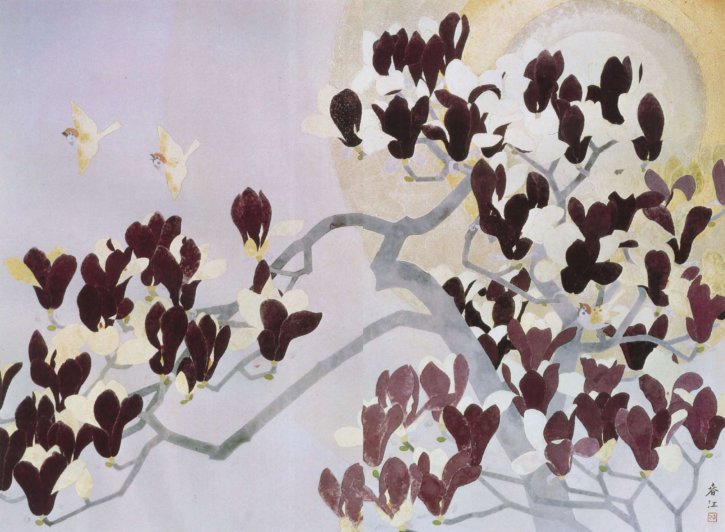 The First Frost of the Year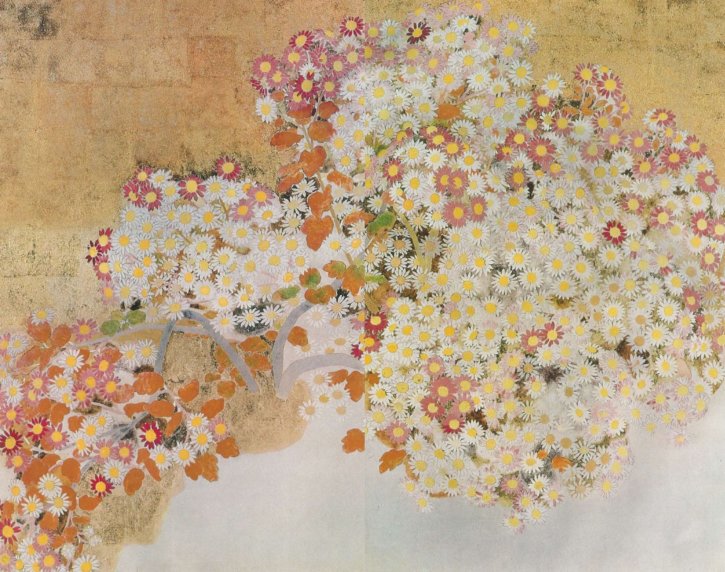 In 1958, Mochizuki Shunkō exhibited his work, "Lotus", for the 13th Nitten exhibition and won the Japan Art Academy Award. From then, the decorative tone of his pieces became more noticeable and, at the same time, the elegant and prestigious black and gold colors fill the canvas. All works introduced here, "Lament over the Leaving Spring", "Mountain Lilies", "Iris", "Magnolia Shining in Gold" and "The First Frost of the Year", were created when Mochizuki Shunkō was around 80 years old. Since he died in 1979 at the age of 85, these are works of his last years when he had reached the peak of his enlightenment as a painter. Yae cherry blossoms in full bloom ("Lament over the Leaving Spring"), fragrant mountain lilies loaded with flowers and leaning ahead ("Mountain Lilies"), iris flowers blooming with dignity ("Iris"), magnolia flowers glittering in the moonlight ("Magnolia Shining in Gold"), and chrysanthemum of late autumn blooming in splendid profusion ("The First Frost of the Year"). Each of these works captures the beauty of flowers passing through their transition period. They are the very incarnation of beauty and the rich ideals of beauty that Mochizuki Shunkō nurtured in his mind in his later years. This is the world of beauty that he, who had devoted himself solely to flower-and-bird painting, finally reached. By effectively using gold paint or gold leaf, and skillfully arranging the shades of ink, he breathed life into each flower using vivid colors. The classical elegance of his works seen in "Mountain Lilies" and "Magnolia Shining in Gold" is favored a lot. On the other hand, the graceful beauty seen in "Lament over the Leaving Spring" and "The First Frost of the Year" is another feature of his works.
---