Yamashita Seigai: A Painter Who Inherited the Style of Paintings of Watanabe Kazan, Tsubaki Chinzan.
Meikajūyū (Great 10 Flowers Like 10 Friends)

Yamashita Seigai was born in 1858 in Shizuoka prefecture. Seigai was devoted to painting from his childhood and learned first under Yamamoto Aizan, and later under Mochizuki Unsō.
"Meikajūyūzu (Paintings of Great 10 Flowers Like 10 Friends)" were willingly drawn by Watanabe Kazan, Tsubaki Chinzan, Watanabe Shōka, and other artists who followed the painting style. Plum, Chinese rhinoceros, rose, gardenia, peony, pineapple, chrysanthemum, and cinnamon are depicted using the *mokkotsu technique, with the orange rose and the purple peony contrasting vividly and the lotus leaves leading a sense of stability. It is as if the fragrance of flowers is wafting through the air. Here and there, we can see the peaceful expression of Tsubaki Chinzan style, which Seigai learned through his master, Mochizuki Unsō. A work by Seigai at the age of 57. He died in 1942 at the age of 85 after a long life.
---
Mokkotsu: a technique where the object is expressed by the shading of "sumi" ink or color rather than by using outlines ("koppō".) It is widely known as a technique for kachō-ga (paintings of flowers and birds).
Gekkarogan (Wild Goose in Reeds under the Moon)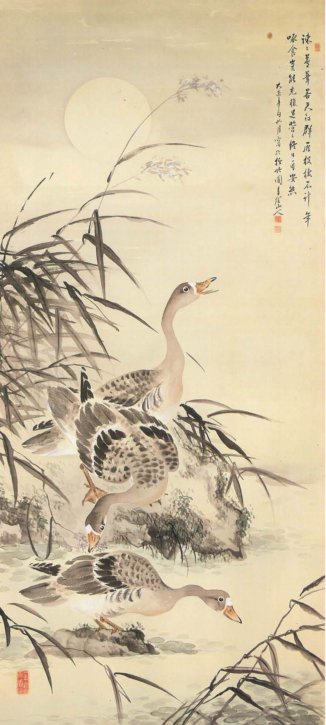 Yamashita Seigai firstly learned painting under Yamamoto Aizan, a member of Chinzan school. Later, he studied flower and bird paintings under Mochizuki Unsō, also of Tsubaki Chinzan school and a shogunate vassal. The name "Ryūkei" in his early years is thought to have been given by Mochizuki Unsō for the Tenryū River.
After that, he became a pupil of Watanabe Shōka in Toyohashi, and this encounter with Watanabe was to be the deciding factor in his painting career. In 1887, at the age of thirty, Seigai (known as Ryūkei in those days) went to Tokyo, following Watanabe Shōka who had already gone to Tokyo. He entered the Watanabe Shōka school in Tokyo, and when Watanabe Shōka was requested to voluntarily paint the Sugito-e painting of the Imperial Palace, he cooperated with it. When Shōka died suddenly of typhoid fever, he returned to his hometown and changed his name to Seigai and exhibited his double-paneled paintings of flowers and birds in the Fourth Naikoku Kangyō Hakurankai exhibition held in Kyoto, 1895. After Shōka's death, he remained in his hometown and remained active in Enshū-Hamamatsu for the rest of his life. In 1906 he wrote calligraphy in Shizuoka City in the presence of British Prince Arthur, Duke of Connaught and Strathearn.
This work was made in 1921 at the age of 64. Reeds in the waterside are painted by the mokkotsu technique and three geese playing in the shade of rocks are depicted. A refreshing feeling is full of the picture, and the moon appears between the ears of reeds. The coloring with black ink creates a deep flavor. One of Yamashita's masterpieces in his later years, which shows that Watanabe Shōka's skills in ink paintings were passed down to Seigai.
Gekkaryūa (Willow and 2 Crows under the Moon)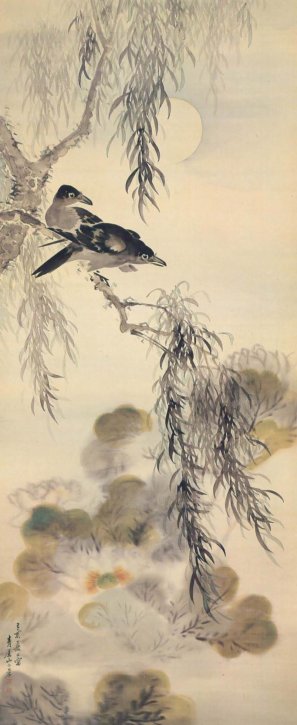 In 1882, Yamashita Seigai made up his mind to become a painter. In October of that year, Watanabe Shōka moved to and became active in Tokyo. In 1887, Seigai went to Tokyo. The previous year, Shōka was chosen to paint for the Meiji Palace, but due to his rheumatism, he was unable to use the painting tubes fully, so Seigai did some of the painting instead of him.
In 1887, when Shōka died of sudden illness, Seigai returned to his home country and began to pursue his own path.
This is a work from that period. In this picture, painted in 1899 and named as "Gekkaryūa," two crows perch on the branches of the large willow tree on the left. Through the branches, the moonlight shines brightly on the pond. One of the branches of the willow tree is bent heavily and hangs in the center of the painting. In particular, the depiction of the lotus pond with lotus flowers blooming in the pond and swaying with the water flow is fresh and its coloration and blur are very attractive. In a summer night, from the crows painted by the mokkotsu technique, even night dew can be felt, which is an excellent work with full of liveliness among many Seigai works.
Baikayūchō (Plum Blossoms with Birds)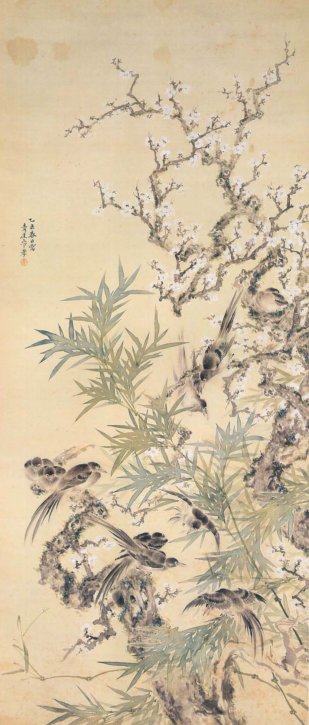 In his later years, Yamashita Seigai was famous as a connoisseur of the works by Watanabe Kazan and Tsubaki Chinzan, and he brought many works from all over the country, and it is said that at one time he even held a market for them and judged many works. Although not all of evaluations were correct when viewed from today's perspective, it is true that he was devoted to the works of Kazan and Chinzan and tried to faithfully follow their style of paintings. In other words, he was a painter who did not mix his own intentions with others, did not adapt to new and fashionable styles, and tried to create elegance and dignity with respect to the old style.
This work is one of Seigai's favorite themes. In the upper part, white plum blossoms are painted, and in the center to the lower part, bamboos are painted with the mokkotsu technique. On a spring day, magpies happily flitted around plum trees and bamboos. Each of the ten magpies has its own appearance. By contrasting the wiggly branches of the plum trees and the upright bamboos, Seigai completed a style of flower and bird paintings here. Seigi who inherited the painting style of Watanabe Kazan and Tsubaki Chinzan left his skills to his son, Yamashita Seijō, and he died in 1942 at the age of 85.
Fūkisōkiji (A Couple of Pheasants with Peonies)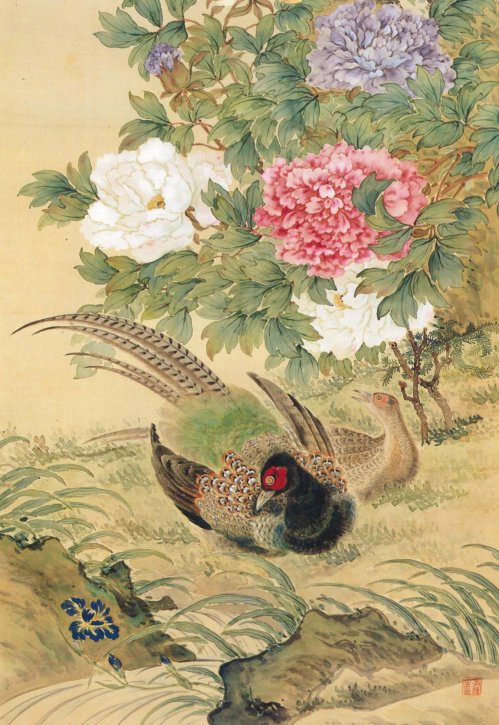 The word "Fūki" in the title means Fūkihana = peony, and a clear stream flows underneath the peonies in a profusion of white, purple, yellow, and red colors painted in "Kumadori" (an oriental painting technique in which ink and colors are blurred along the contours of a flower to express a sense of solidity.). In addition to that, the composition is a masterful one, with male and female pheasants playing. Although the pavement and water flow are quite stylized and lack freshness, the depiction of the pheasant, especially the large painting of the male pheasant's hair, is elaborately painted with effective use of patina and red colors. Leaves of peonies and water plants with the tsuketake technique, a specialty of Seigai, are making this painting more gorgeous. In Seigai's creation method, every work is completed based on a detailed drawing, which is partly reflected in this work.
Secchū Nanten Gunjaku (Nandina with Snow and a Group of Sparrows)

A winter's day, the evergreen Nanten tree with its red berries contrasted with the snow that had fallen so far down that its branches were swaying. Since fascinated by the strangeness of the colors, Seigai made this work. Seigai went to Shinshū to depict the snowfall, which is not found in the Enshū area. Such themes are also found in works by his master, Tsubaki Chinzan. However, it was Seigai's original idea to add a scene of more than 20 sparrows chirping around the Nanten tree with bright red fruits. This is Seigai's mature flower and bird painting, in which the red color of the Nanten fruit is vivid against the austere background and the seasonality is fully expressed.
---