Imanaka Soyū: Japanese Painter Who Painted the Scene Panel Board at Tokyo Kanze Kaikan
Good Harvest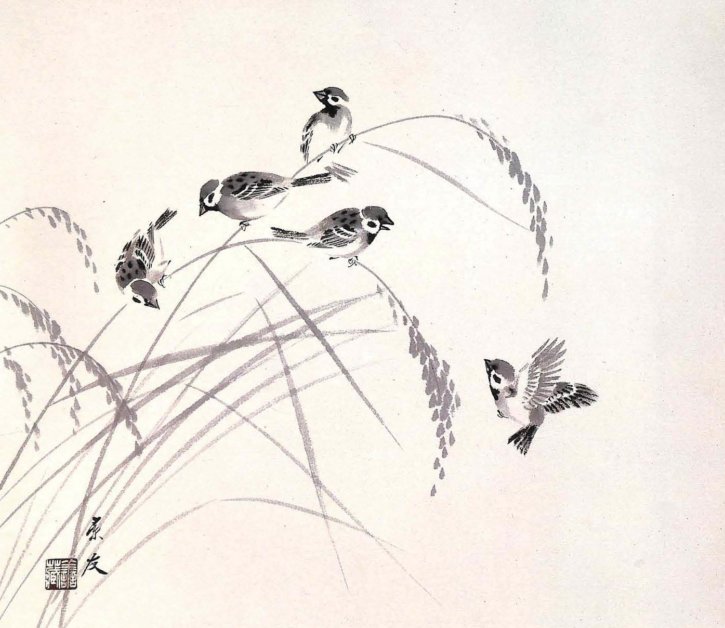 Hawk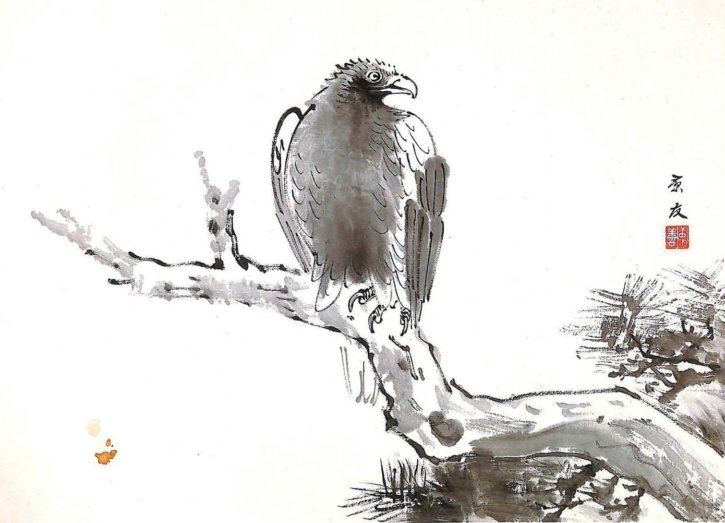 Iris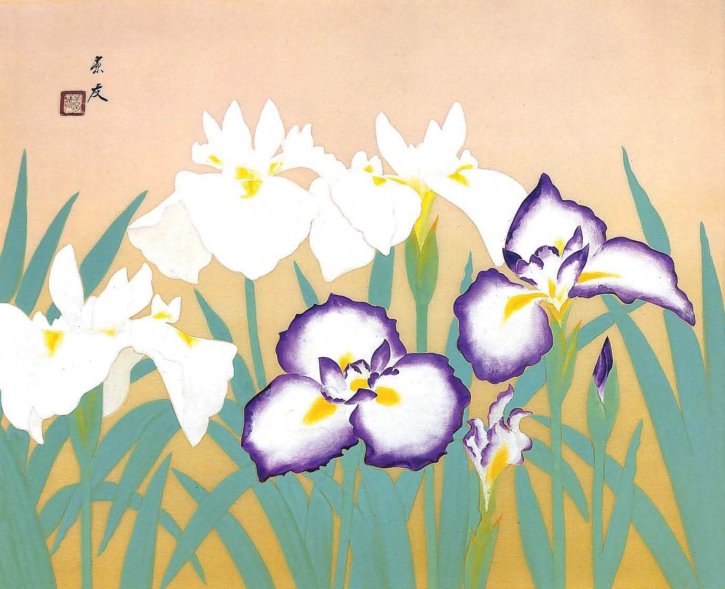 Imanaka Soyū was born in Fukuoka Prefecture in 1886. After graduating from elementary school, he entered the Ueda Tekkō's Painting School in Hakata to learn paintings. He moved to Tokyo in 1905 and become a pupil of Kawai Gyokudō. Besides, he was selected for his first time at the Second Bunten exhibition in 1908. In 1915, he was awarded a commendation at the ninth exhibition, both of which were flower-and-bird paintings featuring seasonal flowers. In what Soyū said about the work which was awarded a commendation, he tried to reproduce the impression he had felt at the top of the mountain when he climbed Mount Akagi with his master Gyokudō. He also tried to paint portraits, but he felt that he could not go all right and he thought that the work that paints the excitement of being in contact with nature was his own, so he was a painter who drew flowers and birds from his true nature. He continued to exhibit his works at both the Bunten and Teiten exhibitions, and in 1933, he exhibited "Shigure" at the 14th Teiten without inspection. This work, "Shigure," is a flower-and-bird painting with a strong seasonal sentiment, depicting a small bird in a field with plainly drawn autumn flowers such as silver grass and Ominaeshi, and Shigure falling on there. With such a style, in 1935, he also produced a colorful painting of four seasons flowers on the ceiling of a room in Meguro Gajōen. In 1942, the Ministry of the Interior bought his work for the 5th Shin-Bunten exhibition. After the war, he continued to exhibit his works at the Nitten and became commissioned to exhibit in 1949. He painted the scene panel board at Tokyo Kanze Kaikan in 1954. He died in 1959 at the age of 73.
"Good Harvest" is an elegant work in which a sparrow is playing with the abundant harvest of rice ears. Although it is a small work, it allows us to imagine the world of paintings that Imanaka Soyū has created. This painting is kept simple by using shades of ink. In reality, if the sparrow were to rest its wings, the rice would probably break, but we should enjoy the natural seasonal sentiment of the sparrow fluttering around the ears of rice.
"Hawk" was also painted quickly in black ink and, like the picture of the sparrows, was not made from a direct sketch. On the other hand, "Iris" is a work with an elegant touch. The use of calm colors sums up the impression of the flowers' tranquil beauty. This attitude of always looking at nature is probably the basis of Imanaka Soyū's painting style.
---